Detalhes
1DIN Autoradio Multimedia System XOMAX XM-DTSB1010
tela sensível ao toque de 25 cm
HD resolução de tela de 800 x 480 pixels
9 formato widescreen: 16
unidade de DVD / CD
mãos-livres Bluetooth função e reprodução de música
USB - porta para cartões de memória - até 32 GB
slot para cartão de cartões SDHC - - SD de até 32 GB
Frente AUX-IN: Entrada de áudio na parte da frente
DIN 1 (single DIN) tamanho da instalação padrão
R-D-S (Radio Data System) Rádio
MOSFET amplificador 4x60 Watt = 240 Watt
Subwoofer Conexão & inversão de conexão da câmera
Protecção anti-roubo de casal: painel removível e um monitor
Rádio AM / FM RDS com sintonizador automático

Bluetooth:
viva-voz sem fio e reprodução de música a partir de telefones celulares, smartphones, leitores de MP3.

Assaltante de casal:
Visor e painel de controle são removíveis. A montagem do display pode ser eletricamente simples.

conectores:
ISO conexão (incl. Cabo ISO)
conector de antena de rádio
AV-IN arnês - Conexão
AV OUT arnês - Conexão
A entrada de áudio (2 x RCA)
entrada de vídeo (1 x RCA)
saída de áudio (4xCinch)
saída de vídeo (1 x RCA)
entrada de câmera de visão traseira
saída de subwoofer
porta USB
slot para cartão SD

O escopo de fornecimento:
Rádio de carro
teclado
10.1 "display
Schutzsleeve para o Monitor
controle remoto com bateria
AV-IN arnês
arnês AV OUT
ISO Connector
material de montagem
estrutura de montagem (FREE)
Abertura (FREE)
Informação Adicional
| | |
| --- | --- |
| Weight | 2.9000 |
| EAN | 4260182772812 |
| Modell | XM-DTSB1010 |
| Shipping Article | 14.90 |
| SKU: | 590 |
| Tags: | |
Imagens do Produto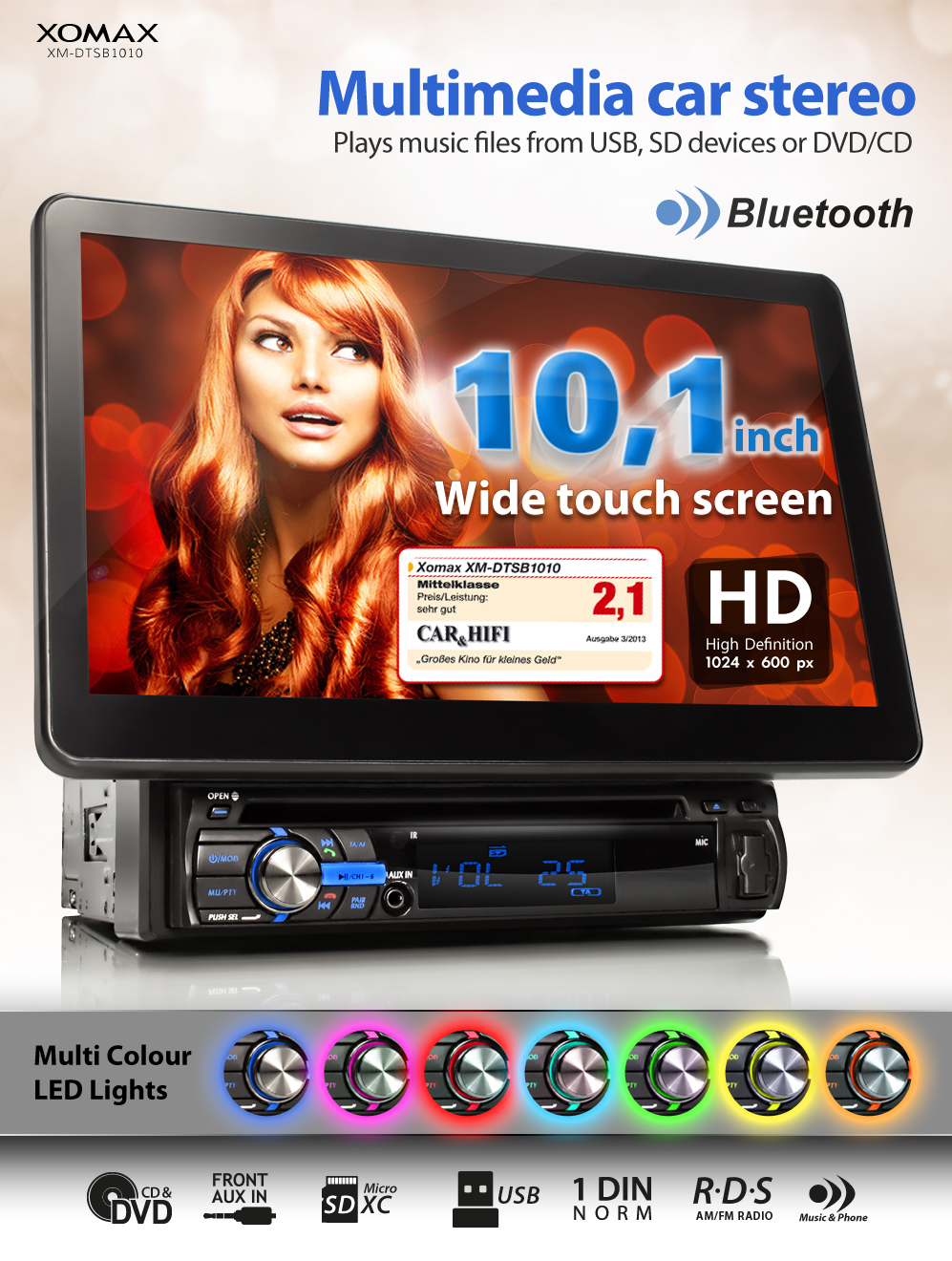 Screen 25 cm / 10,1 inch

Touchscreen Wide touch screen - HD resolution and 16:9 format
LED light colours– blue, red, pink

Single DIN standard This standard size is suitable for many vehicles.

DVD and CD drive For video DVDs, music CD and data discs.

USB port 1 x USB port for USB devices: play all your music files, pictures and videos plays up to 32 GB.
SD/SDHC cards Slot for SDHC cards: play all your music files, pictures and videos plays up to 32 GB.

MP3 MP3 and WMA files can be played from all multimedia devices: USB, SD, CD, DVD

MPEG4 You can play MPEG4, AVI and DIVX videos from USB, SD, CD and DVD devices.

JPEG and JPG pictures Play your pictures and images straight from USB keys, cards or DVD – a slideshow function is available.

Bluetooth Bluetooth function and music streaming.

AM/FM Radio with RDS Radio Data System. The RDS standard provides useful functions and information.

Calendar and clock function Practical Tools on board: calendar app and clock display.

ID3 tags Shows title and artist for MP3 files containing ID3 tags.

Anti-theft measure detachable front panel and screen. A protective bag for screen included.

Equalizer Preset equalizer: pop, rock, classical, personalised.

Practical Practical folder structure.

Subwoofer OUT Connection for a subwoofer through a cinch adapter.

The standard ISO connector provides an easy universal connection.

Connection for rear view camera Video input and 12V connection for a backup camera.

MOSFET 4 x 60 watt 4-channel audio output, maximum power 240 watt.

FREE OF CHARGE: single-DIN cage, trim, protective case and ISO cable.
DIN1 car stereo with wide screen (25 cm / 10,1'')
Car stereo with DVD / CD player and USB port, SD slot, auxiliary input and Bluetooth hands-free system. Watch your movies, your pictures or just listen to your favourite music from a USB key, a SD card or a DVD / CD. Thanks to the practical folder structure and the 10,1'' touch screen you can quickly access all MP3s, videos or pictures on your devices. The display has a powerful HD 1024 x 600 resolution that will provide a really clear image.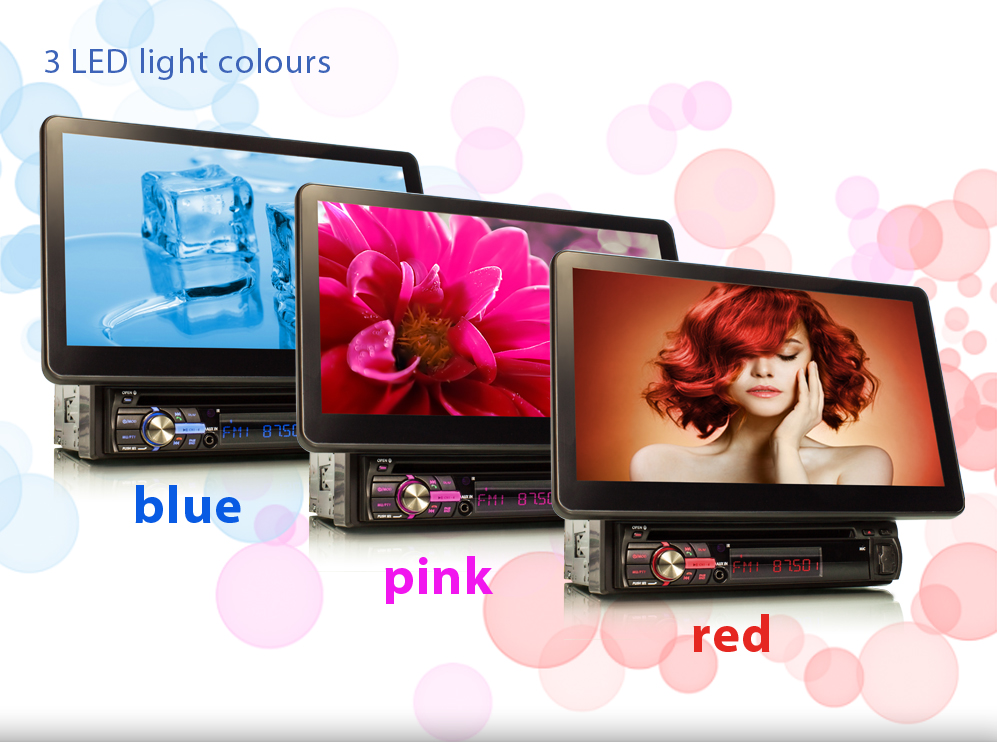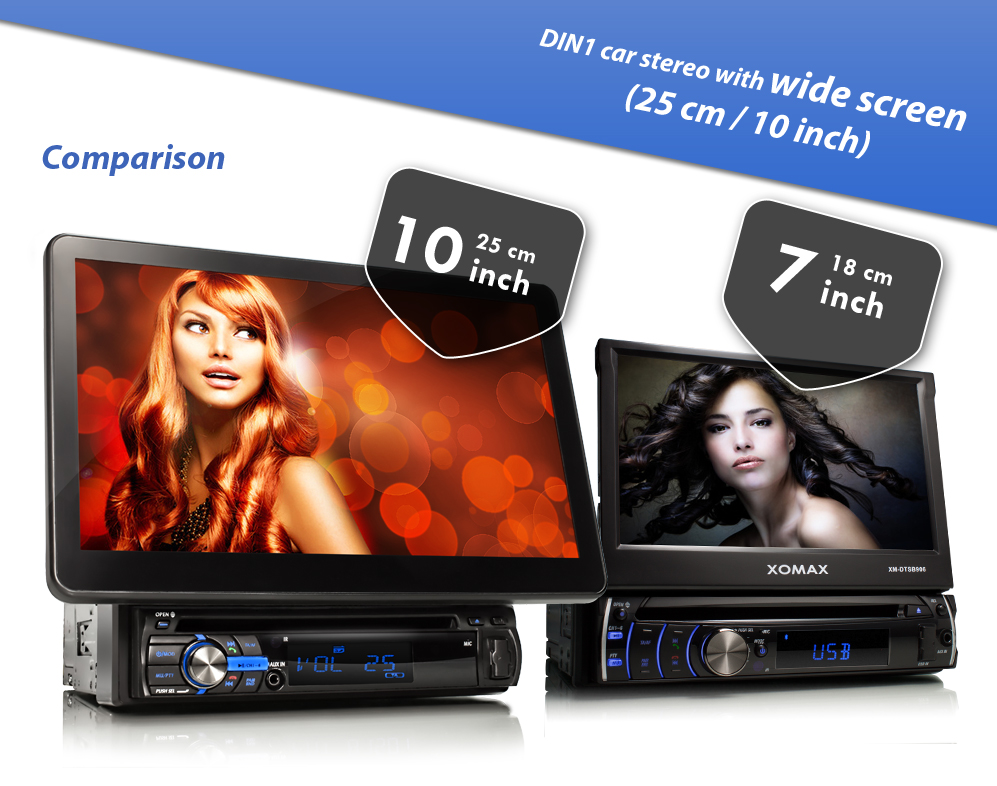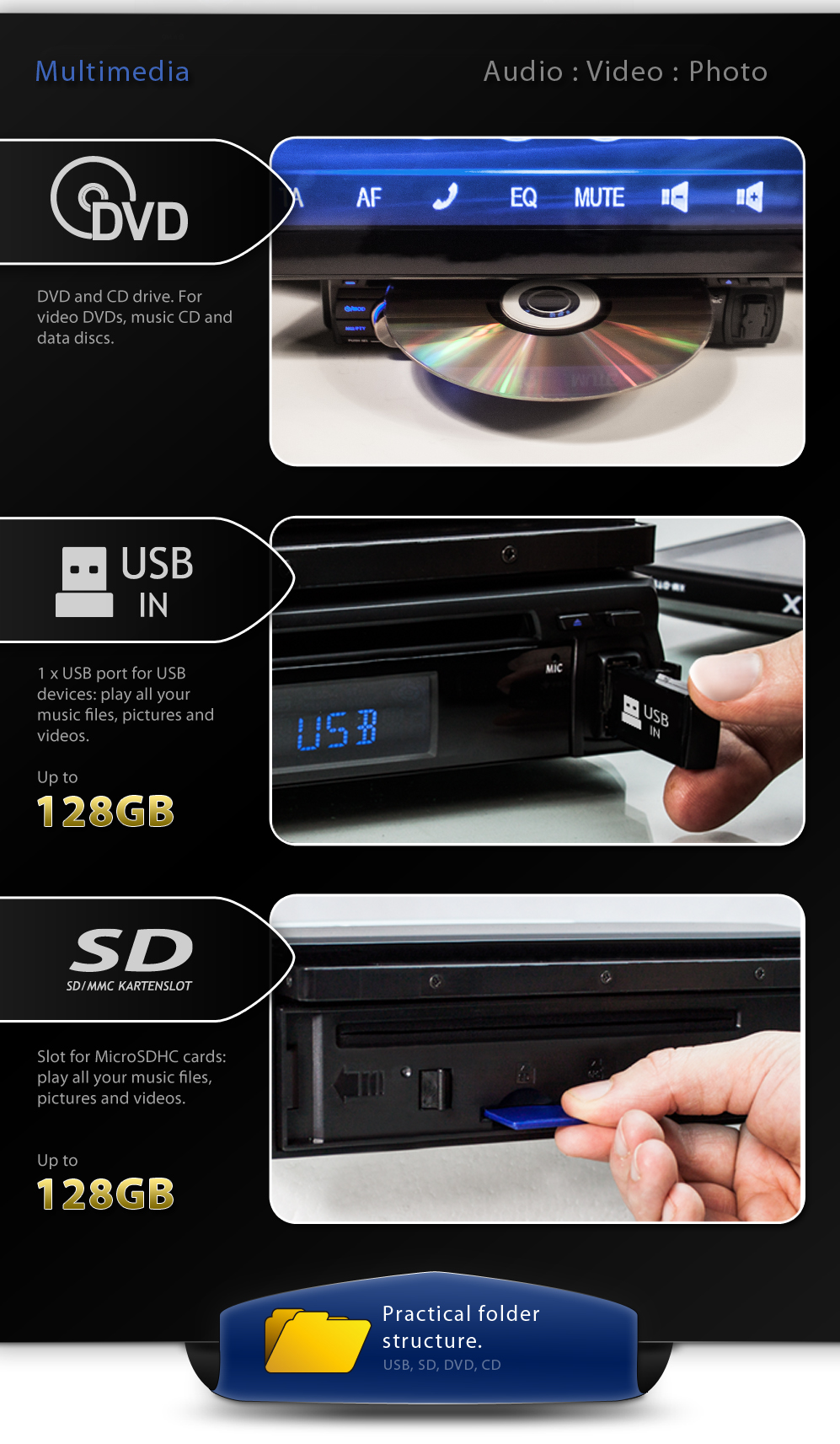 Multimedia – music, videos and pictures
Plays files from USB, SD, DVD, CD or Handy and Tablet over Bluetooth.
The SD slot and the USB port can be used with all memory devices: each one up to 32GB.
This way you can play up to 64GB in total (music, videos and pictures).
CD and DVD drive: The CD/DVD drive is located in the front part of the stereo. Insert the disc, which will be automatically withdrawn; just push the eject button to get it back. Audio and video discs, as well as data discs (containing pictures, videos and music files) can be played.
Formats : MPEG4, DIVX, MP3, JPEG, AVI, WMA
Practical folder structure.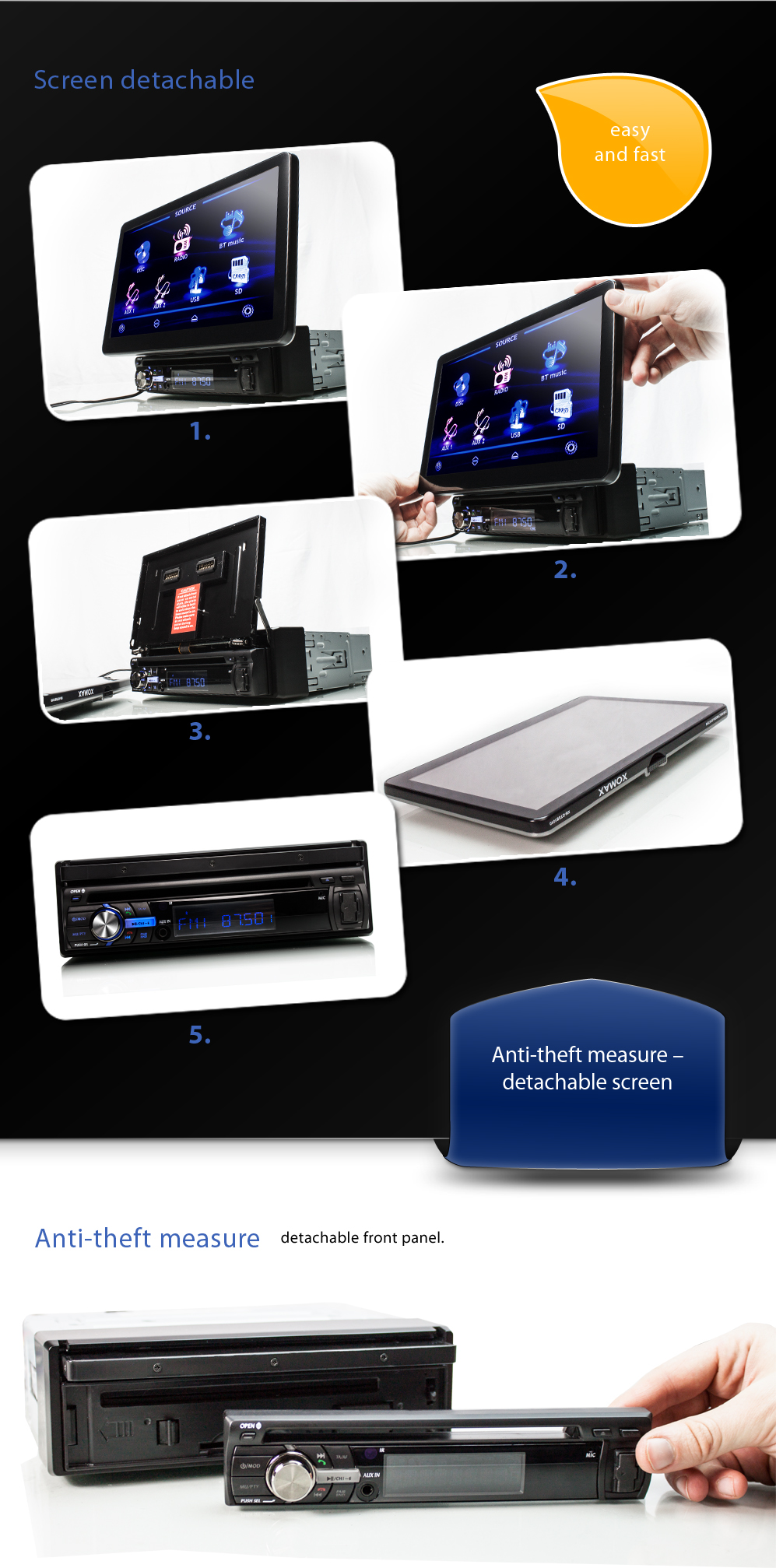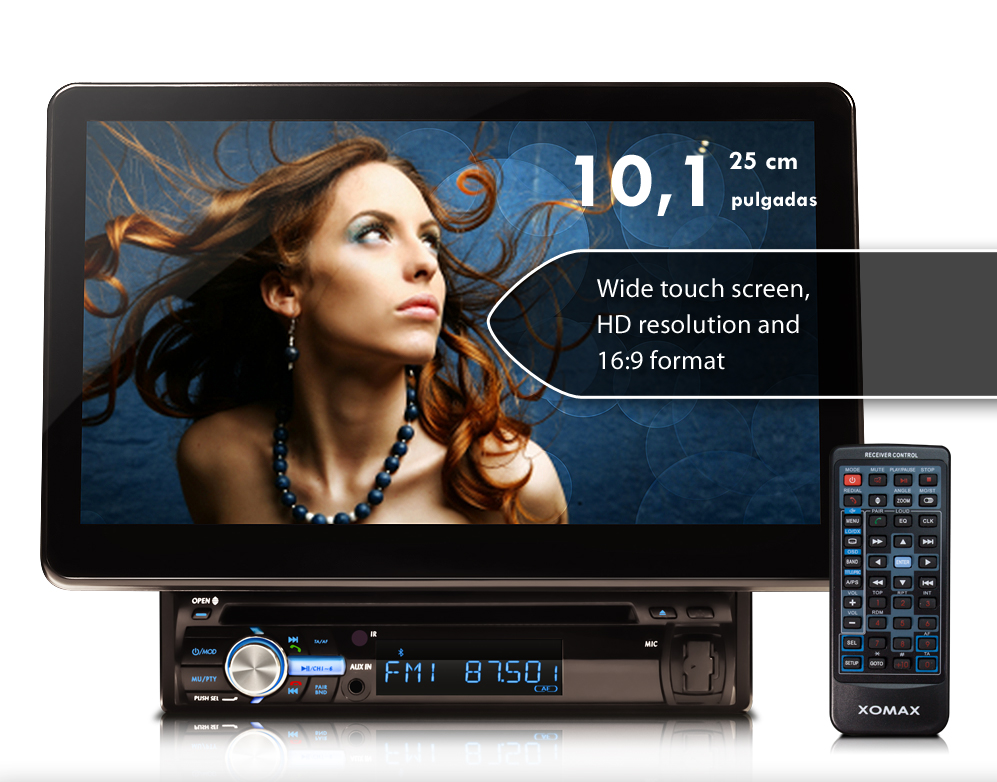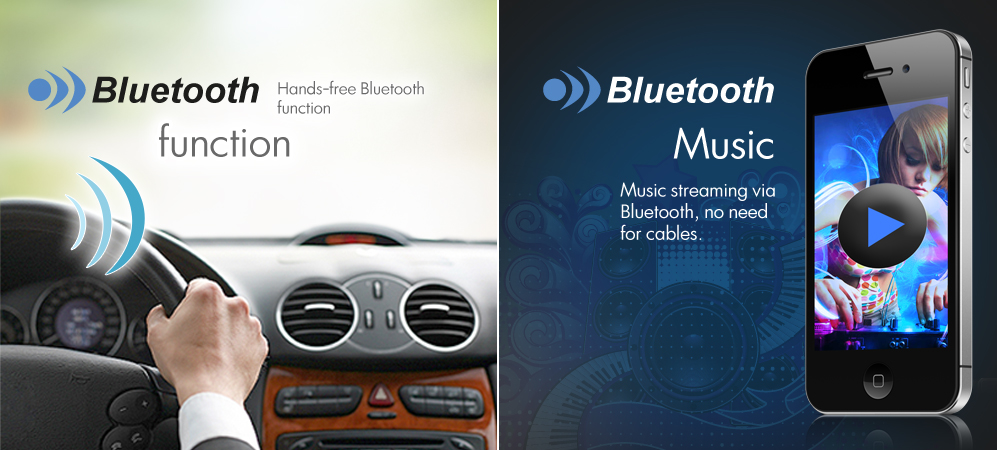 Hands-free Bluetooth function
This hands-free function for your mobile phone enables you to make a phone call using the microphone on the front panel and the loudspeakers in your car. Stay safe and flexible while you drive: just use the Bluetooth to connect your mobile phone with the car stereo!
Music streaming via A2DP
Music streaming via Bluetooth: listen to the music you have stored on your phone or MP3 player through the loudspeakers in your car. No need to copy any file, no need for cables. This car stereo is directly connected to your car's hands-free system. Any time you make or pick up a call, the car stereo goes on "mute".
Technical Details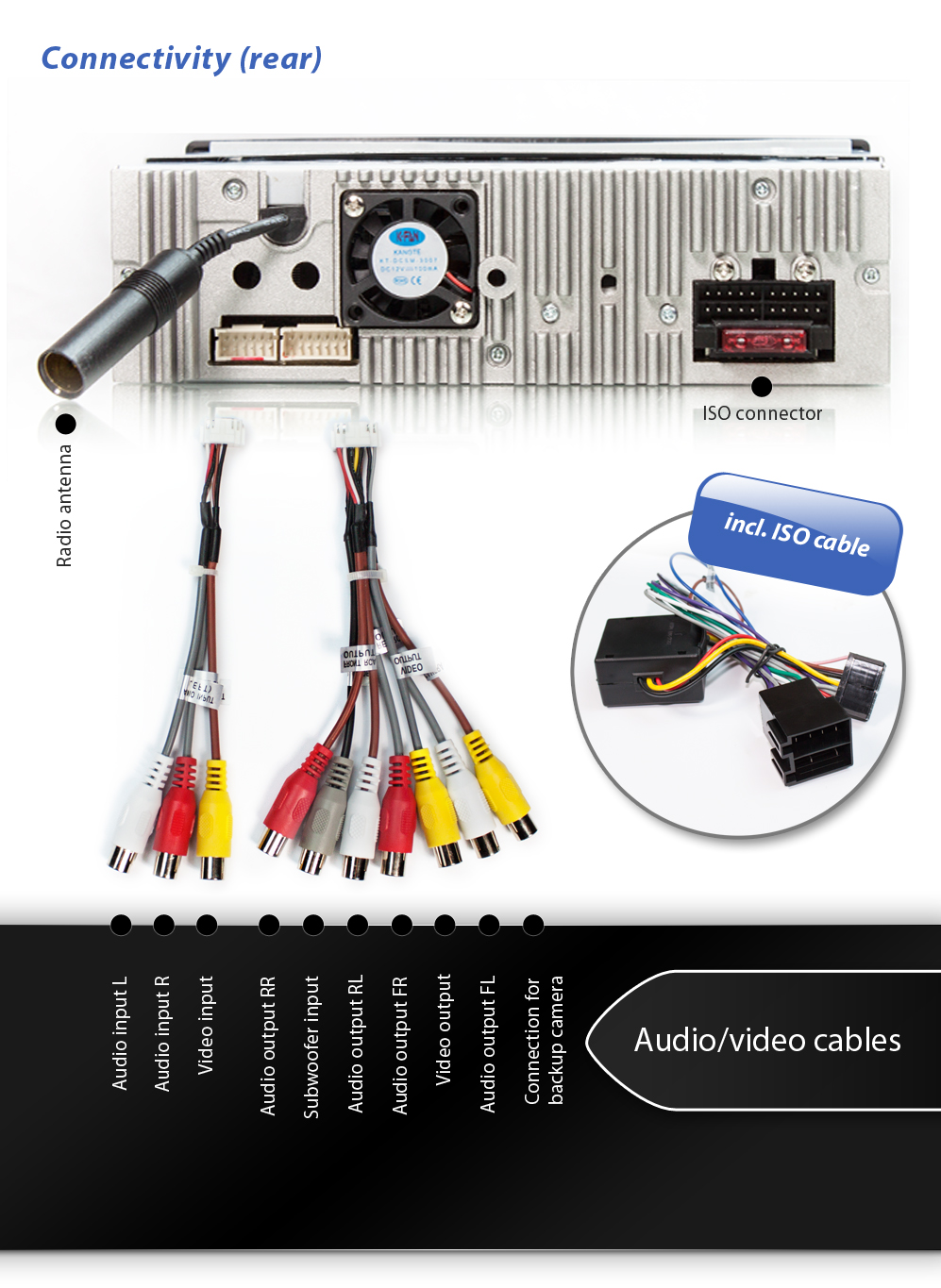 General features

Voltage: 12V DC
Impedance: 4 Ohm
Sizes: (LxWxH) 183x140x53 mm ca
Colour: black
LED Colour: red, blue, pink
Net weight: 2,2 kg ca
Standard DIN1 dimension
Mounting angle: +/- 30°

Screen

Type: TFT LCD Touchscreen Monitor
Color System: NTSC / PAL
Display size: 25cm / 10,1 inches
Widescreen Aspect Ratio: 16:9
HD resolution: 1024 x 600 px

Supports

Media: USB, SDHC, SD, CD, DVD
Formats: MPEG1, AVI, XVID, RMVB, MP3, WAV, JPG, BMP

Audio

Frequency range: 20Hz - 20KHz
S/N: 85 dB
Channel separation: 80 dB
4 x 60W MOSFET
Volume control: +/- 8db
Adjustable volume, trebles, basses, fader, balance

AM tuner

Frequency range: 522-1620 KHz
Sensitivity (-20dB): 25dB
Intermediate frequency: 450 KHz

FM tuner

Frequency range: 87.5-108 MHz
Intermediate frequency: 10.7 MHz
Sensitivity: 15dB
S/N: 60 dB
Stereo separation: 30 dB (1KHz)
Antenna impedance: 75 Ohm
Connectivity (rear)

ISO connector
Radio antenna
Audio output (4 x Cinch)
Audio input (2 x Cinch)
Video output (1 x Cinch)
Video input (1 x Cinch)
Connection for backup camera
Connection for subwoofer

Connectivity (front)