Detalhes
XM-2VRSU732BT: Autoradio NO-CD + 7LED
18 centímetros (7") Touchscreen Monitor
9 widescreen formato: 16
HD - High Definition (800 x 480 pixels)
Mãos-livres Bluetooth
2-DIN (DIN Duplo) tamanho padrão de montagem
Sem unidade de CD - sem desgaste
Frente Mini-USB porta para USB-Media até 128GB
Slot para cartão MicroSD 1x para cartões de memória SD de até 128GB
Rádio RDS com sintonizador automático, a função TA e AF
Suporta MPEG4, MP3, WMA, AVI, DivX e muitos mais.
Função pasta confortável
7 LED de iluminação cores ajustáveis: azul, vermelho, verde, amarelo, branco, céu azul, rosa
ID3 Tag, data e da hora
Função de escurecimento - O visor pode ser desligado
Wallpaper - selecionáveis ​​Várias imagens como um motivo de fundo
MOSFET: poder 4x60 Watt TOP
Cabo de conexão ISO incluindo ISO e ISO-Adapter
Invertendo Camera Connection
Subwoofer Conexão
EQ predefinido: Pop, Rock Clássico e muito mais.
Volante remoto

Mídia:
Reprodução de USB, MicroSD
Formatos: MPEG4, DIVX, MP3, JPEG, AVI, WMA

Ligações na retaguarda:
Conector do cabo ISO
Conector de antena de rádio
A entrada de áudio (2 x RCA)
Saída de áudio (RCA 4x)
Entrada de vídeo (1 x RCA)
Saída de vídeo (RCA 2x)
Invertendo conexão da câmera (1x RCA), 1x 12 Controle V
Conexão do subwoofer (2x RCA)
Ligações para controlo remoto do volante (Roda 1, Roda 2)


Conectores da frente:
Porta mini USB
Slot para cartão Micro SD


Entrega:
Radio Car
Estrutura de montagem (de graça)
Matching guarnição (livre)
Controle remoto com bateria
ISO Connector
Material de montagem
Instruções de instalação (Alemão).
O manual de instruções detalhadas (em inglês) pode ser encontrado no lado do fabricante XOMAX.de
Informação Adicional
| | |
| --- | --- |
| Weight | 2.2300 |
| EAN | 4260182772478 |
| Modell | XM-2VRSU732BT |
| Shipping Article | 14.90 |
| SKU: | 1356 |
| Tags: | |
Imagens do Produto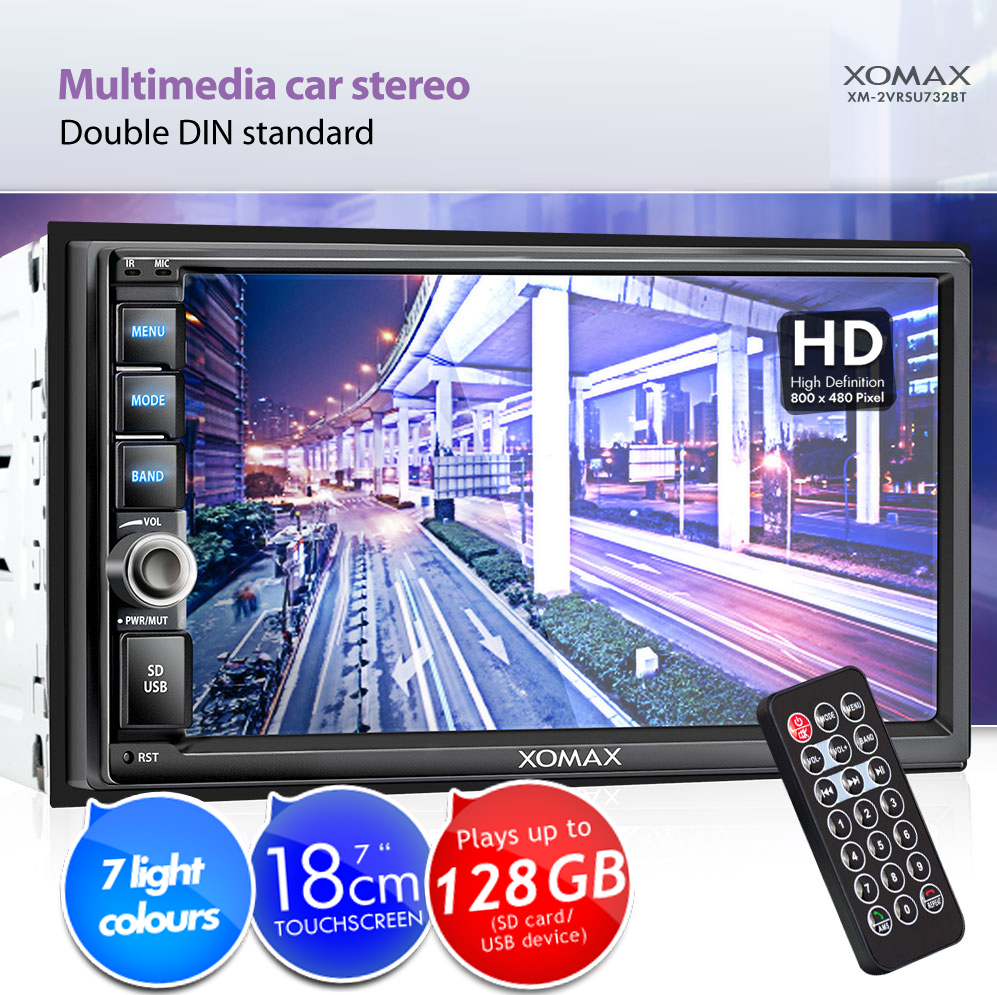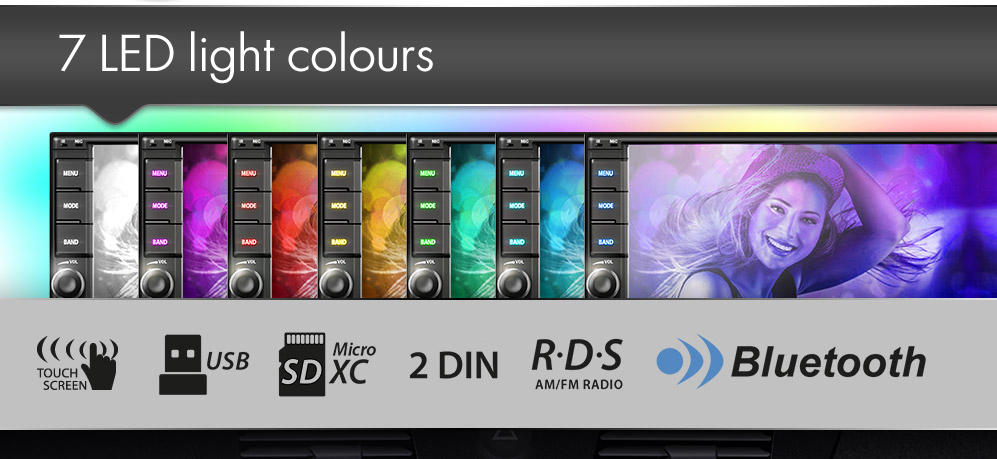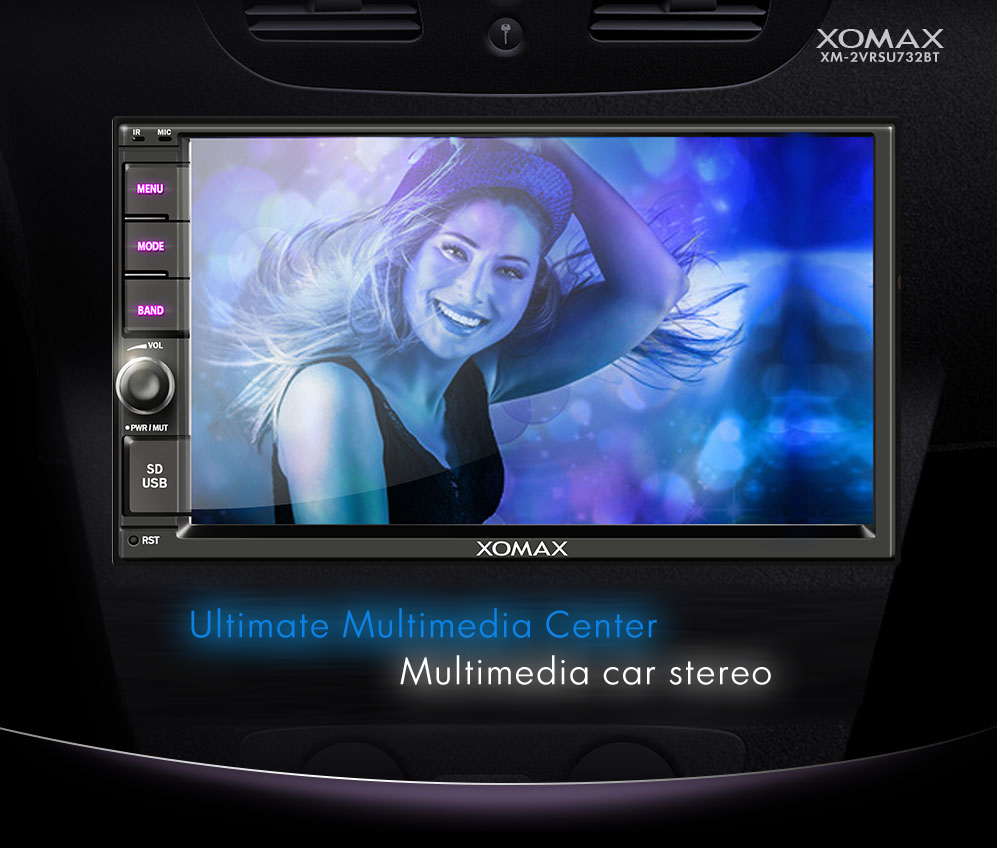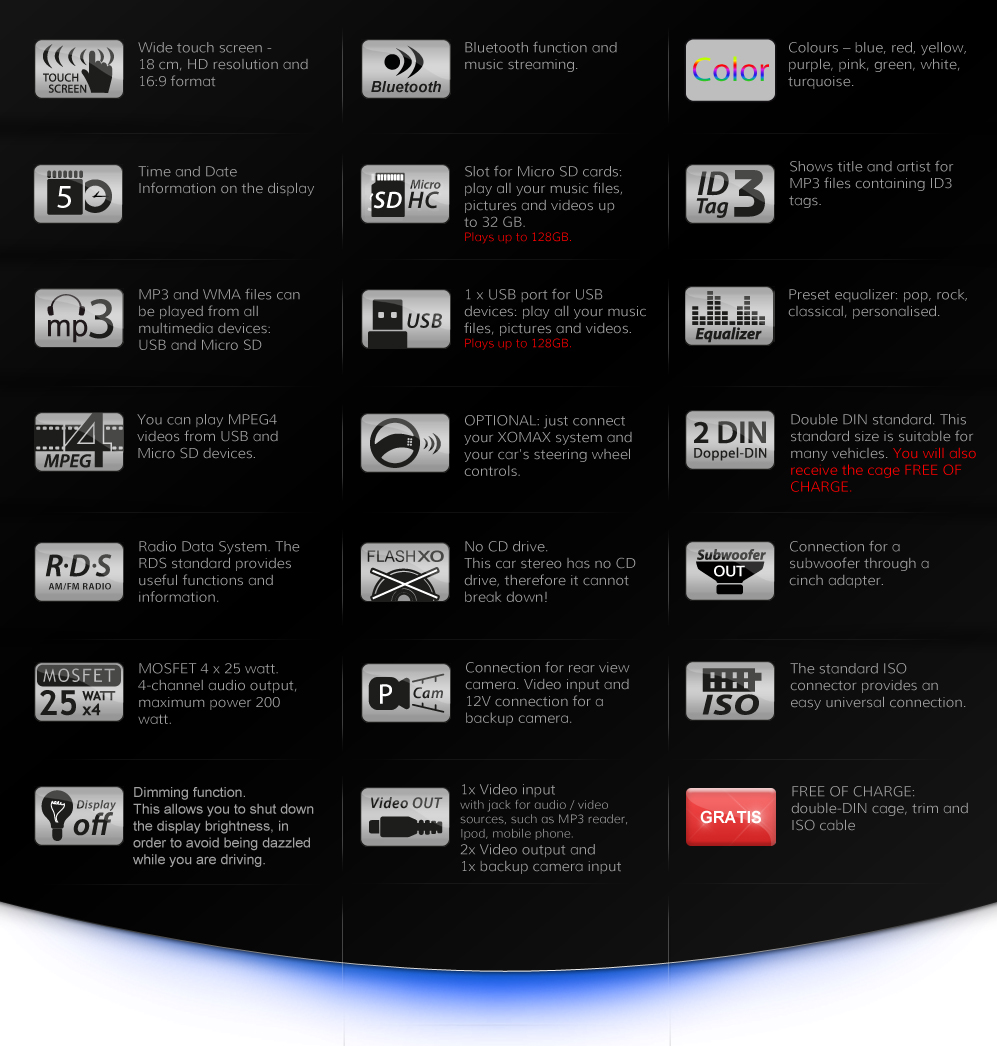 DIN2 car stereo without cd drive with wide screen (18 cm / 7'')
Car stereo with USB port, Micro SD slot, auxiliary input and Bluetooth hands-free system.
Watch your movies, your pictures or just listen to your favourite music from a USB key or a Micro SD card. Thanks to the practical folder structure and the 7'' touch screen you can quickly access all MP3s, videos or pictures on your devices.
The display has a powerful HD 800 x 480 resolution that will provide a really clear image.

Top Features
Wide touch screen - 18 cm, HD resolution and 16:9 format
Bluetooth function and music streaming.
Radio Data System.
Slot for MicroSDHC cards: play all your music files, pictures and videos up to 128GB.
1 x Mini USB port for USB devices: play all your music files, pictures and videos up to 128GB. (with Mini USB adapter)
No CD drive. This car stereo has no CD drive, therefore it cannot break down!
You can play MPEG4 videos from USB and Micro SD devices.
7 LED Colours – blue, red, yellow, purple, pink, green, white, turquois
MOSFET 4 x 25 watt. 4-channel audio output, maximum power 200 watt.
Connection for rear view camera.
Connection for a subwoofer
Double DIN standard. This standard size is suitable for many vehicles. You will also receive the cage FREE OF CHARGE.
Monitor turn off function. This allows you to turn off the display brightness, in order to avoid being dazzled while you are driving.
Practical folder structur
The standard ISO connector provides an easy universal connection.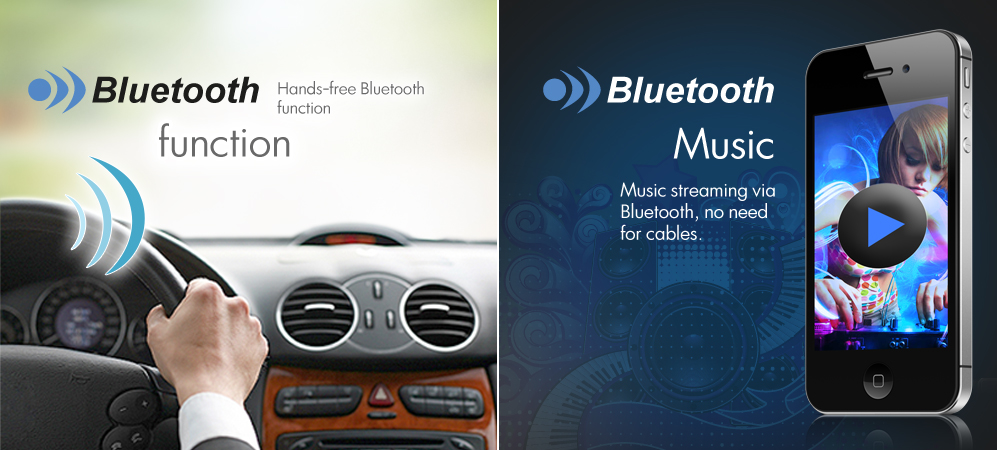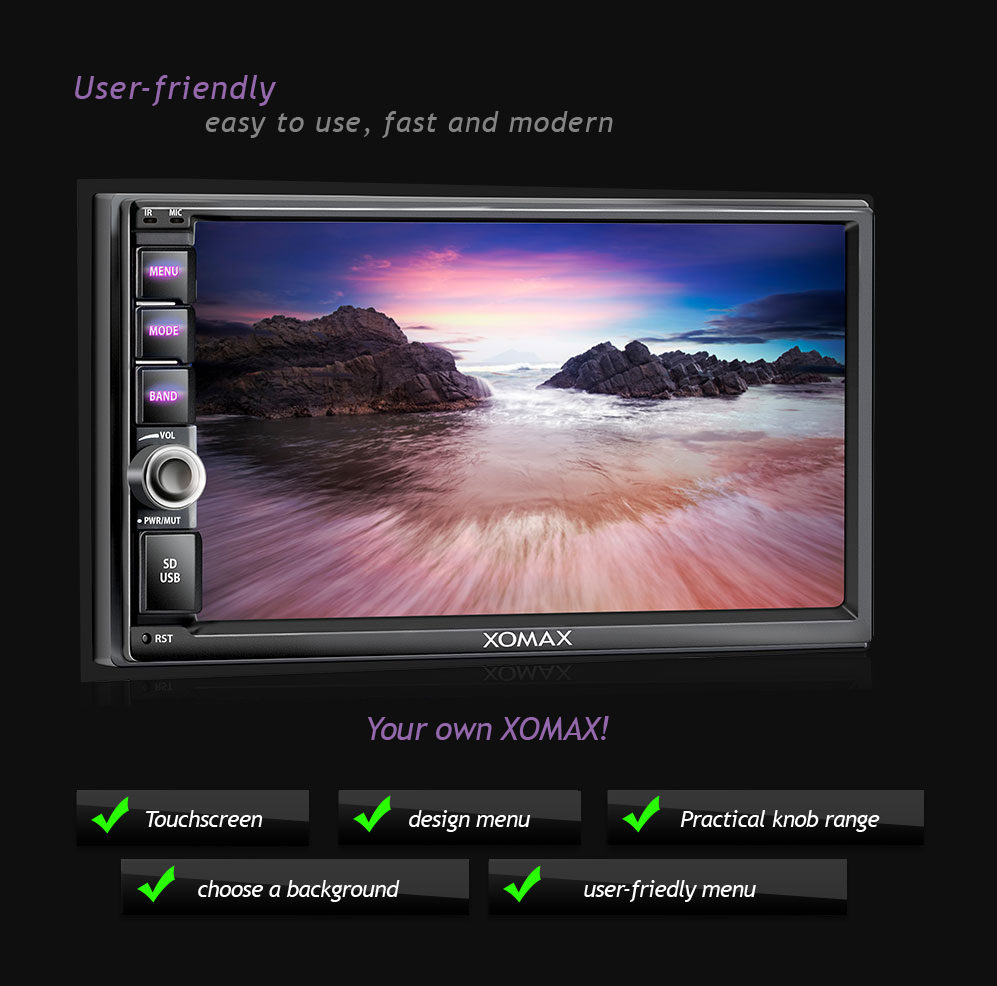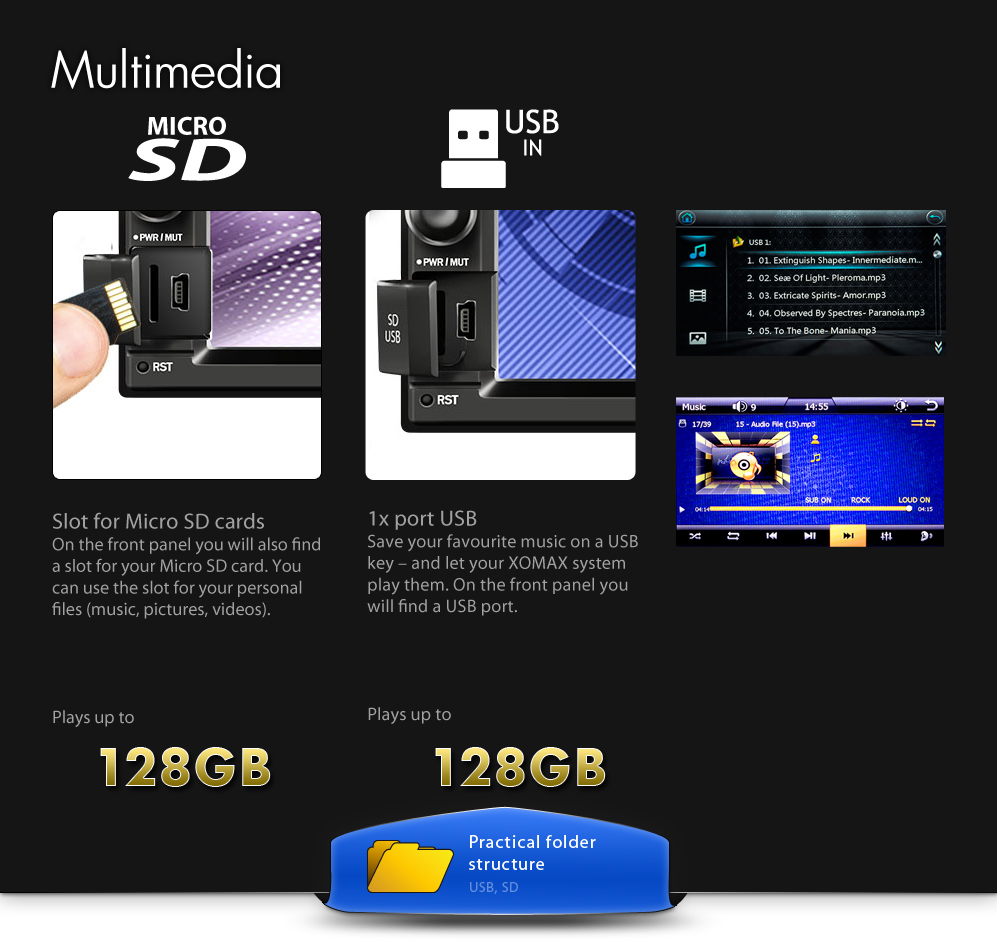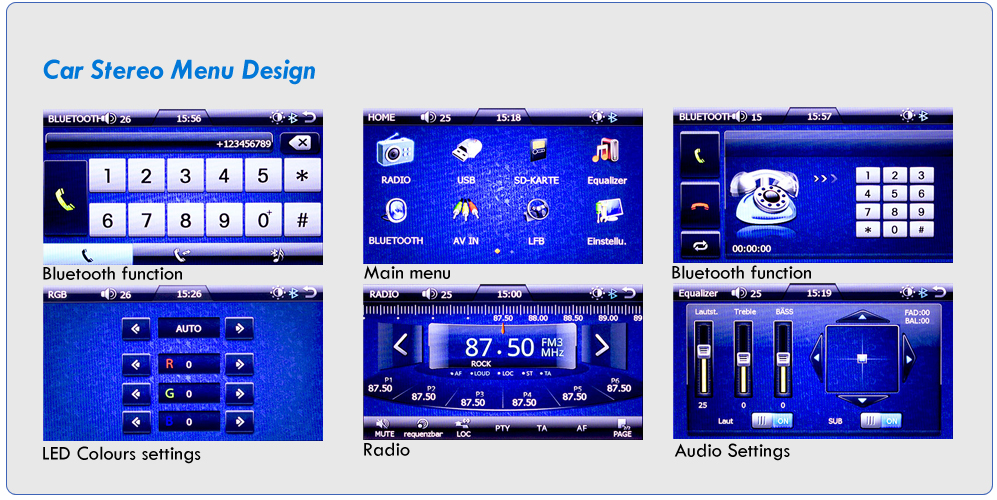 Multimedia – music, videos and pictures
The MicroSD slot (up to 128GB) and the USB port (up to 128GB) can be used with all memory devices. This way you can play up to 256 GB in total (music, videos and pictures). On the front panel you will also find a slot for MicroSD cards. You can use the first slot for your personal files.
Practical: just insert the MicroSD card in the slot on the right side of the front panel – the slot is always concealed by the special cover, even during its use.
Plays files from USB or MicroSD
Formats: MPEG4, MP3, JPEG, WMA, MP4
Practical folder structure.
AM/FM radio with RDS
AM/FM stereo radio
Automatic tuner
RDS: Radio Data System
EON: Enhanced Other Networks: receives traffic information
ASM/AF: automatically searches for stronger signals
PTY: news, education, religion, science, varied, documentary, weather, etc.
REG: tunnel/skip, etc.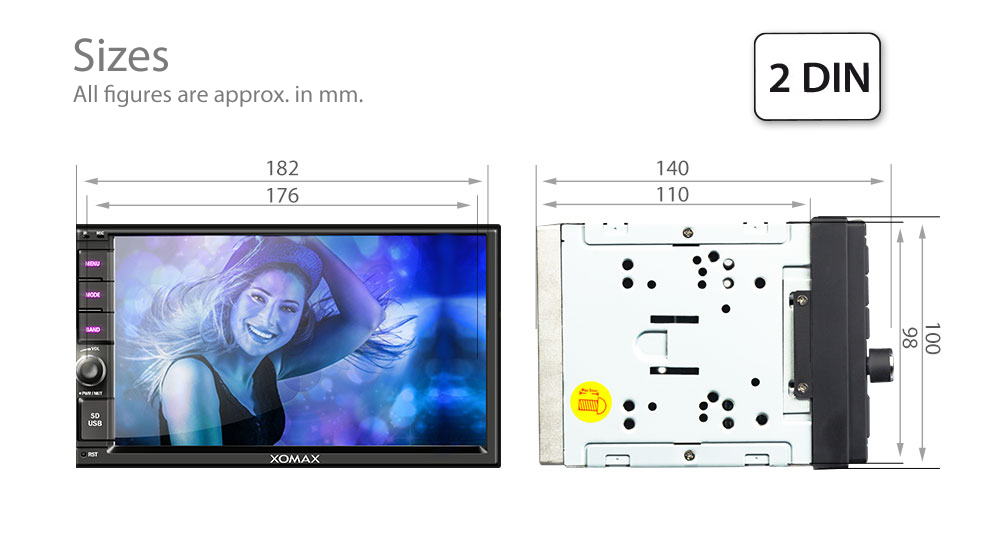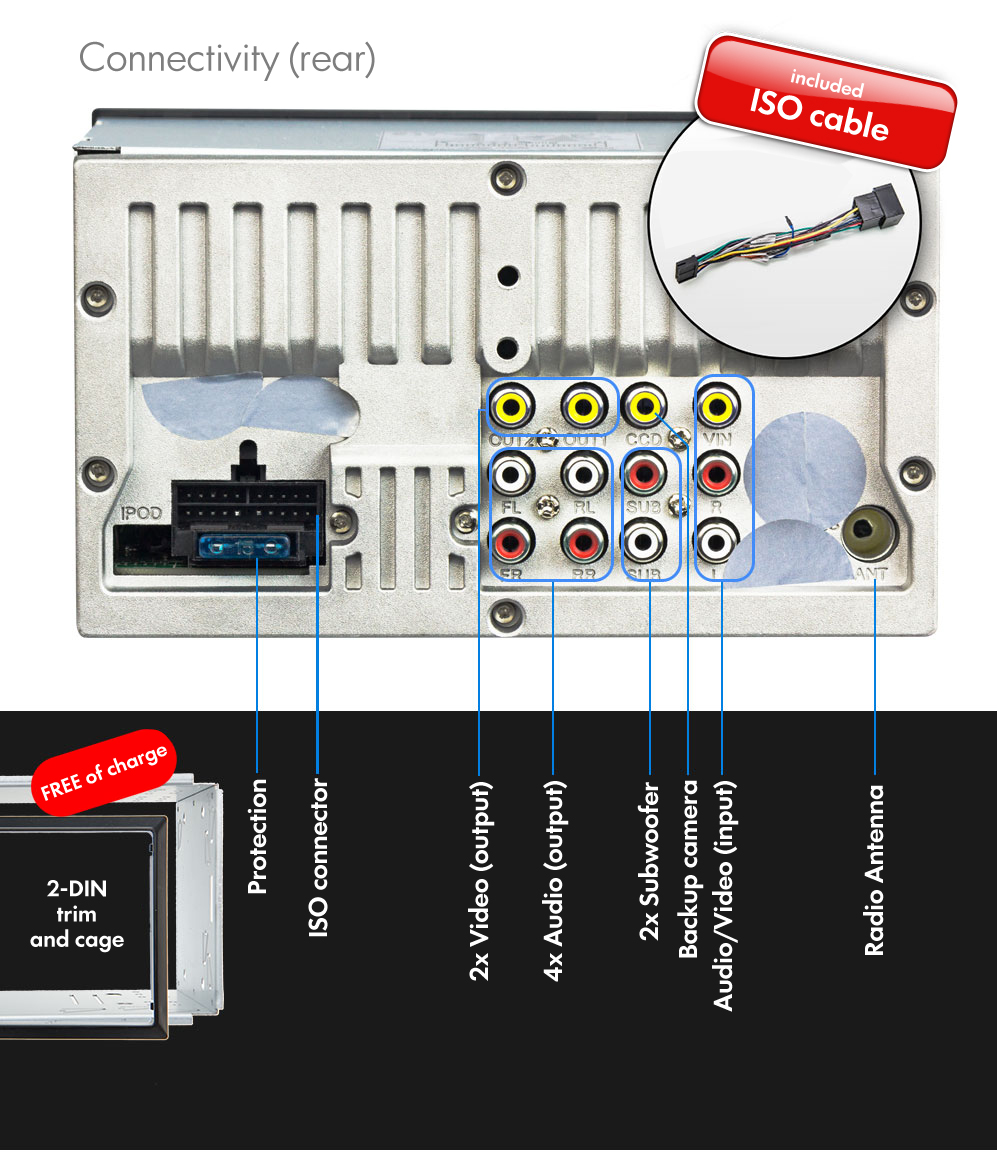 General features
General features

Voltage: 14,4V DC
Impedance: 4 Ohm
Sizes: (LxWxH) 182x110x98 mm ca
Colour: black
LED Colour: blue, red, yellow, purple, pink, green, white, turquoise
Net weight: 1,5 kg ca
Standard DIN2 dimension
Mounting angle: +/- 30°

Screen

Display: 18cm / 7"
Colour TFT LCD touchscreen
Resolution: High Definition 800 x 480 pixels
Colour system: NTSC / PAL
Widescreen

Supports

Media: USB keys, MicroSD card
Formats: MPEG4, MP3, WMA, JPEG, MP4

Connectivity (rear)

ISO connector
Radio antenna
Audio output - 4x cinch
Video input - 1x cinch
Video output - 2x cinch
Connection for backup camera (1x cinch)
Connection for subwoofer - 2x cinch
Connection for steering wheel audio control

Connectivity (front)

Mini USB port
MicroSD slot
AUX-IN

Bluetooth

Bluetooth version: 1.2 Class 2
Profiles: Headset, Hands-Free, A2DP and AVRCP
Frequency: 2.4GHz

AM tuner

Frequency range: 522-1620 KHz
Sensitivity (-20dB): 28dB
Intermediate frequency: 455 KHz

FM tuner

Frequency range: 87.5-108 MHz
Intermediate frequency: 10.7 MHz
Sensitivity: 15dB
S/N: 60 dB
Stereo separation: 30 dB (1KHz)
Antenna impedance: 75 Ohm

Audio

Frequency range: 20Hz - 20KHz
S/N: 85 dB
Channel separation: 75 dB
4 x 25W MOSFET
Volume control: +/- 8db
Adjustable volume, trebles, basses, fader, balance
What's inside the box: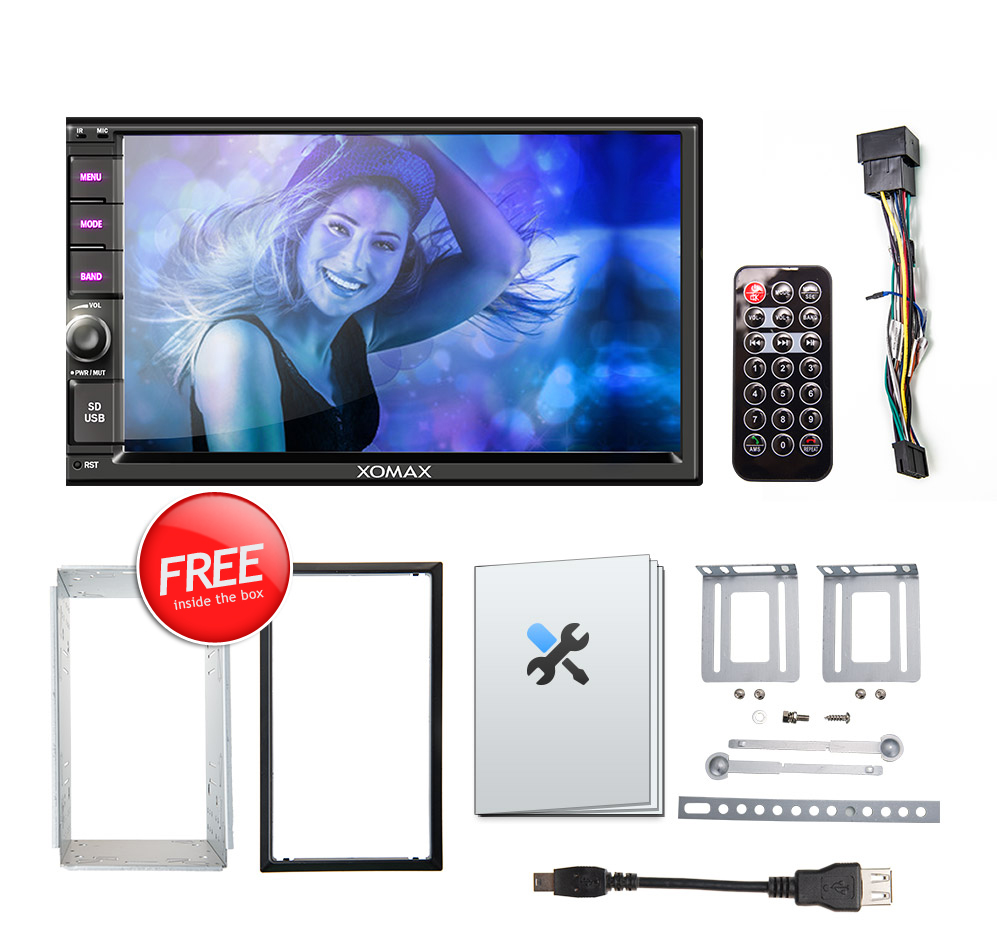 What's inside the box:
Car stereo
2DIN cage and trim (Free of charge)
Remote control with battery
Mini USB adapter
ISO cable
Mounting material
Instruction sheet in English. For instruction sheets in English please refer to the producer's website: XOMAX.de