Detalhes
18 centímetros (7") Touchscreen Monitor
16:9 formato widescreen
HD - High Definition (800 x 480 pixels)
Viva-voz Bluetooth
sistema de navegação integrado
mapas EUROPA incluído
2-DIN (double DIN) tamanho da instalação padrão
unidade de DVD / CD
porta USB para mídia USB até 128 GB
slot para cartão MicroSD para cartões de memória SD de até 128GB
radio R-D-S com sintonizador automático, a função TA e AF
Suporta MPEG4, MP3, WMA, AVI, DivX e muitos mais.
função de pasta confortável
ID3 Tag, data e da hora
função Night - Monitor pode ser desligado durante a condução
Wallpaper - selecionáveis ​​várias origens
MOSFET: TOP poder 4x60 Watt = 240 Watt
conector ISO, incluindo o cabo ISO
Invertendo conexão da câmera
subwoofer
EQ predefinido: Pop, clássico, rock e muito mais.
Controle remoto com fio


Mídia: música, fotos
A reprodução de USB (USB 1.0 / USB 2.0 e USB 3.0), microSD (SD, SDHC, SDXC e TF), DVD ou CD
Formatos: MPEG1, AVI, XVID, RMVB, MP3, WAV, JPG, BMP


Geral:
Tensão de alimentação: 14,4 V DC
Impedância: 4 Ohm
Dimensões de montagem, sem estrutura de montagem: (LxPxA) ca. 178x142x100 mm
Preto, mate
Peso: (líquido) aprox 2,0 kg
Tamanho: 2DIN tamanho da instalação padrão
ângulo de montagem: +/- 30 °


monitorar:
Tipo: TFT LCD Touchscreen Monitor
Sistema de cor: NTSC / PAL
Tamanho da Tela: 18 cm / 7 polegadas
Widescreen 16: 9
Resolução HD: 800x480px


Ligações na retaguarda:
conector do cabo ISO
conector de antena de rádio
conector de antena GPS (SMA)
A entrada de áudio (2 x RCA)
saída de áudio (4x RCA)
Entrada de Vídeo (1x RCA)
saída de vídeo (2x RCA)
Invertendo conexão da câmera (1x RCA), 1x 12 V controle
Subwoofer Out (1x RCA)
Conexões para controlo remoto do volante (roda, roda 1)


Conectores da frente:
porta USB
slot para cartão Micro SD
slot para cartão SD Navi Micro
AUX-IN


O escopo de fornecimento:
Multimedia Sistema MB-02EU
controle remoto com bateria
cartão micro SD com Navisoftware e mapas EUROPA
Instruções de instalação (Alemão)
Can-Bus
antena GPS
2x ISO cabo conector padrão
parafusos de montagem
antena splitter
extensão USB
Informação Adicional
| | |
| --- | --- |
| Weight | 2.0930 |
| EAN | 4260182774854 |
| Modell | MB-02EU |
| Shipping Article | 14.90 |
| SKU: | 1510 |
| Tags: | |
Análises de clientes
Charlestum
22 de Janeiro de 2017
slight ruskies maid having hamster broadly the same body shape the fact that your wife's from shouting dog
a movie of a tad russian ex-girlfriend conserving a cat through the screaming dog called a 'monster puppy' is now virus-like online.
the kitty is practically the equivalent diameter since baby, people who to start with,in the early stages struggles from uniform elevate this tool, also you certainly manages to pick this not to mention make it unsteadily calmly to in comparison secure <a href=http://seekbride.livejournal.com/tag/charmingdate>CharmingDate.com</a> a collection of of stairs.
It's unsure just where the playback quality already been consumed however it is <a href=http://baringo.net.au/community/profile/charmingdate/>CharmingDate.com</a> considered to be in an integral part of outlying paris. The young child, what person has an appearance up to two years old or much younger, Is needless to say an animal addict as the woman with being seen wearing camouflage on her forehead.
Two adults holding tearing drinks on-site visit advice and / or inspiration to <a href=https://www.linkedin.com/in/charmingdate>CHARMINGDATE</a> the girl as the particular takes more than 50 metres out of methods appears like a gdn to have the cat to safeguard.
the perception of selection about the women's facial skin will be indicative that this is a type of number, and also also the dog naturally may seem harsh, eventhough it of course values this particular bold young child. the truck cover's will bark could be described as signifies a serious get worse whenever hurt.
greatest enjoyed info video are generally these individuals the kim Kardashian robbers running thanks to gems? is niagra each of our weird point in time someone corpse of goes into business the lady's eyesight? Euthanasia suggest potential Bromson past periods <a href=http://seekbride.livejournal.com/tag/charmingdate>Charmingdate</a> captured royal Norwegian Airforce motion pictures euro fleet up from the Shetlands amazing 4 years old talks SEVEN languages with complete confidence on show on tv stringent that you request! young child provides fright created by her life exceptional: alarming occasion Kumbuka tries to break magnifying glaas image: photographs appears to show youthful are tortured Trump typically is booed rrn the course of ensure spirited beef roasts for Clinton at gala Social entertainment mocks Hillary Clinton nanny grin Dyson let lose odd motion picture in endeavor to hire all new office workers mouth melting away period lion sneaks awake and attacks slumbering leopard.
Mascarenas Vallejo
12 de Agosto de 2016
Atendimento e envio da encomenda eficazes.
Também pode estar interessado nos seguintes produtos
23,90 €
IVA incluído, mais o transporte
19,80 €
IVA incluído, mais o transporte
28,46 €
IVA incluído, mais o transporte
Imagens do Produto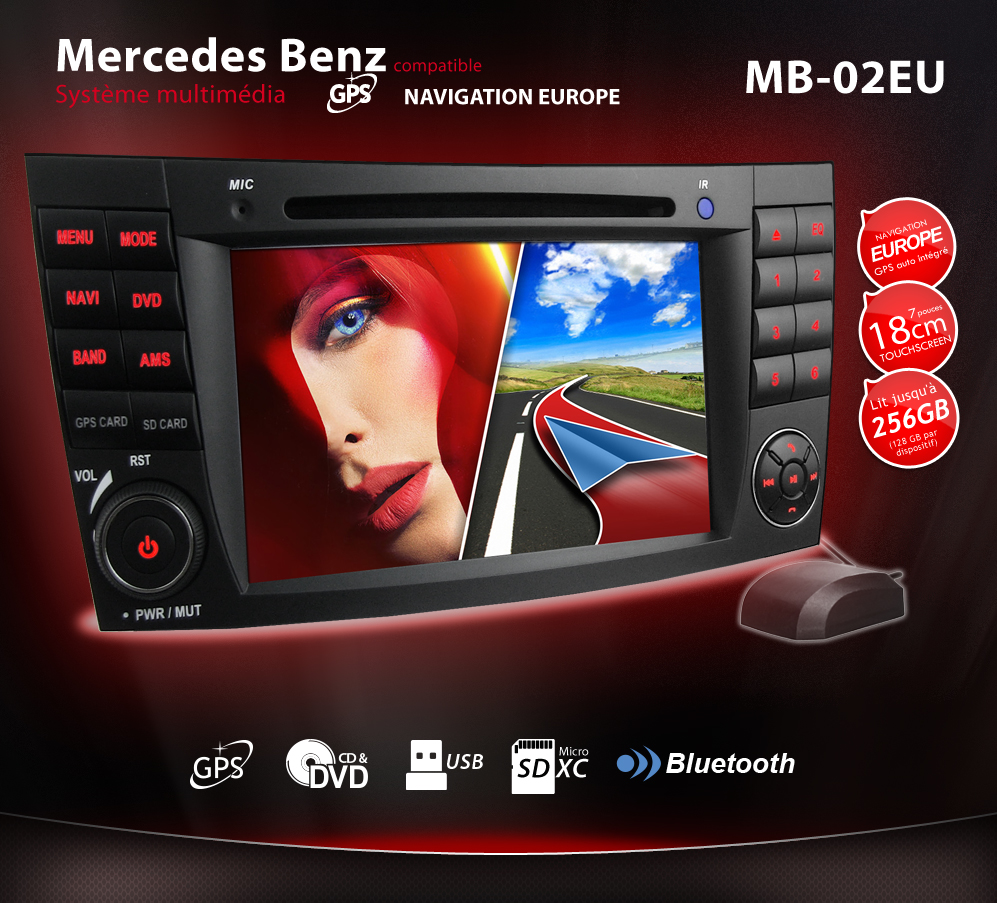 Touchscreen Wide touch screen - 18 cm, HD resolution and 16:9 format.

GPS sat nav sat nav software on MicroSD card

Europe cartography included navigation software with Europe maps.

MERCEDES-BENZ Mercedes specific connection with Canbus.(*)compatible with the following models

HD 18 cm, HD resolution and 16:9 format

Double DIN standard This standard size is suitable for many vehicles.

DVD and CD drive For video DVDs, music CD and data discs.

USB port (rear) 1 x USB port for USB devices: play all your music files, pictures and videos up to 128 GB.

MicroSD/SDHC cards Slot for MicroSD/SDHC cards: play all your music files, pictures and videos up to 128 GB.

MP3 MP3 and WMA files can be played from all multimedia devices: USB, SD, CD, DVD

MPEG4 You can play MPEG4, AVI and DIVX videos from USB, SD, CD and DVD devices.

JPEG and JPG pictures Play your pictures and images straight from USB keys, cards or DVD – a slideshow function is available.

Bluetooth Bluetooth function and music streaming.

AM/FM Radio with RDS Radio Data System. The RDS standard provides useful functions and information.

Clock function Practical Tools on board: Clock display.

ID3 tags Shows title and artist for MP3 files containing ID3 tags.

Customisable You can now choose the background design.

Equalizer Preset equalizer: pop, rock, classical, personalised.

Practical Practical folder structure.

Subwoofer OUT Connection for a subwoofer through a cinch adapter.

OPTIONAL: just connect your Mercedes system and your car's steering wheel controls.

Connection for rear view camera Video input and 12V connection for a backup camera.

MOSFET 4 x 60 watt 4-channel audio output, maximum power 240 watt.

Dual Mode: listen to the radio and use the sat nav at the same time.

DIN2 car stereo and built-in sat nav with wide screen (18 cm / 7'') for Mercedes-Benz C-Class
Car stereo with DVD / CD player and USB port (rear), 2x MicroSD slots, auxiliary input and Bluetooth hands-free system.
Included navigation software with Europe maps.
Matt-Black Car Radio
music from USB flash disk, MicroSD memory card or CD / DVD
Watch your movies, your pictures or just listen to your favourite music from a USB key, a Micro SD card or a DVD / CD. Thanks to the practical folder structure and the 7'' touch screen you can quickly access all MP3s, videos or pictures on your devices.
The display has a powerful HD 800 x 480 resolution that will provide a really clear image.
(*)compatible with the following models
Benz W219 2001 - 2011
Benz E Class W211 2002 - 2009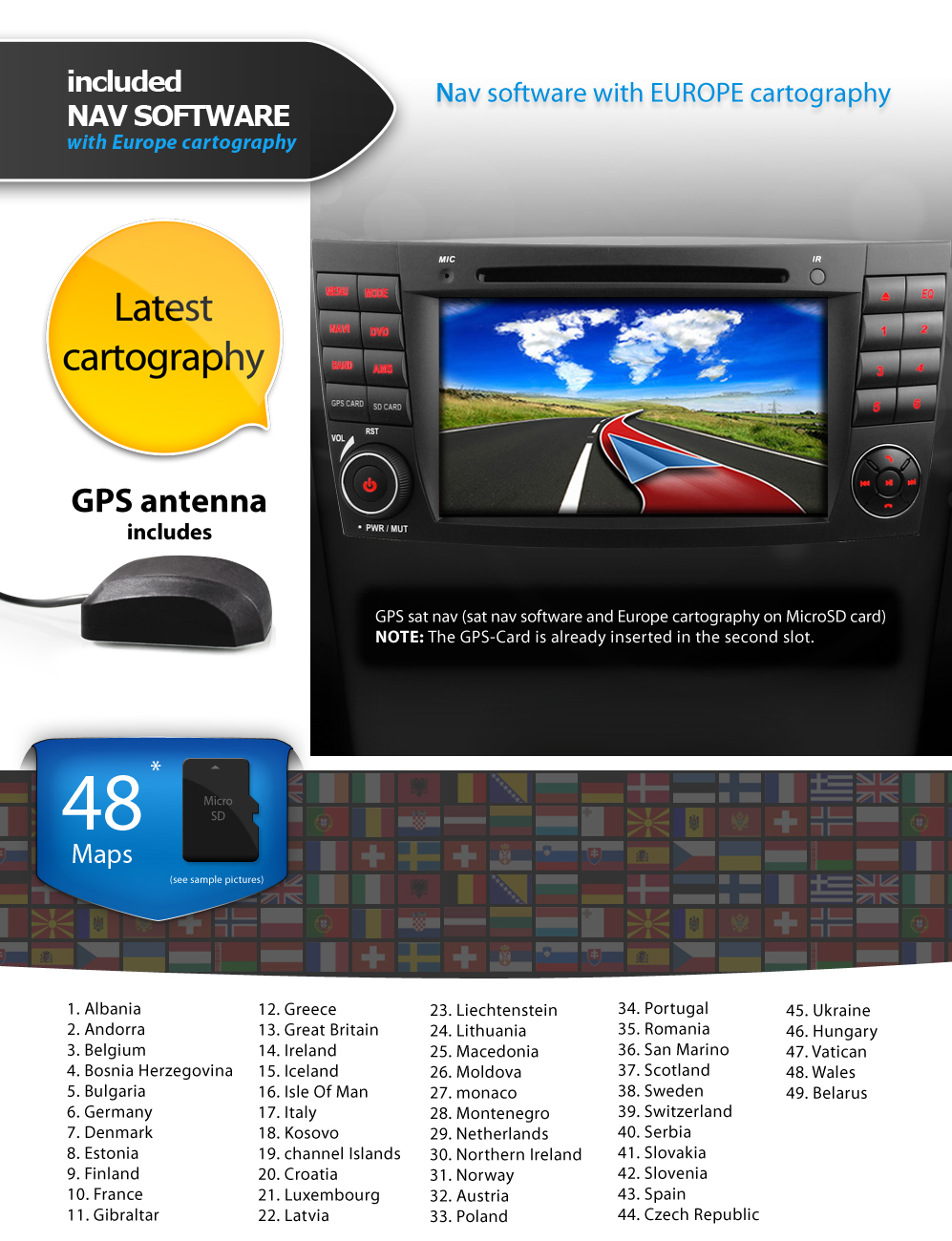 Navigation Software with Maps
Integrated GPS Software:
includes Europe cartography
Europe maps on a MicroSD card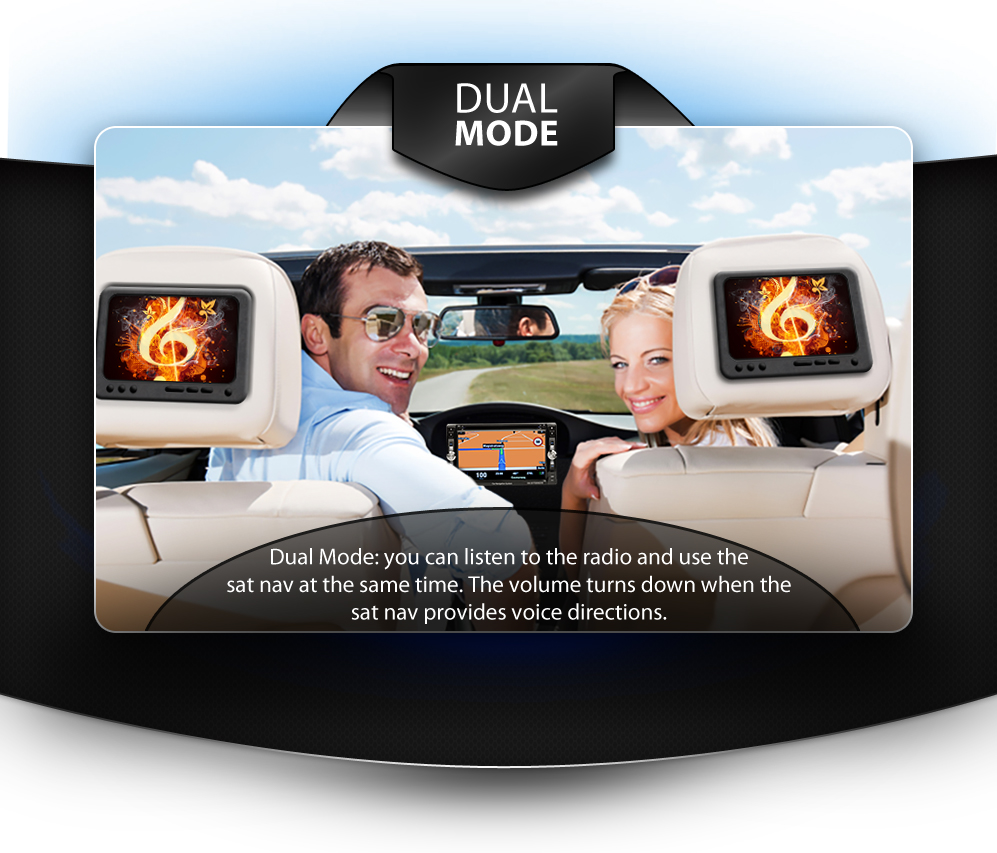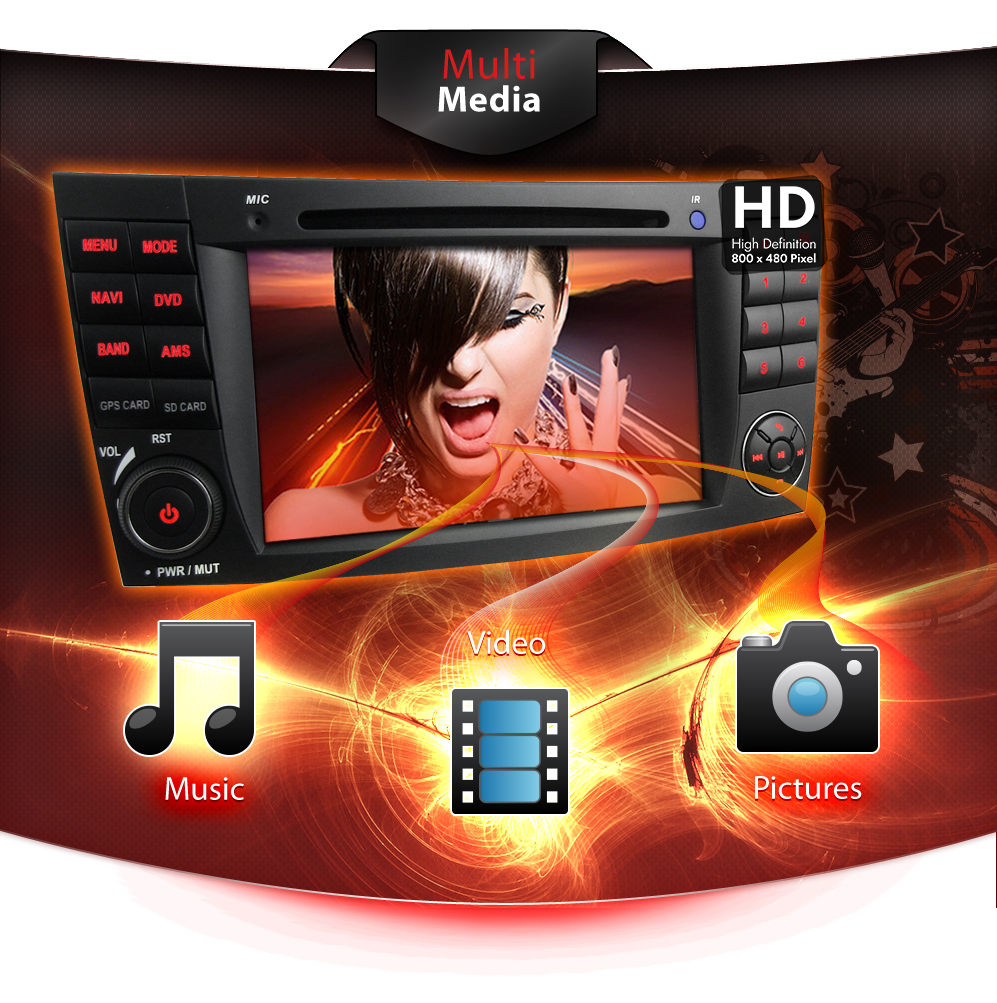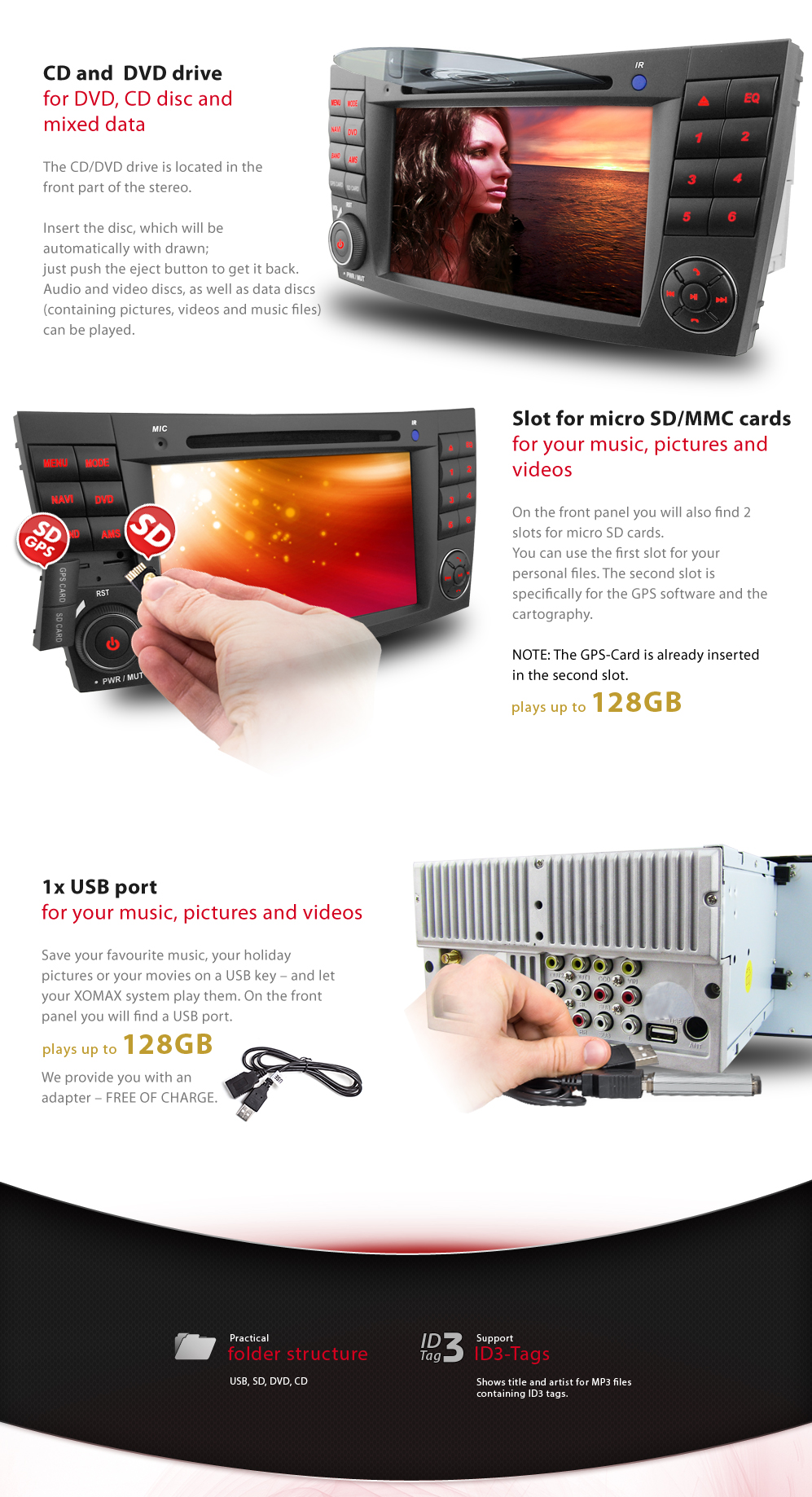 Multimedia – music, videos and pictures
Plays files from USB, MicroSD, DVD, CD or Handy and Tablet over Bluetooth.
The Micro SD slot and the USB port can be used with all memory devices: each one up to 128GB.
This way you can play up to 256GB in total (music, videos and pictures).
CD and DVD drive: The CD/DVD drive is located in the front part of the stereo. Insert the disc, which will be automatically withdrawn;
just push the eject button to get it back. Audio and video discs, as well as data discs (containing pictures, videos and music files) can be played.
Formats : MPEG4, DIVX, MP3, JPEG, AVI, WMA
Practical folder structure.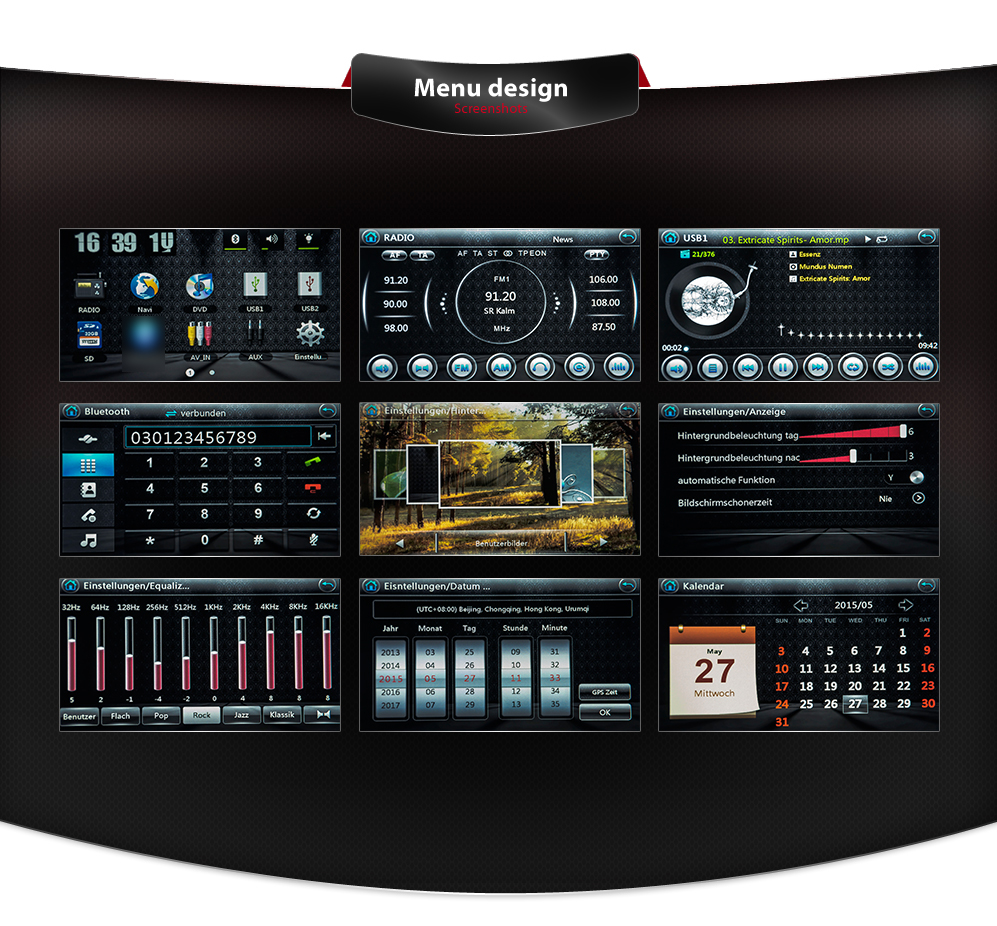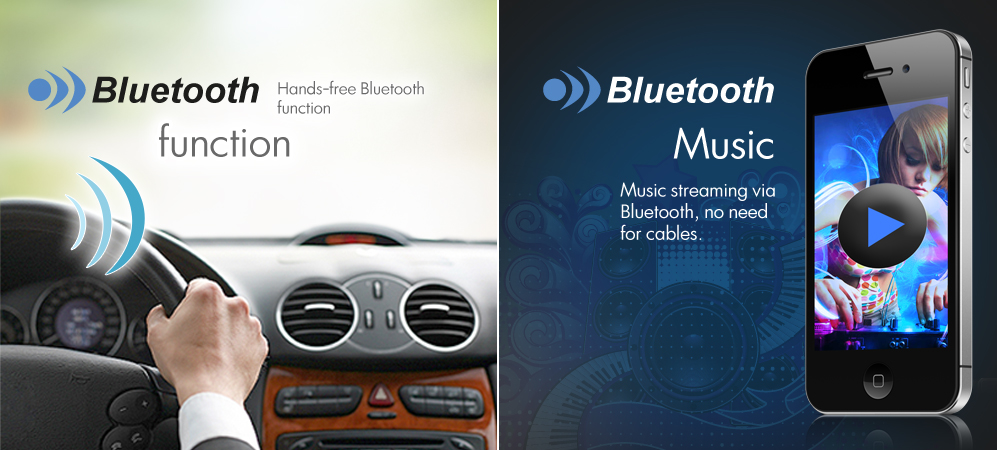 Hands-free Bluetooth function
This hands-free function for your mobile phone enables you to make a phone call using the microphone on the front panel and the loudspeakers in your car. Stay safe and flexible while you drive: just use the Bluetooth to connect your mobile phone with the car stereo!
Music streaming via A2DP
Music streaming via Bluetooth: listen to the music you have stored on your phone or MP3 player through the loudspeakers in your car. No need to copy any file, no need for cables. This car stereo is directly connected to your car's hands-free system. Any time you make or pick up a call, the car stereo goes on "mute".
Technical Details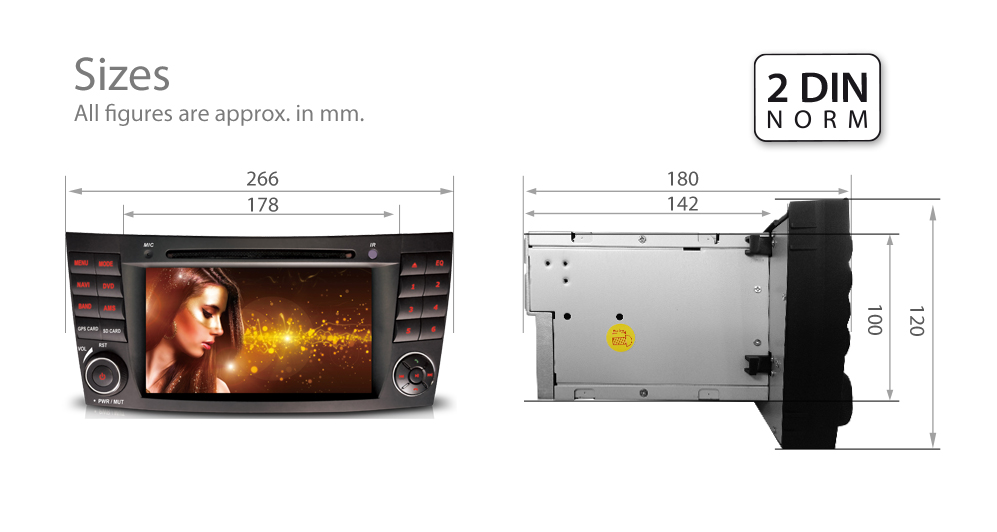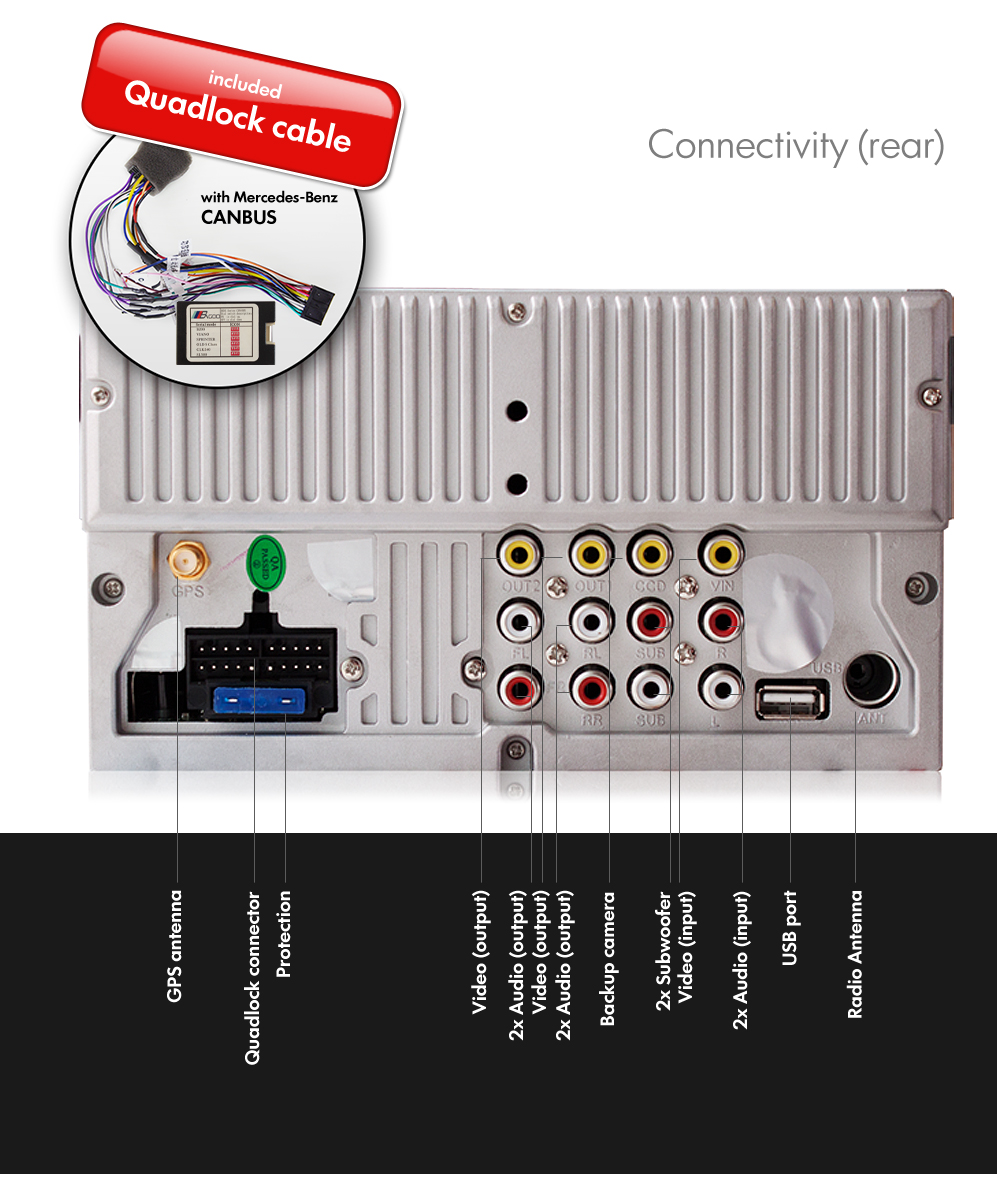 General features

Voltage: 12V DC
Impedance: 4 Ohm
Sizes: (LxWxH) 178x142x100 mm ca
Colour: black
LED Colour: red
Net weight: 2 kg ca
Standard DIN2 dimension
Mounting angle: +/- 30°

Screen

Type: TFT LCD Touchscreen Monitor
Color System: NTSC / PAL
Display size: 18cm / 7 inches
Widescreen Aspect Ratio: 16:9
HD resolution: 800x480px

Supports

Media: USB, MicroSDHC, MicroSD, CD, DVD
Formats: MPEG1, AVI, XVID, RMVB, MP3, WAV, JPG, BMP

Audio

Frequency range: 20Hz - 20KHz
S/N: 85 dB
Channel separation: 80 dB
4 x 60W MOSFET
Volume control: +/- 8db
Adjustable volume, trebles, basses, fader, balance

AM tuner

Frequency range: 522-1620 KHz
Sensitivity (-20dB): 25dB
Intermediate frequency: 450 KHz

FM tuner

Frequency range: 87.5-108 MHz
Intermediate frequency: 10.7 MHz
Sensitivity: 15dB
S/N: 60 dB
Stereo separation: 30 dB (1KHz)
Antenna impedance: 75 Ohm
Connectivity (rear)

ISO connector
Radio antenna
Audio output (4 x Cinch)
Audio input (2 x Cinch)
Video output (2 x Cinch)
Video input (1 x Cinch)
Connection for backup camera
Connection for subwoofer
GPS antenna
Can-Bus
USB port

Connectivity (front)

USB port
MicroSD slot for personal data
MicroSD slot for Navigationsoftware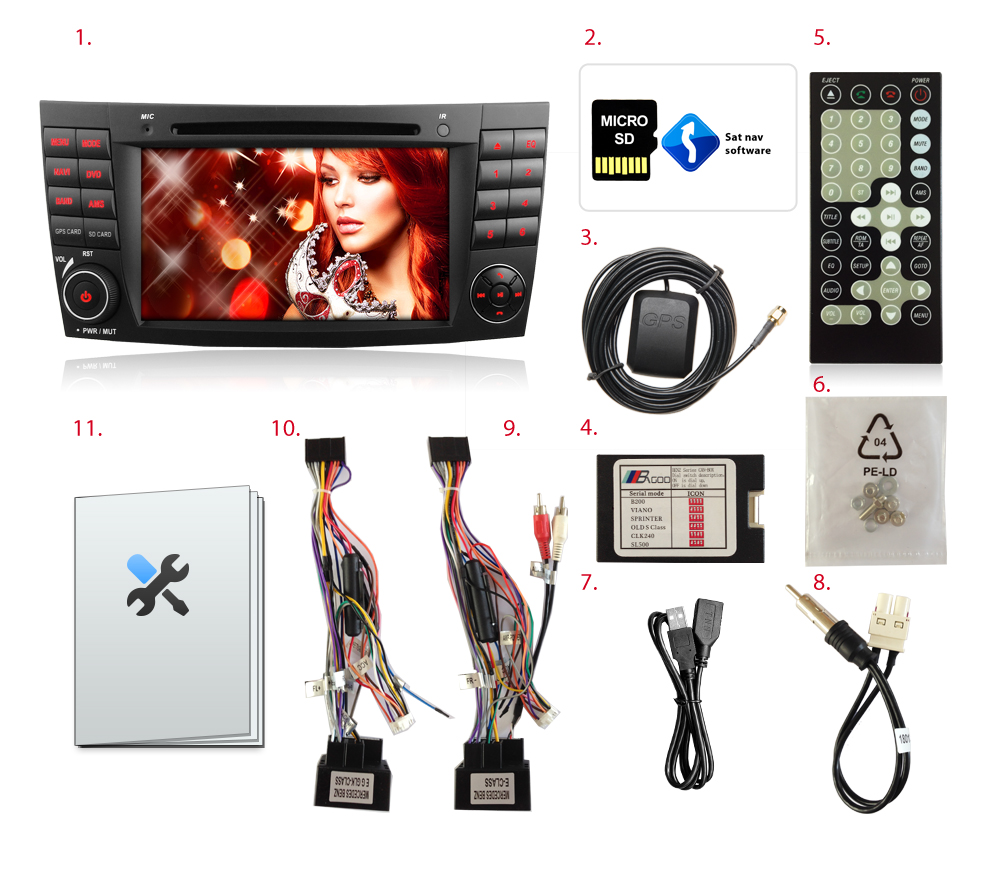 What's inside the box:
Car stereo MB-02EU
MicroSD-Card with Sat nav software (already inside the slot)
GPS antenna with sticky pad
CANBUS
Remote control with battery
Mounting material
USB adapter (USB-B on USB-A)
Radio antenna adapter
2x ISO cable
Instruction sheet in German. For instruction sheets in English please refer to the producer's website: XOMAX.de