Detalhes
OPEL-01EU: Autoradio Navigationssystem
Veículos compatíveis:
OPEL Corsa (2006 - 2011)
OPEL Astra (2004 - 2009)
Opel Vectra (2005 - 2008)
Opel Zafira (2005 - 2010)
Opel Antara (2006 - 2011)
Opel Meriva (2006 - 2008)
OPEL Vivaro (2006 - 2010)


Características:
18 centímetros (7 ") Touchscreen Monitor
(16: 9) Widescreen
HD - High Definition (800 x 480 pixels)
Mãos-livres Bluetooth
Sistema de navegação integrado
Mapas EUROPA incluído
2-DIN (DIN Duplo) tamanho padrão de montagem
DVD / CD
Porta USB para 2x USB-Media até 256GB
Slot para cartão MicroSD para cartões de memória SD de até 128GB
Rádio RDS com sintonizador automático, a função TA e AF
Suporta MPEG4, MP3, WMA, AVI, DivX e muitos mais.
Função pasta confortável
ID3 Tag, data e da hora
Função Night - monitor pode ser desligado durante a condução
Wallpaper - Várias imagens de fundo selecionáveis
MOSFET: poder TOP 4x60 Watt 240 Watt =
Conector ISO incluindo o cabo ISO
Invertendo Camera Connection
Subwoofer Conexão
EQ predefinido: Pop, Rock Clássico e muito mais.
Volante remoto


Mídia - música, fotos
Jogando: USB (USB 1.0 / USB 2.0 e USB 3.0), MicroSD (SD, SDHC, SDXC e TF), DVD ou CD
Formatos: MPEG1, AVI, XVID, RMVB, MP3, WAV, JPG, BMP


Ligações na retaguarda:
Cabo de conexão OPEL
Conector de antena de rádio
Saída de áudio (4 x RCA)
A entrada de áudio (2 x RCA)
Saída de vídeo (2 x RCA)
Entrada de vídeo (1 x RCA)
Câmera de visão traseira entrada
Saída Subwoofer
Conector de antena GPS
Ônibus OPEL CAN
Porta USB padrão


Conectores da frente:
Porta mini USB
Slot para cartão Micro SD
Slot de cartão SD Navi Micro
AUX In


O escopo de fornecimento:
Carro Rádio OPEL-01EU
Cartão micro-SD com Navisoftware e mapas EUROPA
Antena GPS
Controle remoto com bateria
ISO Connector
Material de montagem
Adaptadores CANBus
Cabo de conexão OPEL Quadlock
Cabo adaptador Mini USB
Extensão USB
Instruções de instalação
Informação Adicional
| | |
| --- | --- |
| Weight | 2.5000 |
| EAN | 4260182774649 |
| Modell | OPEL-01EU |
| Shipping Article | 14.90 |
| SKU: | 1414 |
| Tags: | |
Imagens do Produto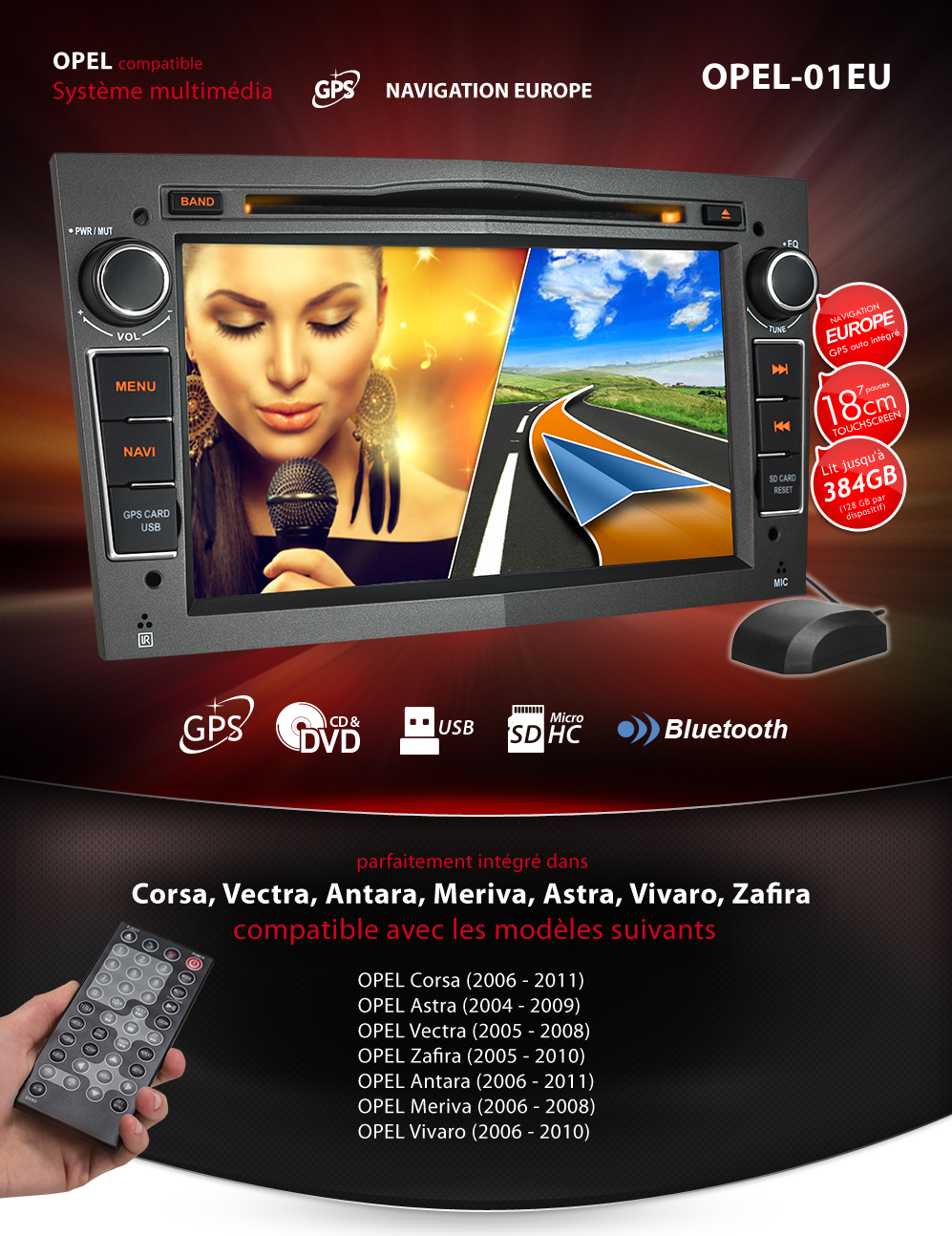 Touchscreen Wide touch screen - 20 cm, HD resolution and 16:9 format.

GPS sat nav sat nav software on MicroSD card

Europe cartography included navigation software with Europe maps.

OPEL Corsa/Vectra/Antara/Meriva/Astra/Vivaro/ZafiraOPEL specific connection with Canbus.(*)compatible with the following models

HD 18 cm, HD resolution and 16:9 format

Double DIN standard This standard size is suitable for many vehicles.

DVD and CD drive For video DVDs, music CD and data discs.

2x USB port (rear/front) 2 x USB port for USB devices: play all your music files, pictures and videos up to 256 GB.

MicroSD/SDHC cards Slot for MicroSD/SDHC cards: play all your music files, pictures and videos up to 128 GB.

MP3 MP3 and WMA files can be played from all multimedia devices: USB, SD, CD, DVD

MPEG4 You can play MPEG4, AVI and DIVX videos from USB, SD, CD and DVD devices.

JPEG and JPG pictures Play your pictures and images straight from USB keys, cards or DVD – a slideshow function is available.

Bluetooth Bluetooth function and music streaming.

AM/FM Radio with RDS Radio Data System. The RDS standard provides useful functions and information.

Clock function Practical Tools on board: Clock display.

ID3 tags Shows title and artist for MP3 files containing ID3 tags.

Customisable You can now choose the background design.

Equalizer Preset equalizer: pop, rock, classical, personalised.

Practical Practical folder structure.

Subwoofer OUT Connection for a subwoofer through a cinch adapter.

OPTIONAL: just connect your OPEL system and your car's steering wheel controls.

Connection for rear view camera Video input and 12V connection for a backup camera.

MOSFET 4 x 60 watt 4-channel audio output, maximum power 240 watt.

Dual Mode: listen to the radio and use the sat nav at the same time.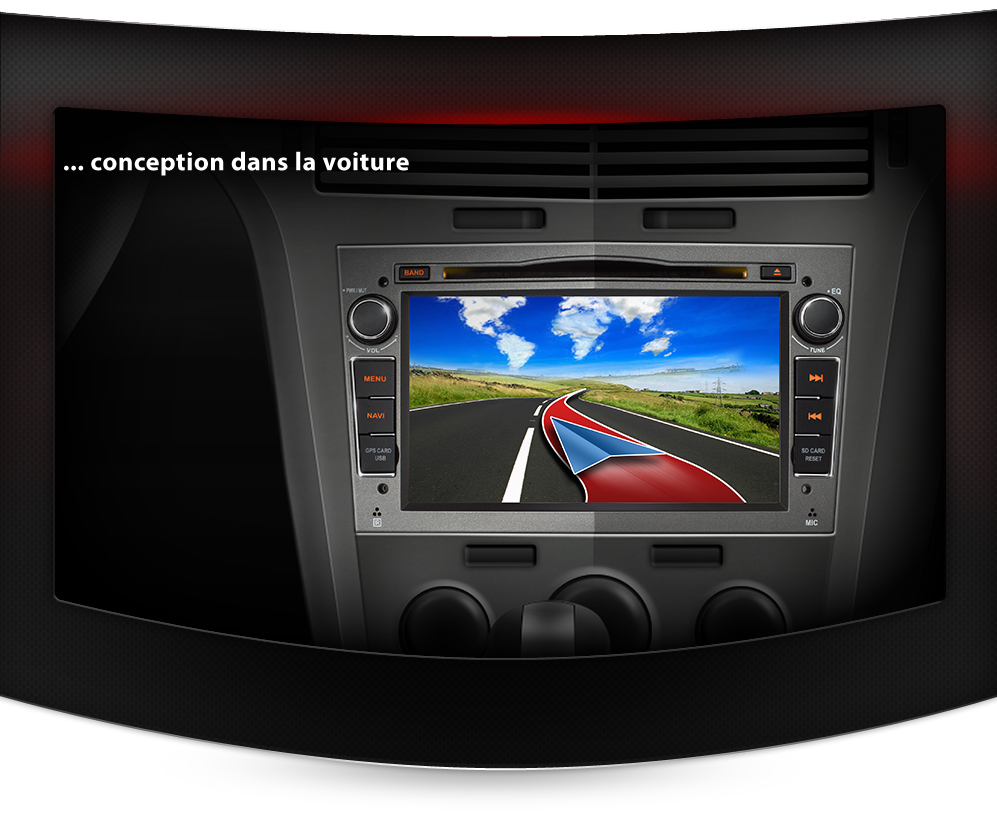 DIN2 car stereo and built-in sat nav with wide screen (18 cm / 7'') for OPEL Corsa, Vectra, Antara, Meriva, Astra, Vivaro and Zafira.
Car stereo with DVD / CD player and 1x mini USB port (front), 1x USB port (rear), 2x MicroSD slots, auxiliary input and Bluetooth hands-free system.
Included navigation software with Europe maps.
Black Car Radio
music from USB flash disk, MicroSD memory card or CD / DVD
Watch your movies, your pictures or just listen to your favourite music from a USB key, a Micro SD card or a DVD / CD. Thanks to the practical folder structure and the 8'' touch screen you can quickly access all MP3s, videos or pictures on your devices.
The display has a powerful HD 800 x 480 resolution that will provide a really clear image.
(*)compatible with the following models
OPEL Corsa (2006 - 2011)
OPEL Astra (2004 - 2009)
OPEL Vectra (2005 - 2008)
OPEL Zafira (2005 - 2010)
OPEL Antara (2006 - 2011)
OPEL Meriva (2006 - 2008)
OPEL Vivaro (2006 - 2010)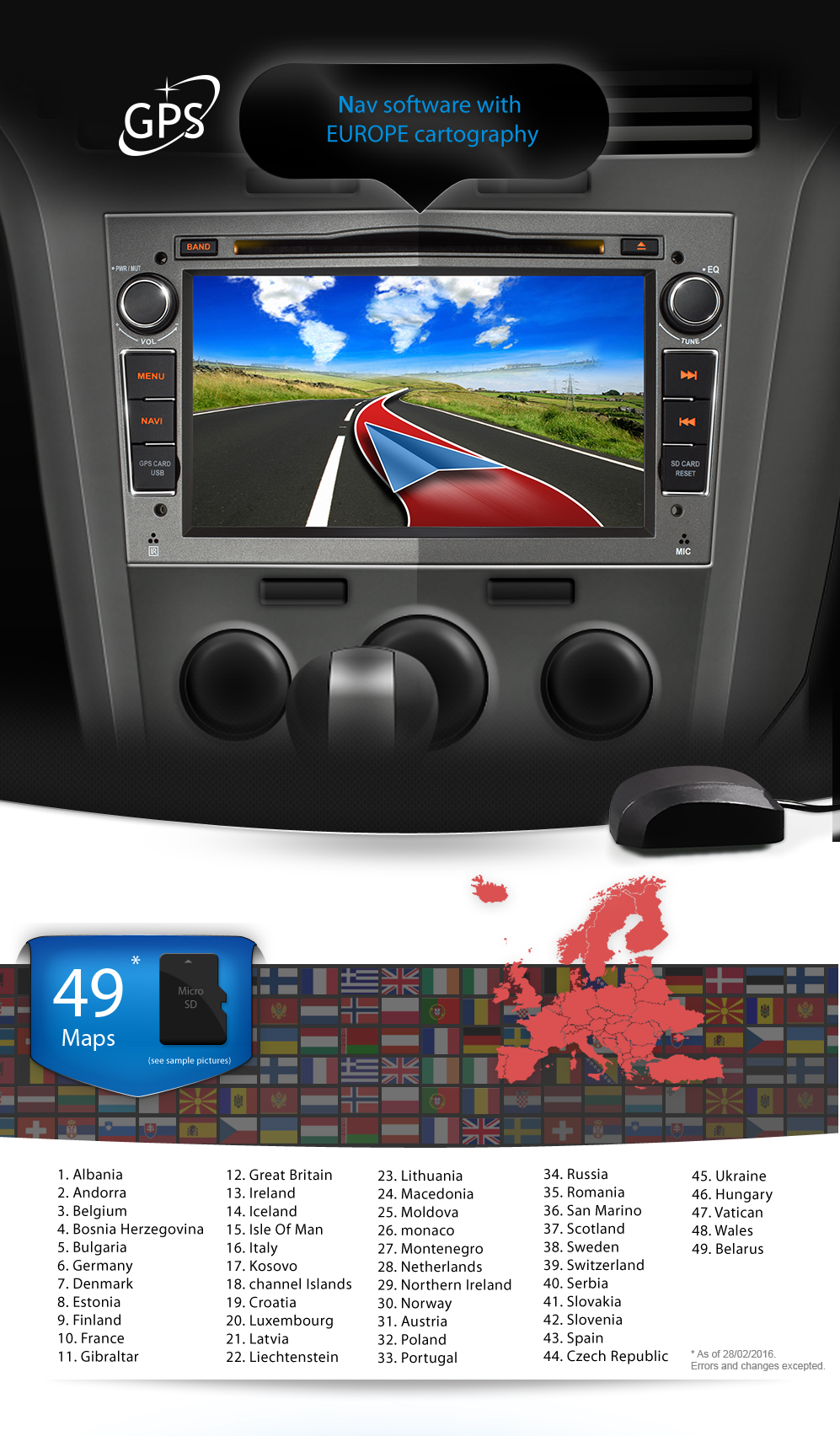 Navigation Software with Maps
Integrated GPS Software:
includes Europe cartography
Europe maps on a MicroSD card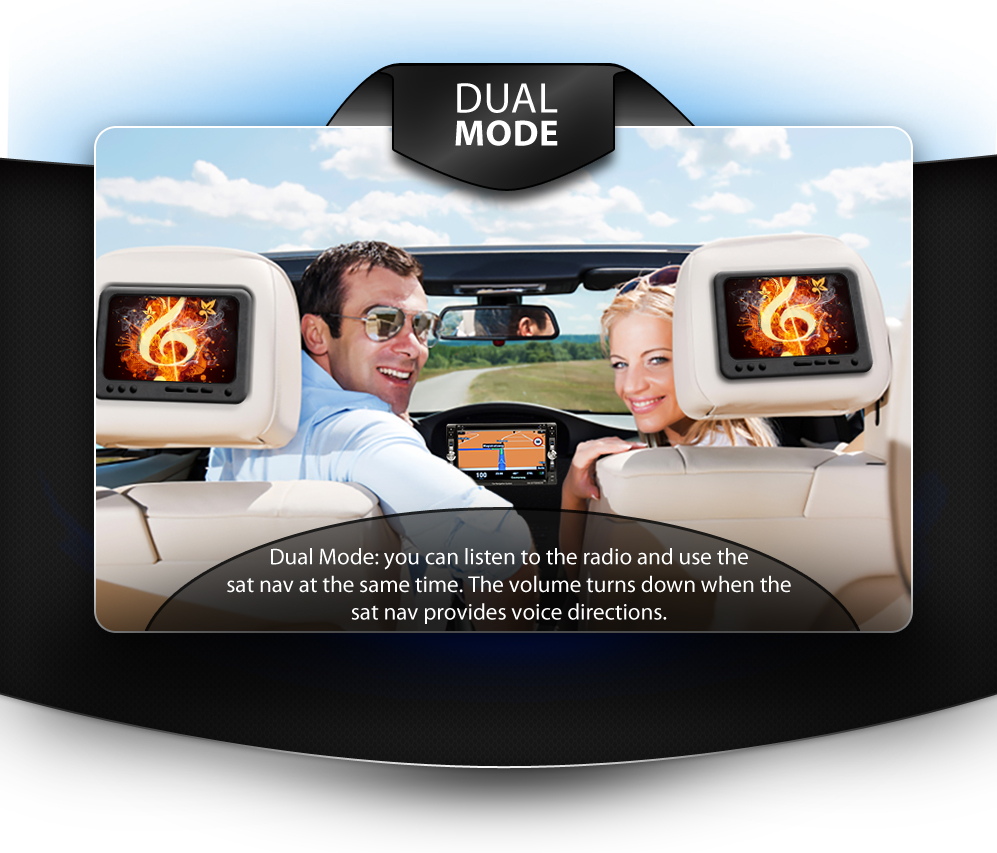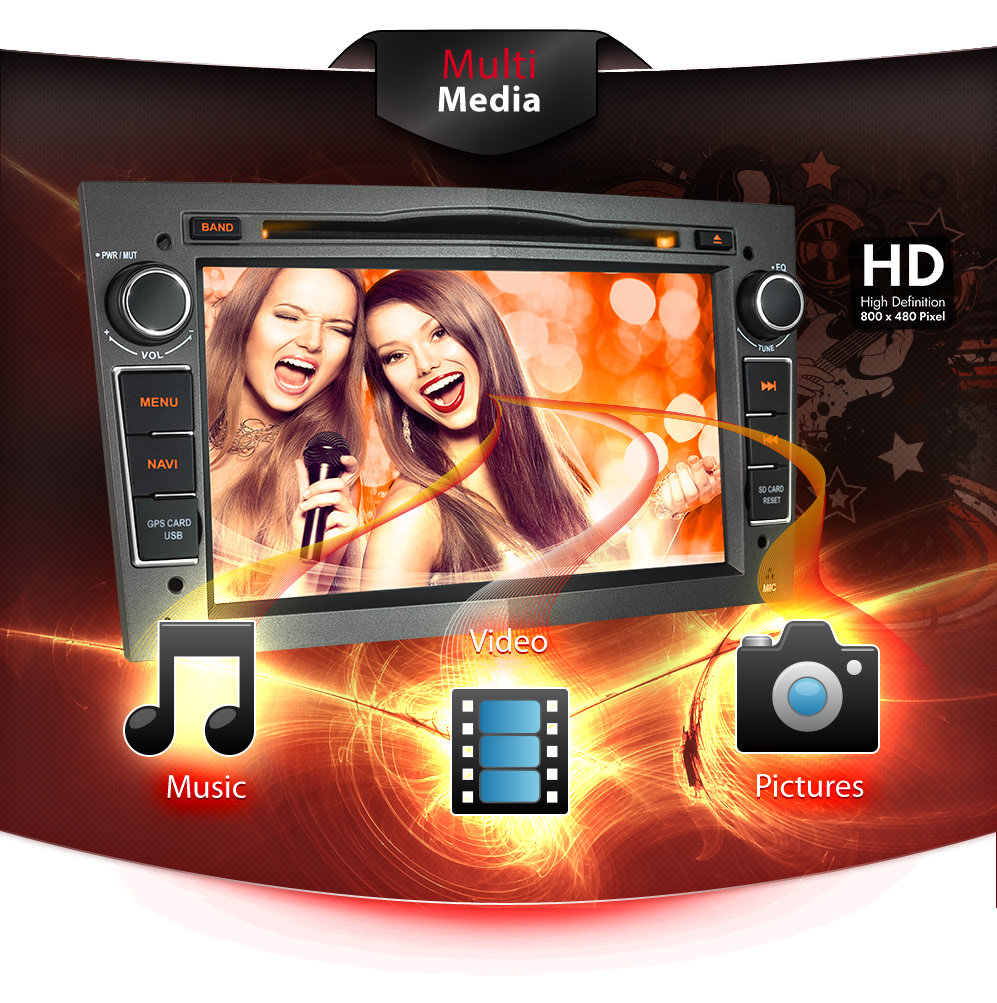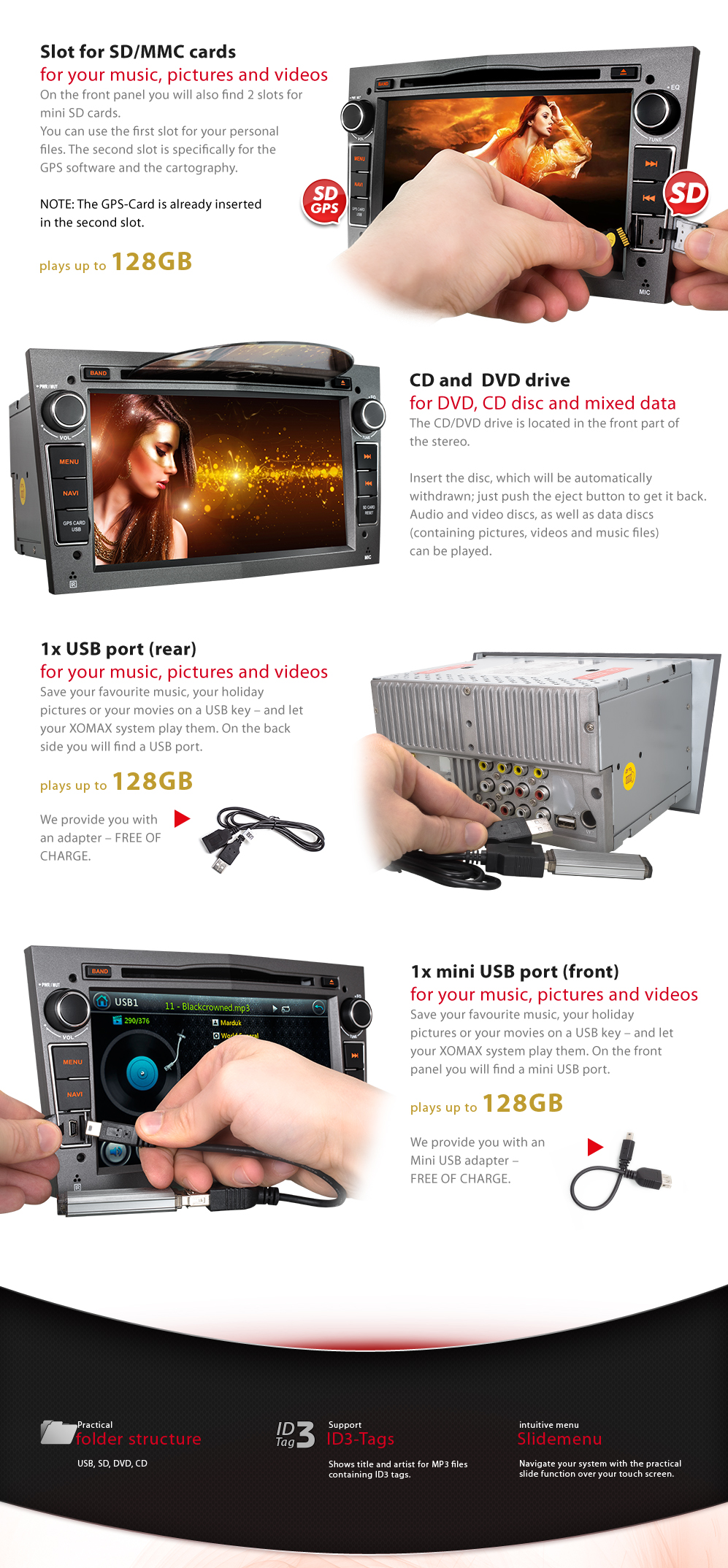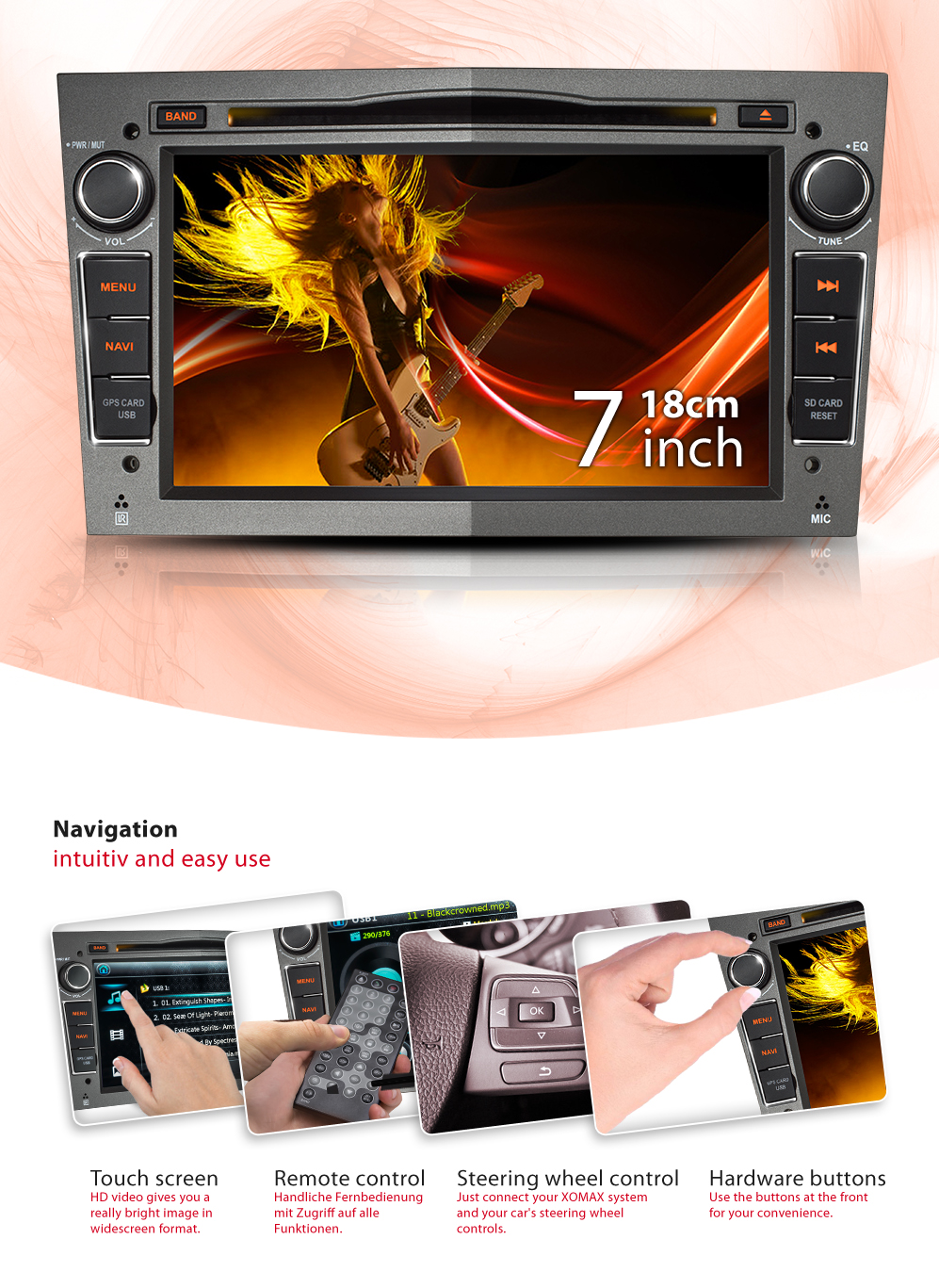 Multimedia – music, videos and pictures
Plays files from USB, MicroSD, DVD, CD or Handy and Tablet over Bluetooth.
The Micro SD slot and the USB port can be used with all memory devices: each one up to 128GB.
This way you can play up to 384GB in total (music, videos and pictures).
CD and DVD drive: The CD/DVD drive is located in the front part of the stereo. Insert the disc, which will be automatically withdrawn;
just push the eject button to get it back. Audio and video discs, as well as data discs (containing pictures, videos and music files) can be played.
Formats : MPEG4, DIVX, MP3, JPEG, AVI, WMA
Practical folder structure.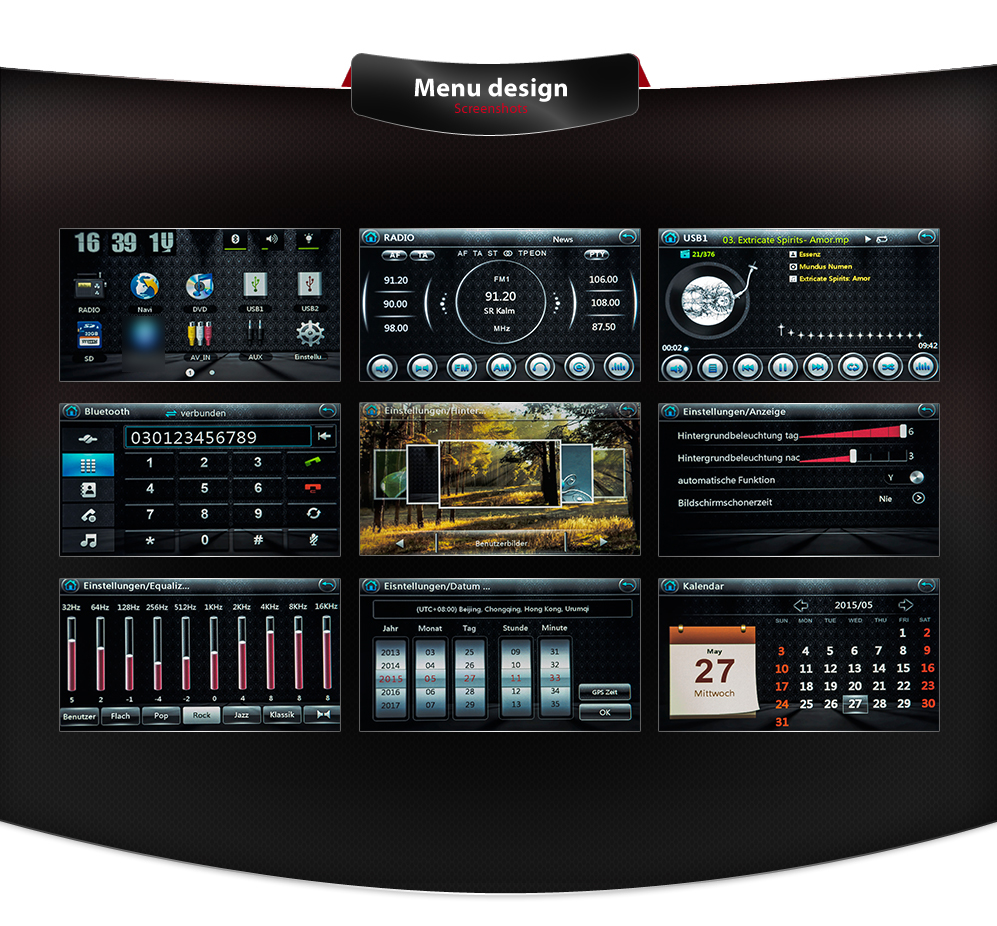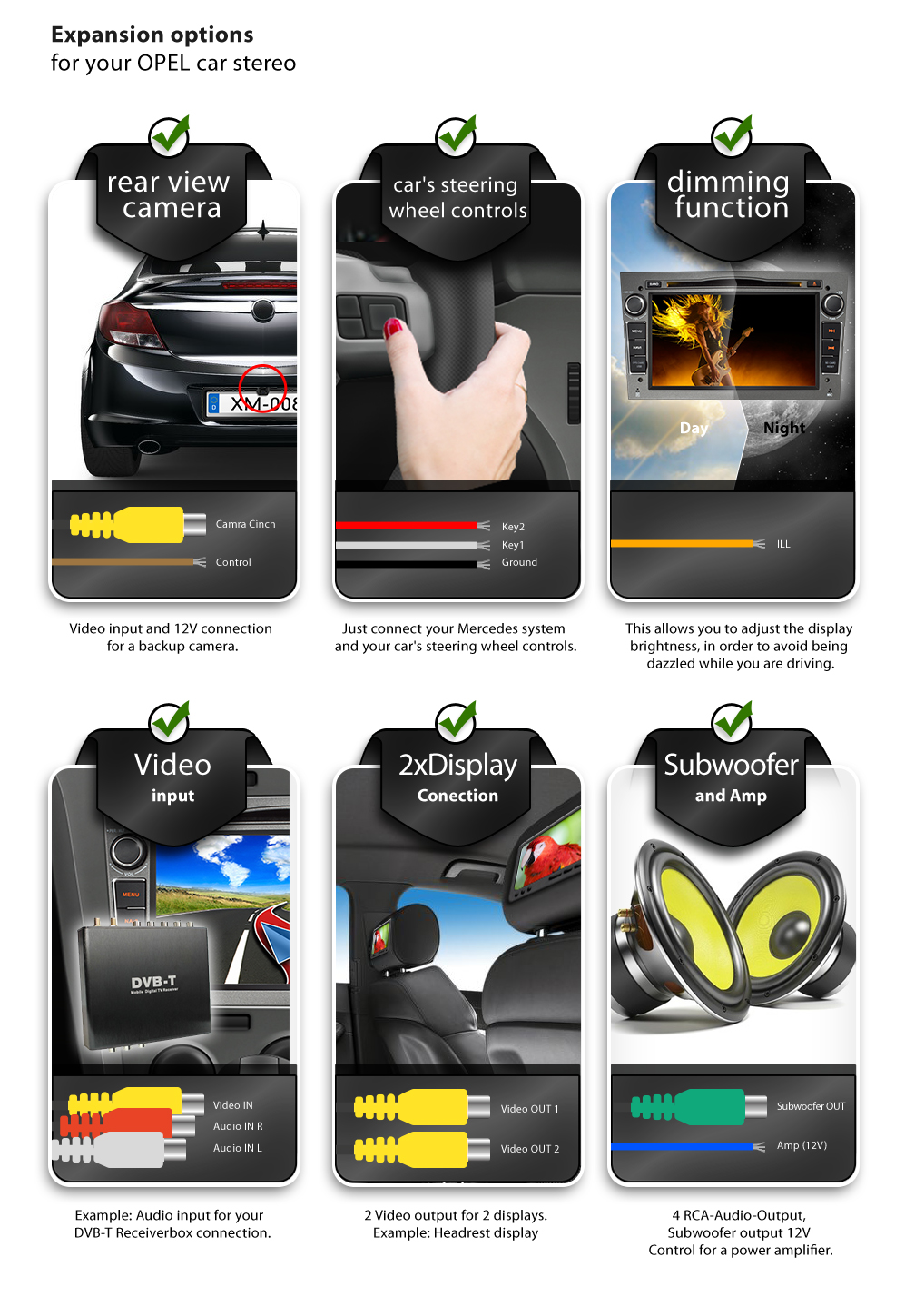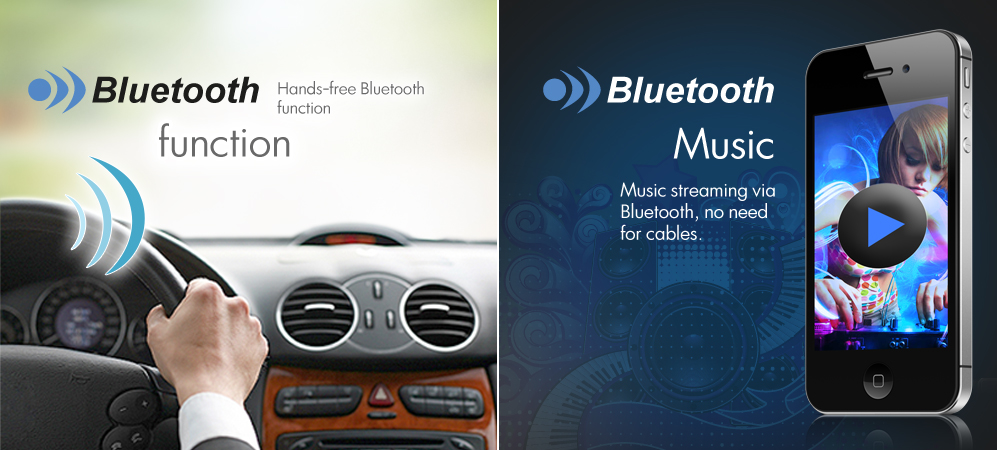 Hands-free Bluetooth function
This hands-free function for your mobile phone enables you to make a phone call using the microphone on the front panel and the loudspeakers in your car. Stay safe and flexible while you drive: just use the Bluetooth to connect your mobile phone with the car stereo!
Music streaming via A2DP
Music streaming via Bluetooth: listen to the music you have stored on your phone or MP3 player through the loudspeakers in your car. No need to copy any file, no need for cables. This car stereo is directly connected to your car's hands-free system. Any time you make or pick up a call, the car stereo goes on "mute".
Technical Details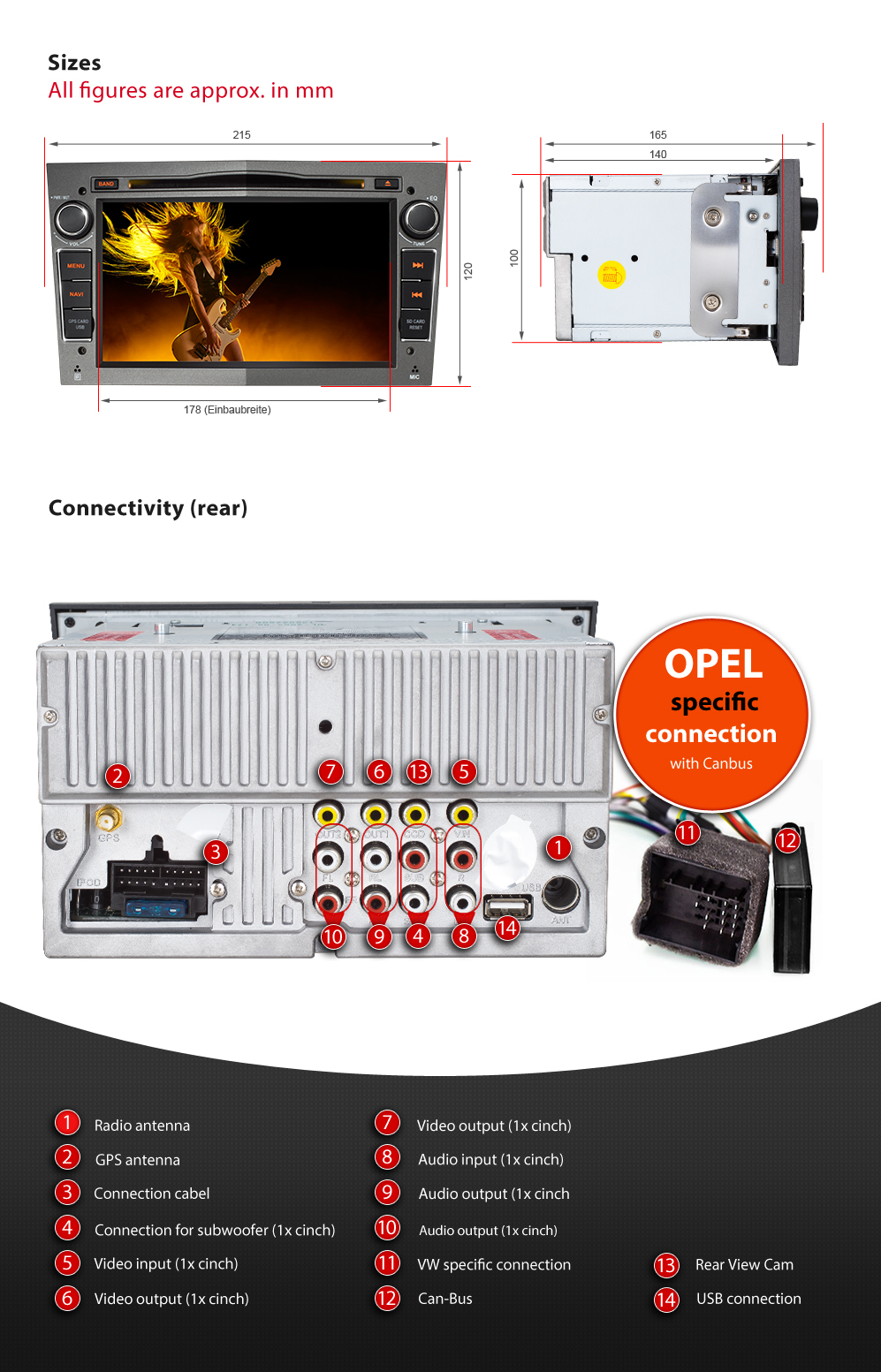 General features

Voltage: 12V DC
Impedance: 4 Ohm
Sizes: (LxWxH) 178x140x100 mm ca
Colour: black
LED Colour: red
Net weight: 2 kg ca
Standard DIN2 dimension
Mounting angle: +/- 30°

Screen

Type: TFT LCD Touchscreen Monitor
Color System: NTSC / PAL
Display size: 18cm / 7 inches
Widescreen Aspect Ratio: 16:9
HD resolution: 800x480px

Supports

Media: USB, MicroSDHC, MicroSD, CD, DVD
Formats: MPEG1, AVI, XVID, RMVB, MP3, WAV, JPG, BMP

Audio

Frequency range: 20Hz - 20KHz
S/N: 85 dB
Channel separation: 80 dB
4 x 60W MOSFET
Volume control: +/- 8db
Adjustable volume, trebles, basses, fader, balance

AM tuner

Frequency range: 522-1620 KHz
Sensitivity (-20dB): 25dB
Intermediate frequency: 450 KHz

FM tuner

Frequency range: 87.5-108 MHz
Intermediate frequency: 10.7 MHz
Sensitivity: 15dB
S/N: 60 dB
Stereo separation: 30 dB (1KHz)
Antenna impedance: 75 Ohm
Connectivity (rear)

ISO connector
Radio antenna
Audio output (4 x Cinch)
Audio input (2 x Cinch)
Video output (2 x Cinch)
Video input (1 x Cinch)
Connection for backup camera
Connection for subwoofer
GPS antenna
Can-Bus
USB port

Connectivity (front)

Mini USB port
MicroSD slot for personal data
MicroSD slot for Navigationsoftware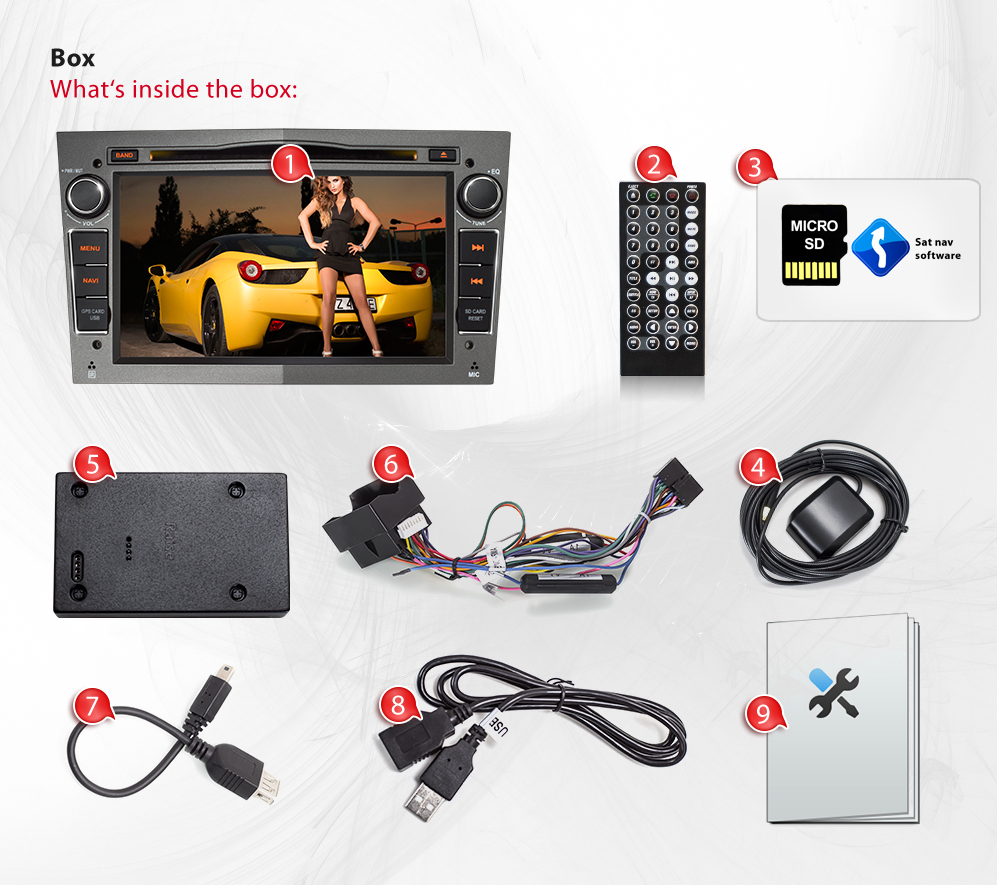 What's inside the box:
Car stereo OPEL-01EU
Remote control with battery
MicroSD-Card with Sat nav software (already inside the slot)
GPS antenna with sticky pad
CANBUS
OPEL ISO cable
Mini USB adapter
USB adapter
Instruction sheet in German. For instruction sheets in English please refer to the producer's website: XOMAX.de