Detalhes
XM-2RSU420 2DIN Autoradio MicroSD USB Bluetooth
Principais características:
Suporta um volume máximo de dados total de 256 GB
Porta USB para memória varinha até 128 GB
Ranhura para cartão MicroSD para cartões MicroSD de até 128 GB
Reprodução de MP3 a partir de USB stick e cartão Micro SD
2DIN (Duplo DIN) Tamanho de instalação padrão
Rádio FM com 18 estações
RDS - Radio Data System
Exibição da etiqueta ID3 - exibição do título e do artista
Frente AUX-IN e Rear AUX-IN para fontes de áudio externas
A iluminação LED pode ser ajustada em 7 cores (azul, vermelho, amarelo, roxo, verde, branco, turquesa)
Wide LCD Dislay com gráfico de equalizador
EQ: Rock, Pop, Clássico, Jazz
MOSFET 4x60 WATT
Informação Adicional
| | |
| --- | --- |
| Weight | 1.4120 |
| EAN | 4260182775950 |
| Modell | XM-2RSU420 |
| Shipping Article | 14.90 |
| SKU: | 1792 |
| Tags: | |
Imagens do Produto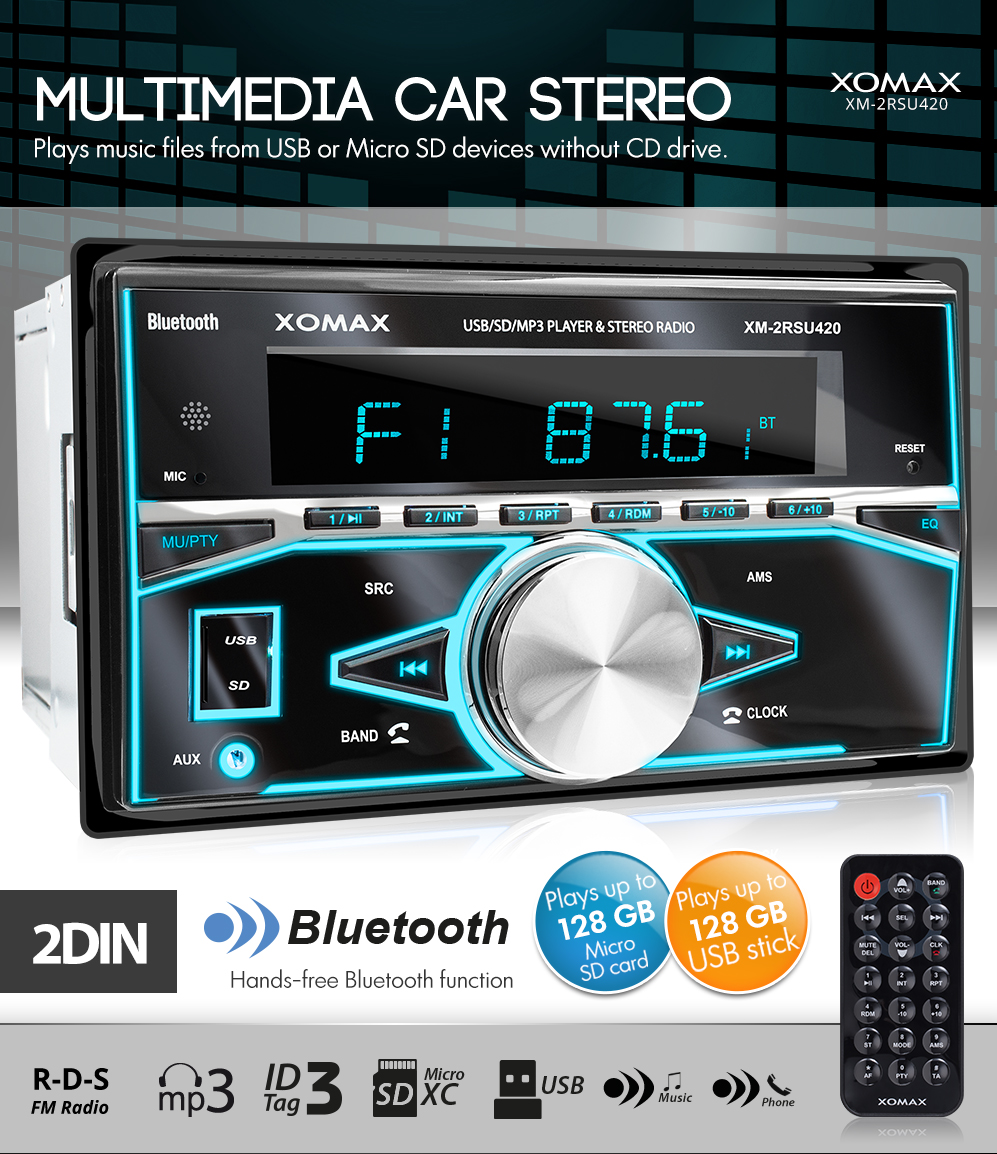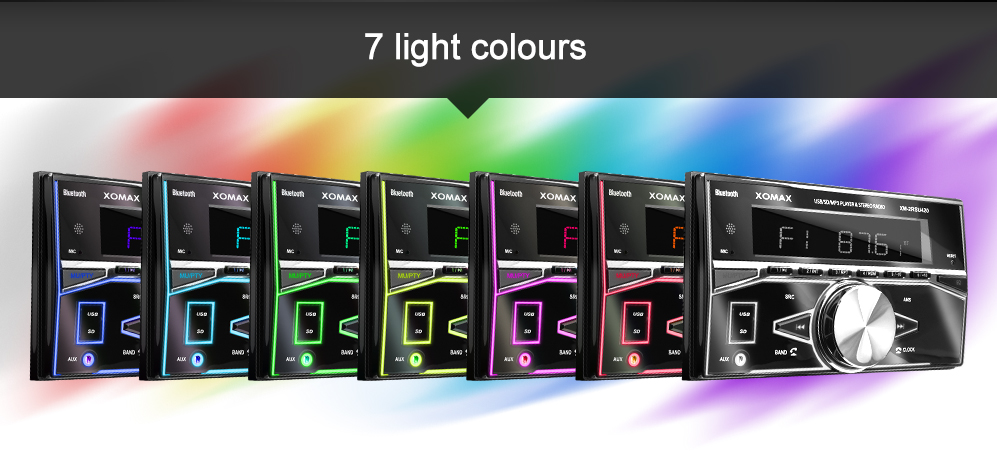 USB Port 1 x USB port for USB devices: play all your music files up to 128 GB.

Slot for Micro SDHC cards: play all your music files up to 128 GB.

No CD driveThis car stereo has no CD drive and with reduced depth for vehicles offering limited space.

Bluetooth Hands-free function and music streaming
7 LED light colours - blue, red, yellow, purple, green, white, turquoise

MP3 and WMA files can be played from all multimedia devices: USB, Micro SD

ID3 Tag Shows title and artist for MP3 files containing ID3 tags.

Double DIN standard. This standard size is suitable for many vehicles.

Preset equalizer: pop, rock, classical, personalised.

Radio Data System The RDS standard provides useful functions and information.

FM Radio FM Radio with 18 Memory Stations.

FRONT AUX IN 1 x FRONT Auxiliary input (jack da 3,5 mm)

MOSFET 4 x 60 watt 4-channel audio output, maximum power 240 watt.

Remote control with battery

Free FREE OF CHARGE: double-DIN cage, trim and ISO cable.

XOMAX XM-2RSU420: USB, Micro SD car stereo - with USB port and Micro SD slot.
Elegant design car stereo. Plays music files from USB or Micro SD devices.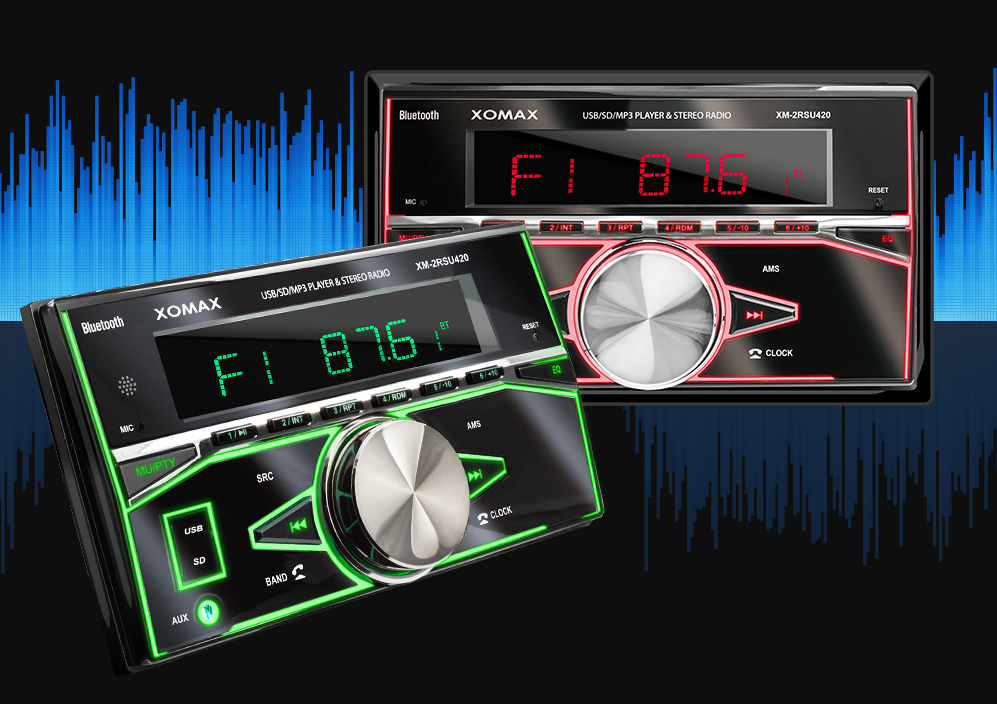 Multimedia - music
USB: On the front panel you will find a USB port, which you can use to read your memory devices.
Micro SD: The Micro SD/MMC slot is also located on the front panel.
AUX-IN: Auxiliary input (jack da 3,5 mm)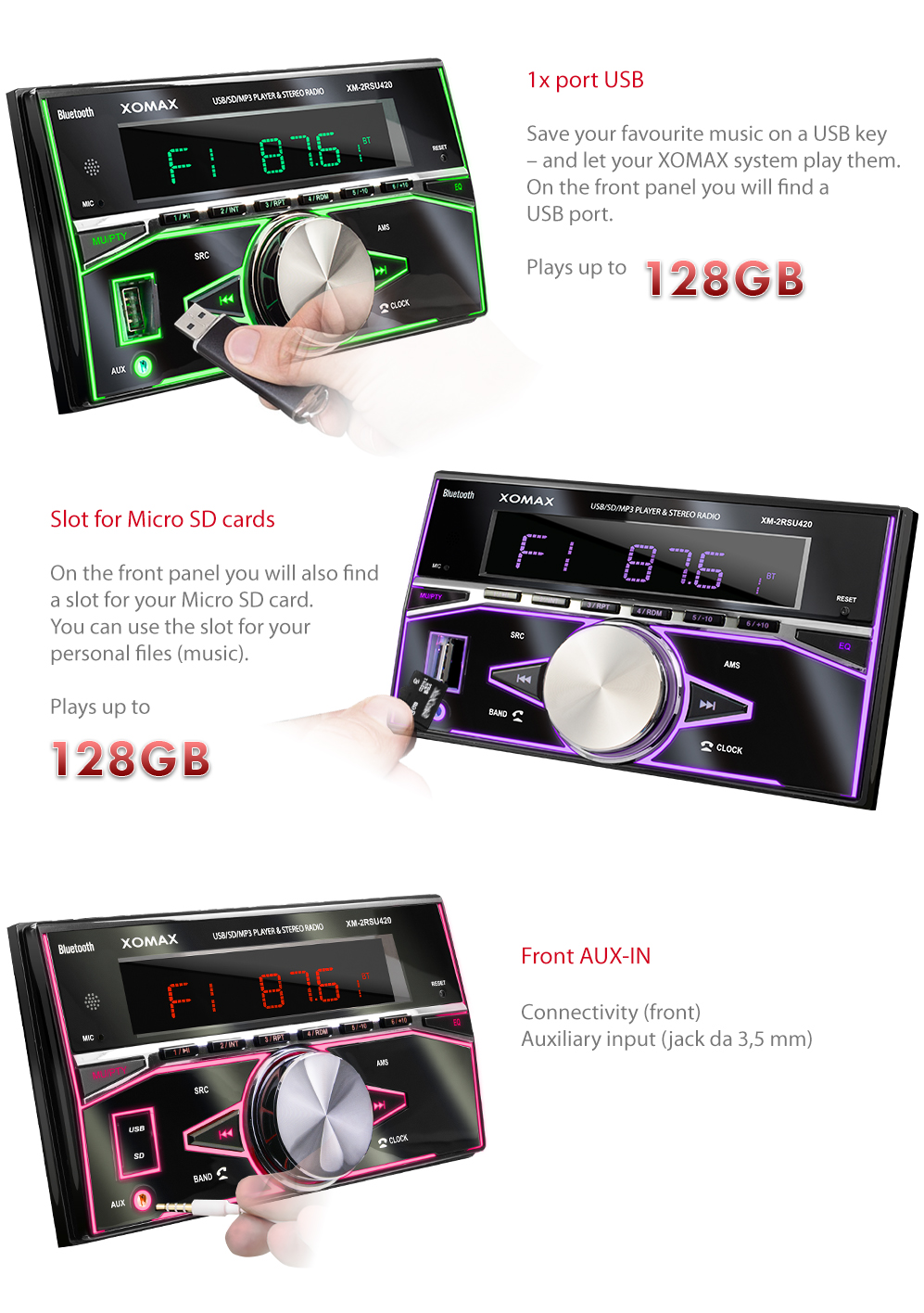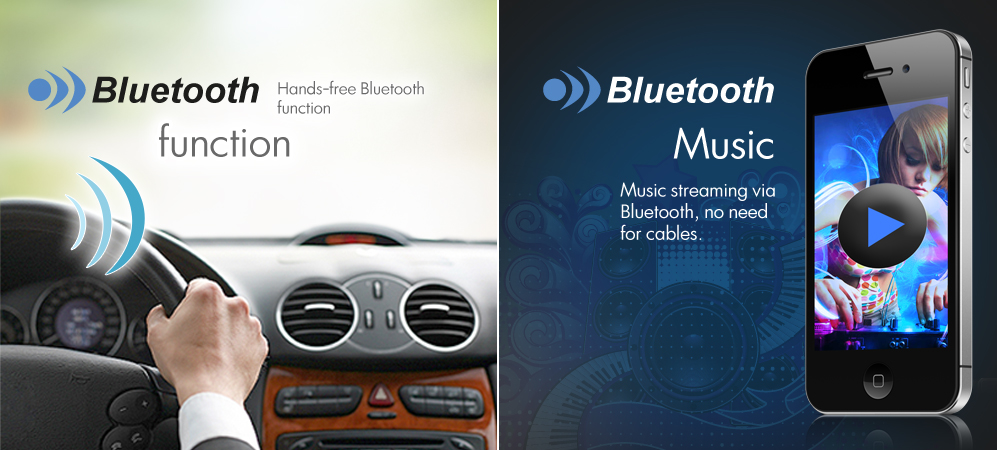 Hands-free Bluetooth function
This hands-free function for your mobile phone enables you to make a phone call using the microphone on the front panel and the loudspeakers in your car. Stay safe and flexible while you drive: just use the Bluetooth to connect your mobile phone with the car stereo! Music streaming via Bluetooth: listen to the music you have stored on your phone or MP3 player through the loudspeakers in your car. No need to copy any file, no need for cables. This car stereo is directly connected to your car's hands-free system. Any time you make or pick up a call, the car stereo goes on "mute".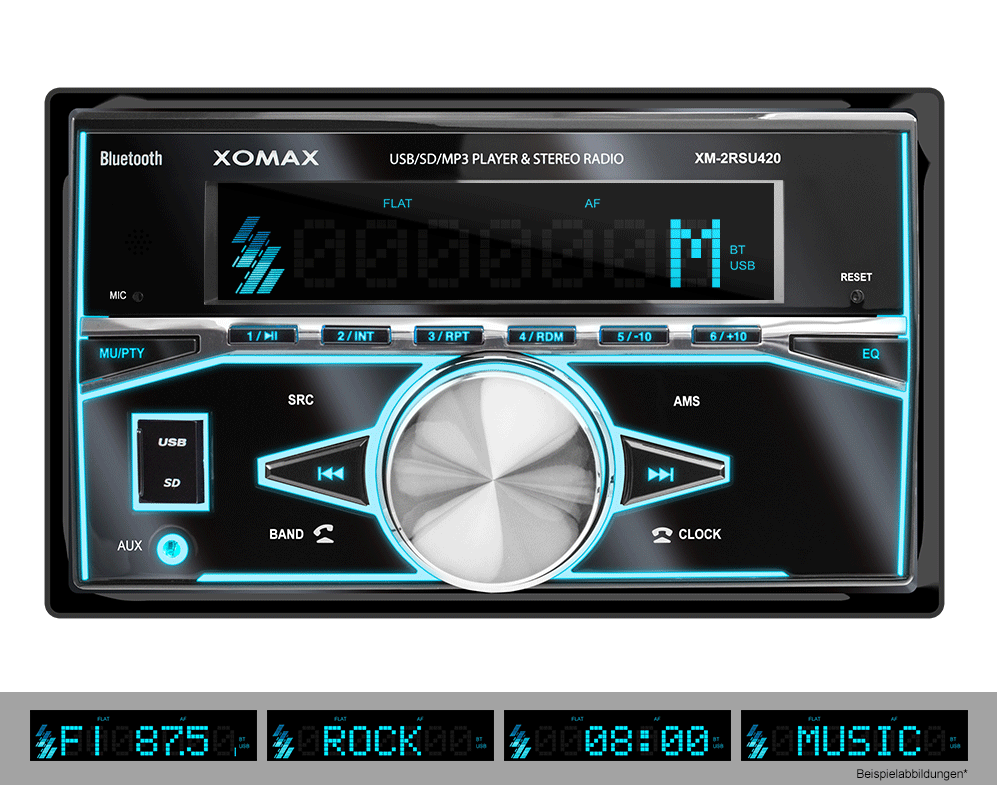 FM stereo radio
18 Memory Stations
Automatic tuner
RDS: Radio Data System
EON: Enhanced Other Networks: receives traffic information
ASM/AF: automatically searches for stronger signals
PTY: news, education, religion, science, varied, documentary, weather, etc.
REG: tunnel/skip, etc.
Technical Details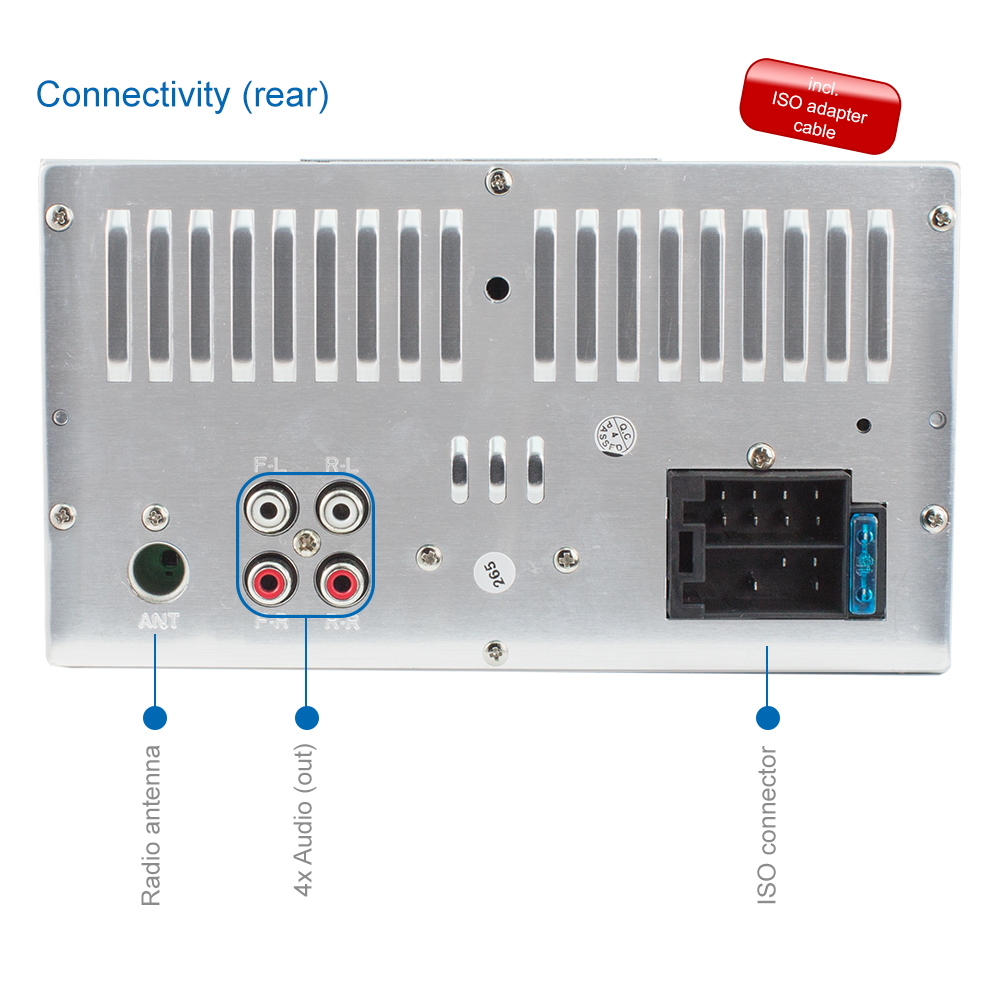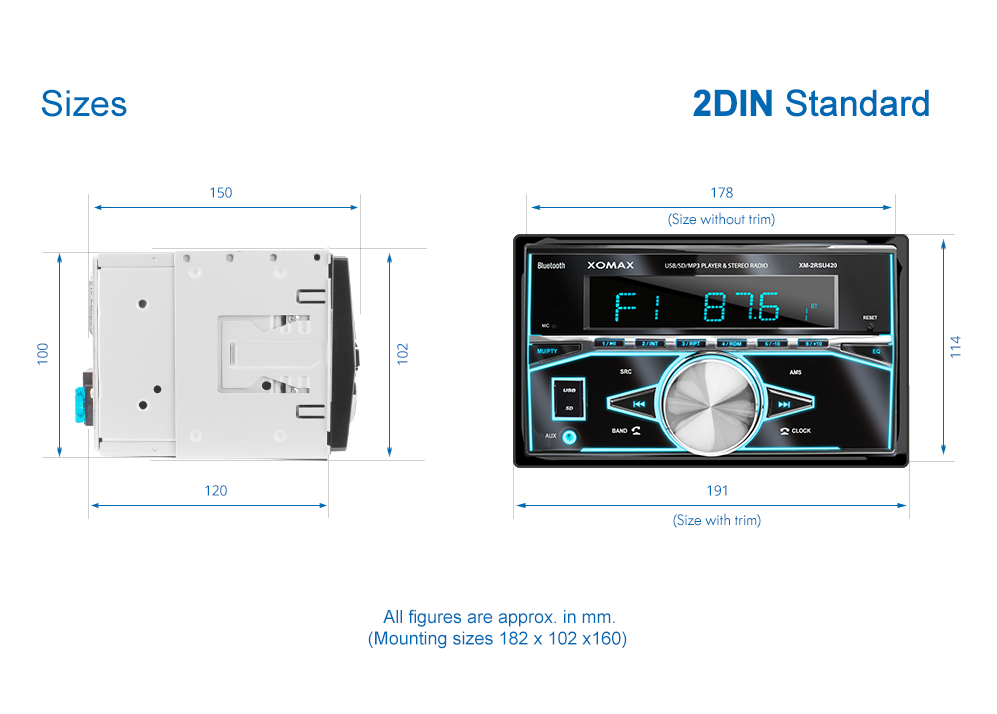 General features

Voltage: 14,4V DC
Impedance: 4 Ohm
Sizes: (LxWxH) 183x120x102 mm ca.
Colour: black
LED Colour: blue, red, yellow, purple, green, white, turquoise
Net weight: 0,9 kg ca
Standard DIN2 dimension
Mounting angle: +/- 30°

Display

Display Typ: Digital Segment Display
Size: ca. 2,5cm x 11,6cm

Supports

Media: USB keys, Micro SD card
Formats: MP3, WMA

FM tuner

Frequency range: 87.5-108 MHz
Intermediate frequency: 10.7 MHz
Sensitivity: 15dB
S/N: 60 dB
Stereo separation: 30 dB (1KHz)
Antenna impedance: 75 Ohm

Audio

Frequency range: 20Hz - 20KHz
S/N: 85 dB
Channel separation: 80 dB
4 x 60W MOSFET
Volume control: +/- 8db
Adjustable volume, trebles, basses, fader, balance

Connectivity (rear)

ISO connector
Radio antenna
Audio output - 4x cinch

Connectivity (front)

USB port
Micro SD slot
AUX-IN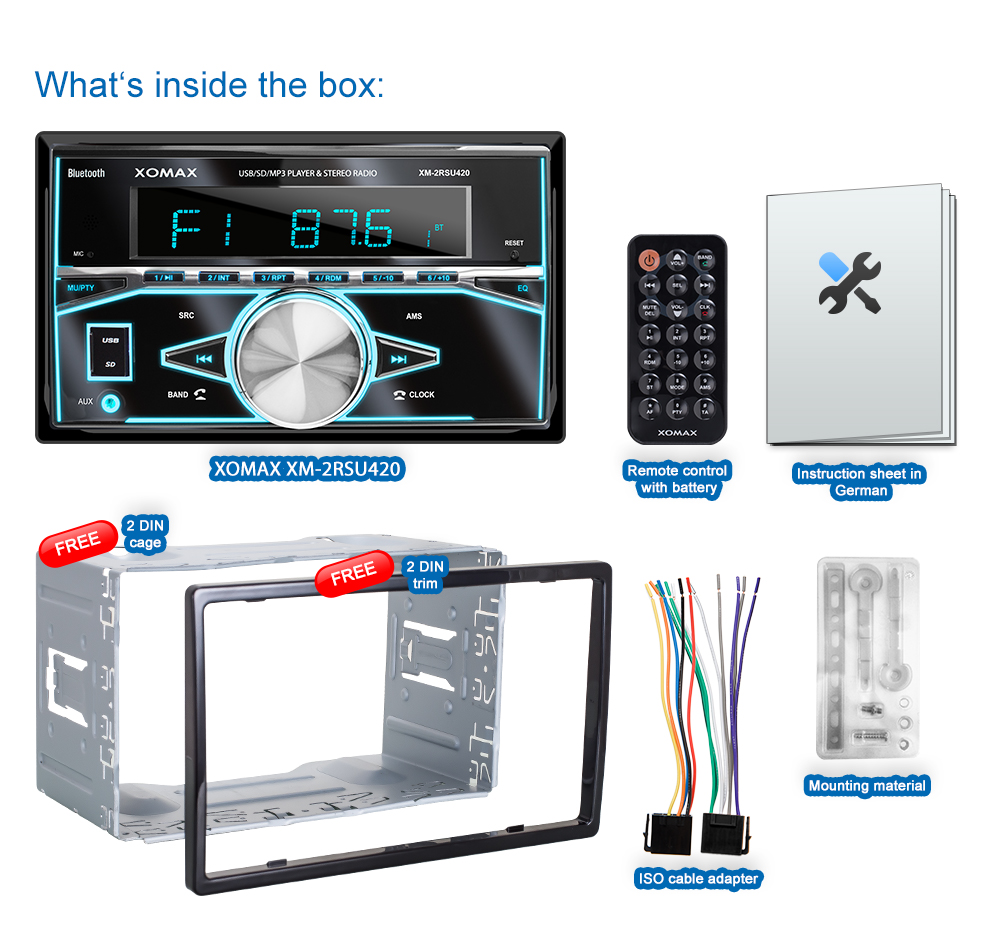 What's inside the box:
Car stereo
DIN2 cage (free of charge)
DIN2 trim (free of charge)
Remote control with battery
ISO adapter cable
Mounting material
Instruction sheet in German.
For instruction sheets in English please refer to the producer's website: XOMAX.de