Detalhes
XOMAX XM-DTSB931 Autoradio DVD / CD AM/FM Radio
Principais funções:
Enorme ecrã táctil 18 centímetros HD no formato 16: 9 widescreen
1-DIN (single DIN) tamanho da instalação padrão
Porta USB para USB dirige-se para 128 GB
Slot para cartão micro SD para cartões de memória Micro SD de até 128GB
Unidade de CD / DVD para seus dados de áudio, vídeo e imagem
MPEG4, MP3, WMA, JPG e muitos outros formatos
Mãos-livres Bluetooth chamada e reprodução de música
7 cores de apresentação de iluminação LED: azul, turquesa, amarelo, verde, vermelho, roxo, branco
Tempo de exibição, Wallpaper selecção
Suporte a ID3 tag: Exibição do título eo artista de MP3
Predefinição do equalizador: Pop, clássico, rock e outros
Desempenho superior com 4 x 60 watts = 240 watts: MOSFET
Conexão disponível para o controle remoto do volante
Conector subwoofer
Invertendo Camera Connection
Conector ISO para ligação fácil com este
Rádio AM / FM
Unidade de DVD / CD
porta USB
Bluetooth
micro SD
Informação Adicional
| | |
| --- | --- |
| Weight | 2.4460 |
| EAN | 4260182775349 |
| Modell | Não |
| Shipping Article | 14.90 |
| SKU: | 1577 |
| Tags: | |
Imagens do Produto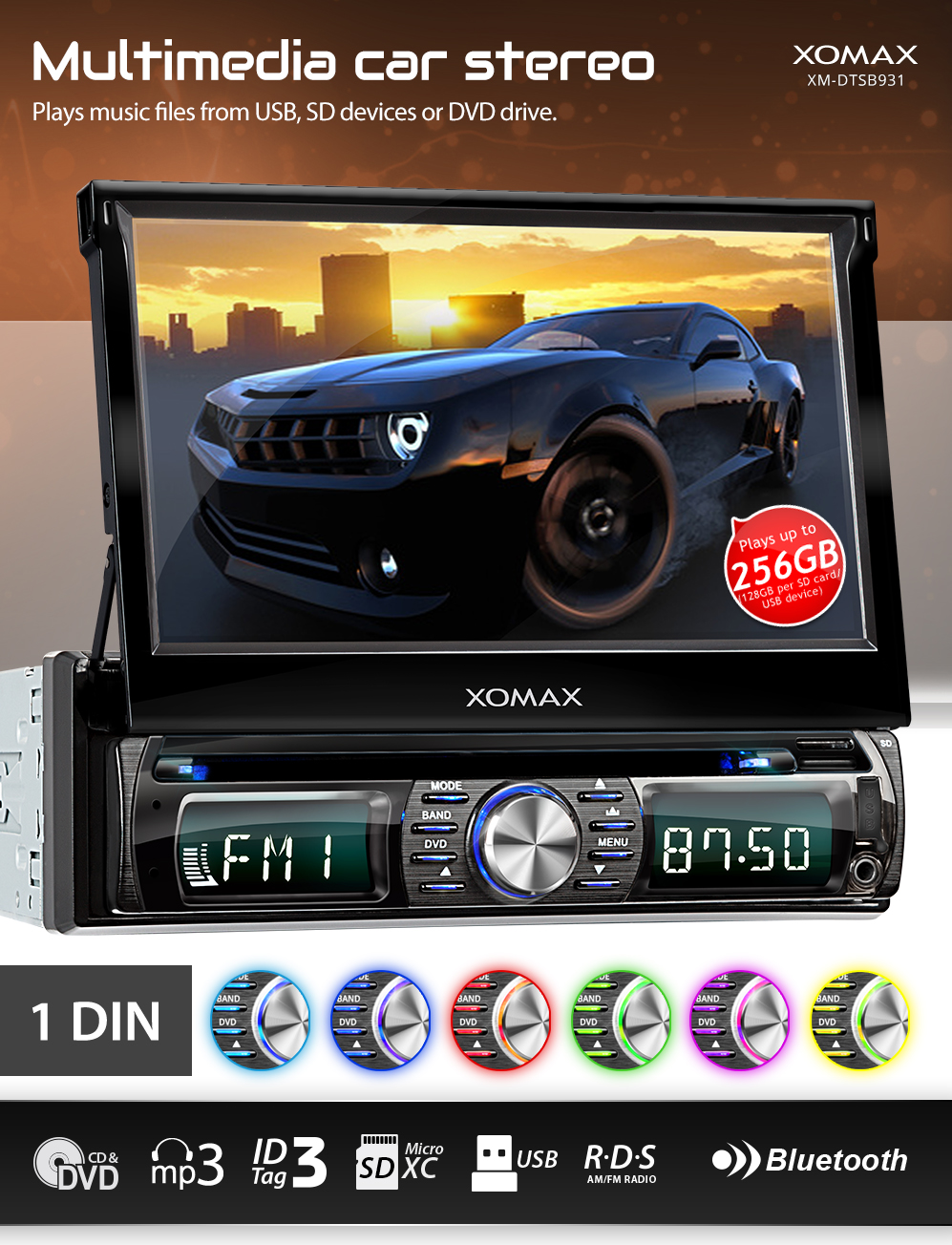 Touchscreen Monitor Wide touch screen - 7''/18 cm, HD resolution and 16:9 format.

MOSFET 4 x 60 Watt 4-channel audio output, maximum power 240 watt.

Bluetooth function Bluetooth function.

Bluetooth music Bluetooth music streaming.

USB port 1 x USB port (front) for USB devices: play all your music files, pictures and videos up to 128 GB.

Slot for Micro SDXC Play all your music files, pictures and videos up to 128 GB.

DVD and CD drive For video DVDs, music CD and data discs.

MP3 and WMA files can be played from all multimedia devices: USB, SD, CD, DVD.

ID3 tags Shows title and artist for MP3 files containing ID3 tags.

MPEG4 and AVI You can play MPEG4, AVI and DIVX videos from USB, SD, HDD, CD and DVD devices.

JPEG and JPG pictures Play your pictures and images straight from USB keys, cards or DVD – a slideshow function is available.

Rear view camera Connection for rear view camera. Video input and 12V connection for a backup camera.

AUX-IN Auxiliary input (jack da 3,5 mm).

AM/FM RDS AM/FM stereo radio with automatic tuner. Radio Data System. The RDS standard provides useful functions and information.

Preset equalizer pop, rock, classical, personalised.

Steering wheel controls OPTIONAL: just connect your XOMAX system and your car's steering wheel controls.

Subwoofer OUT Connection for a subwoofer through a cinch adapter.

Video OUT Video output for external displays.
7 Colours – blue, red, yellow, purple, pink, green, white and turquoise.

Dimming function This allows you to adjust the display brightness, in order to avoid being dazzled while you are driving.

Customisable You can now choose the background picture, your car logo, the menu and OSD language.

Standard ISO The standard ISO connector provides an easy universal connection.

Single DIN standard This standard size is suitable for many vehicles. You will also receive the cage FREE OF CHARGE.

FREE OF CHARGE: single-DIN cage, trim and ISO cable.
DIN1 car stereo and built-in sat nav with wide screen (18 cm / 7'')
Car stereo with DVD / CD player and USB port, MicroSD slot, auxiliary input and Bluetooth hands-free system. Included sat nav software with Europe cartography. Watch your movies, your pictures or just listen to your favourite music from a USB key, a MicroSD card or a DVD / CD. Thanks to the practical folder structure and the 7'' touch screen you can quickly access all MP3s, videos or pictures on your devices. The display has a powerful HD 800 x 480 resolution that will provide a really clear image.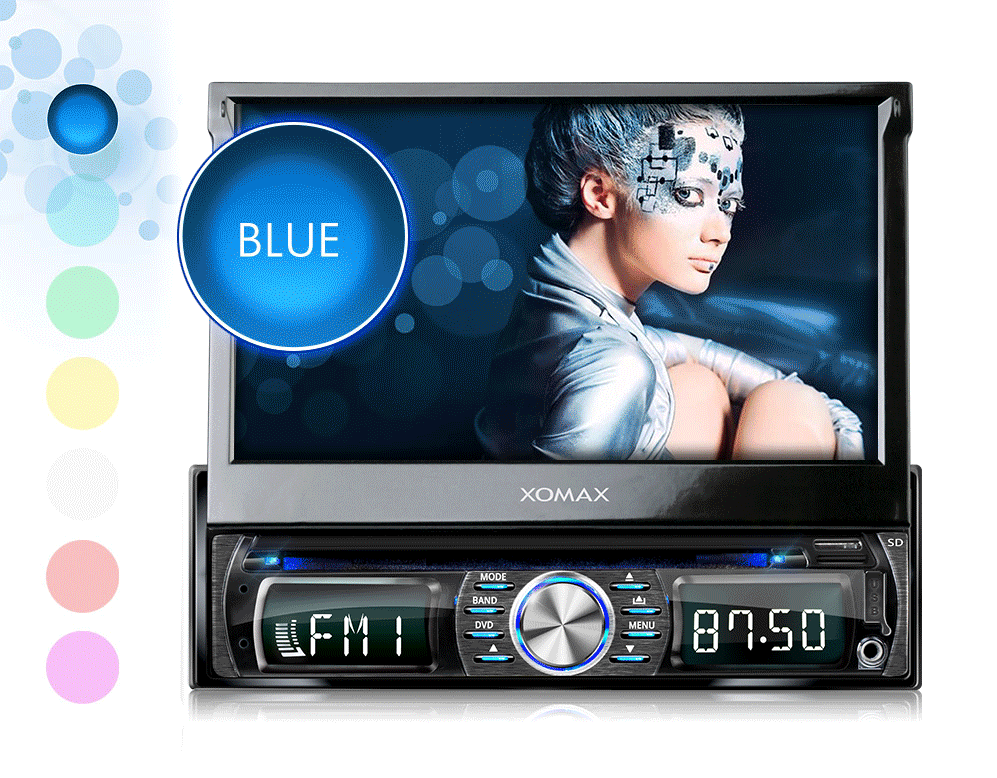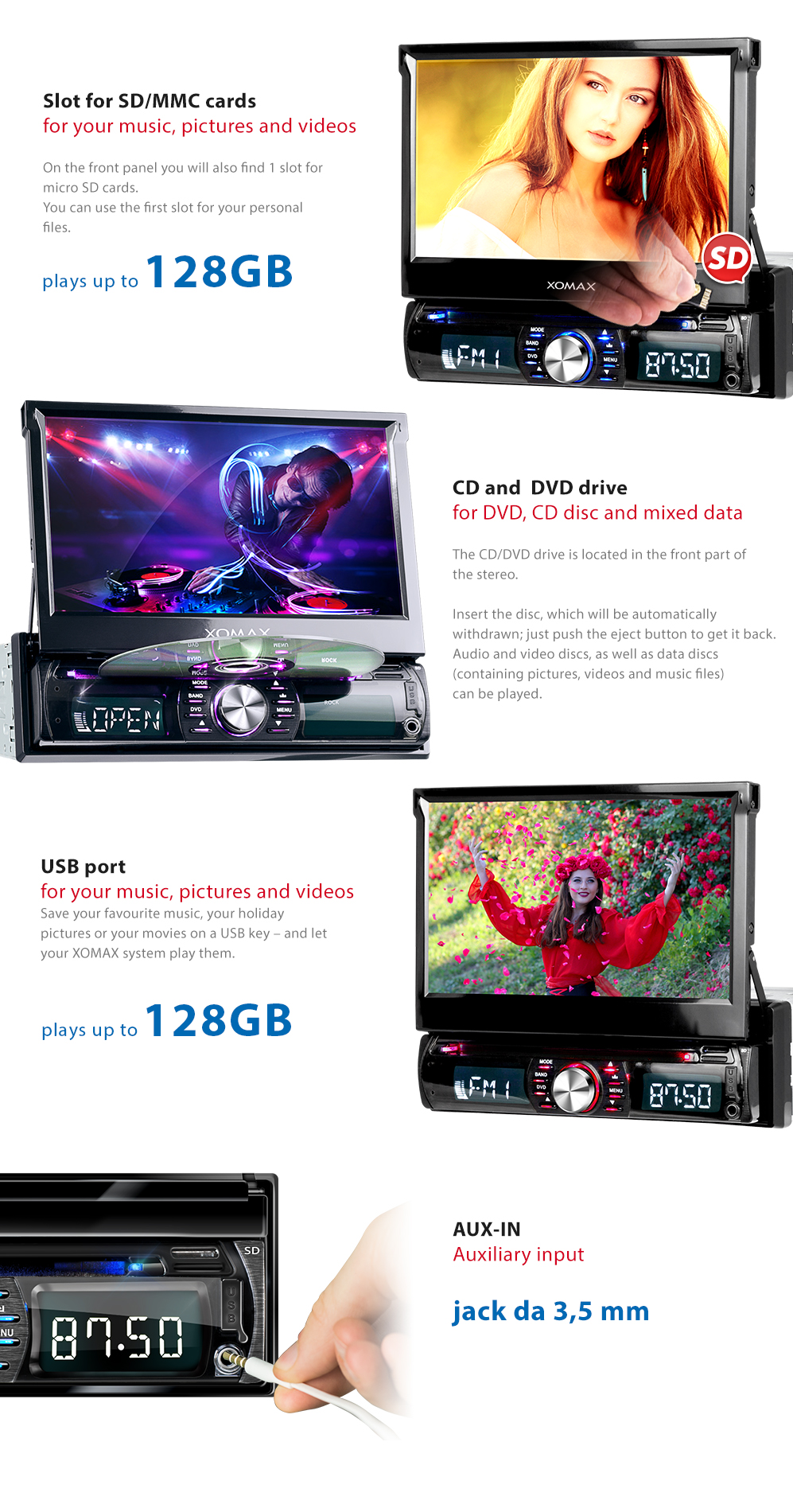 Multimedia - music
USB: You will find a USB portfront, which you can use to read your memory devices.
Micro SDXC: The Micro SDXC slot is also located on the front panel.
DVD/CD: For music DVD/CD and data discs.
AUX-IN: Auxiliary input (jack da 3,5 mm)
AM/FM radio with RDS
AM/FM stereo radio
Automatic tuner
RDS: Radio Data System
EON: Enhanced Other Networks: receives traffic information
ASM/AF: automatically searches for stronger signals
PTY: news, education, religion, science, varied, documentary, weather, etc.
REG: tunnel/skip, etc.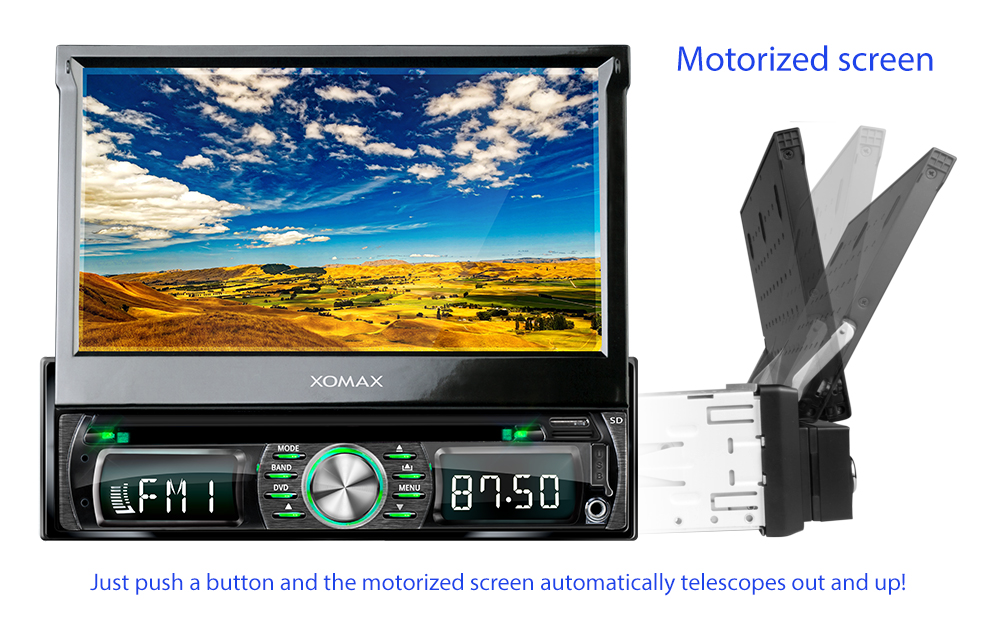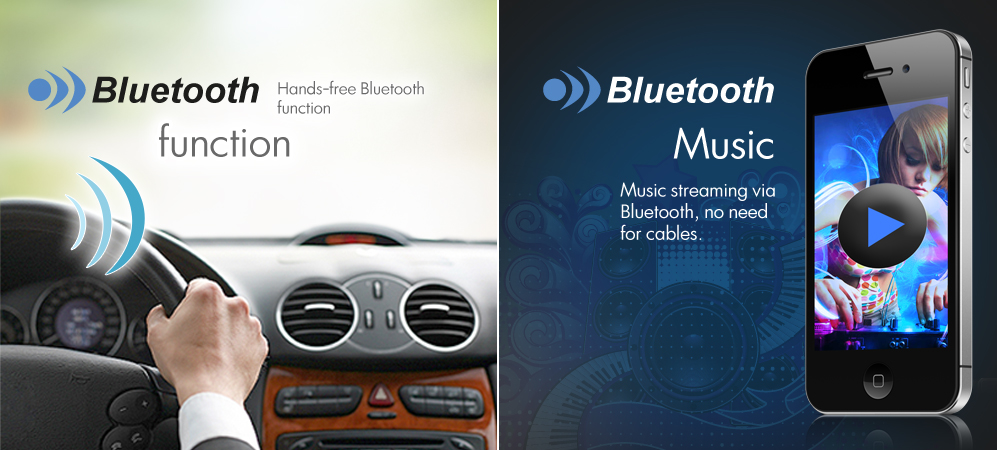 Hands-free Bluetooth function
This hands-free function for your mobile phone enables you to make a phone call using the microphone on the front panel and the loudspeakers in your car. Stay safe and flexible while you drive: just use the Bluetooth to connect your mobile phone with the car stereo! Music streaming via Bluetooth: listen to the music you have stored on your phone or MP3 player through the loudspeakers in your car. No need to copy any file, no need for cables. This car stereo is directly connected to your car's hands-free system. Any time you make or pick up a call, the car stereo goes on "mute".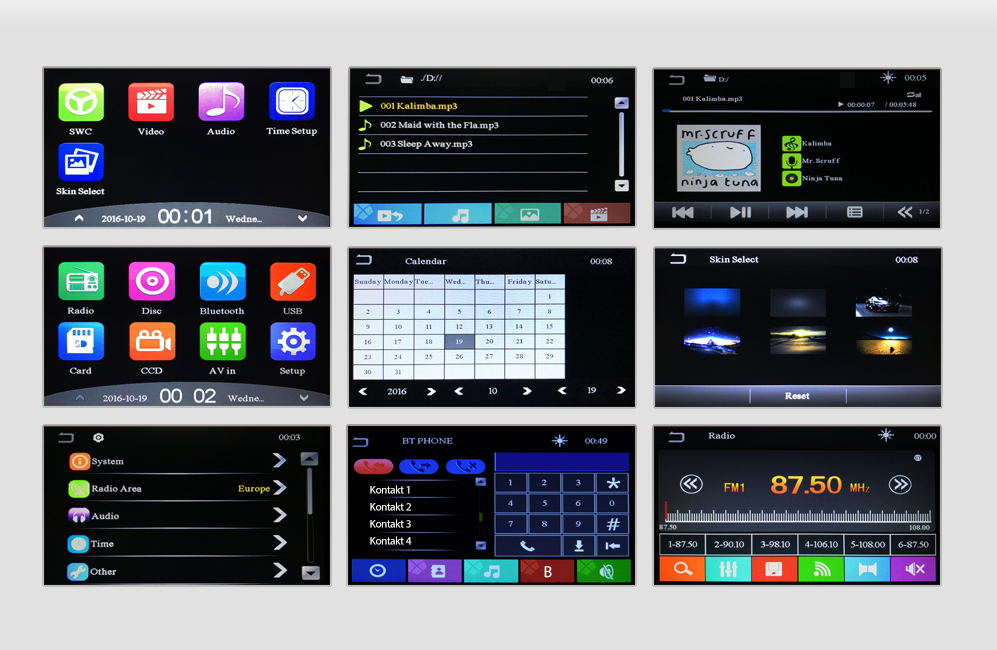 Technical Details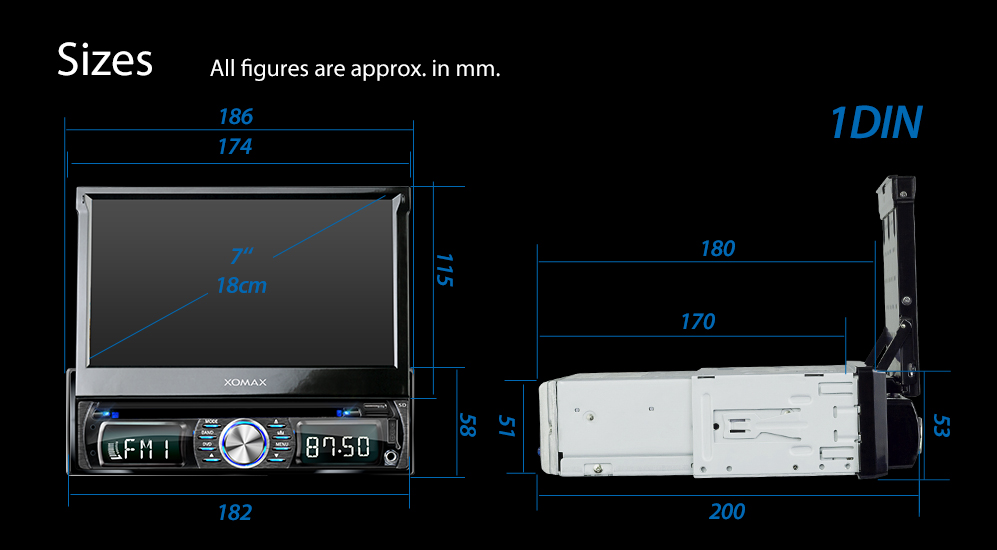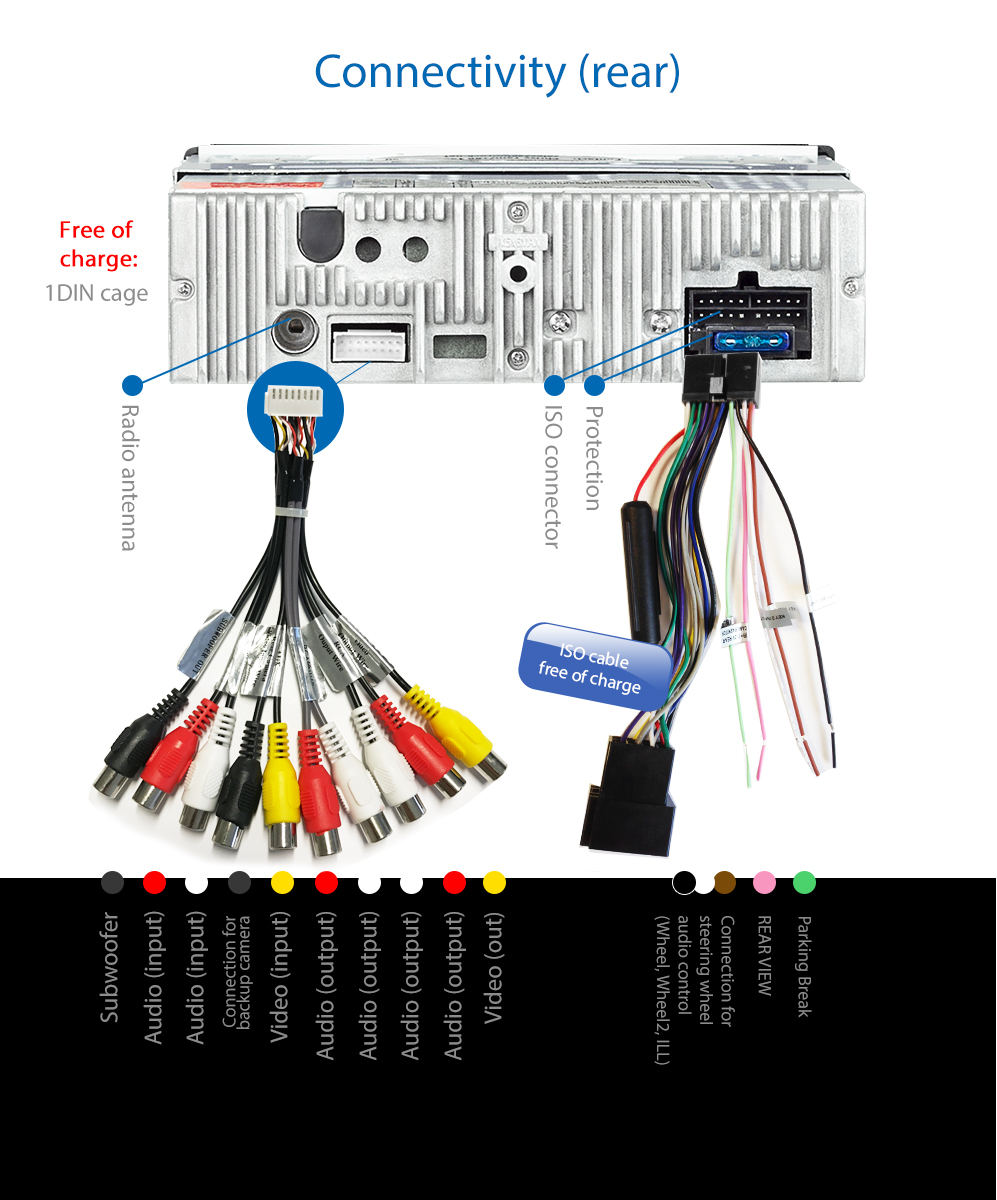 General features

Voltage: 14,4V DC
Impedance: 4 Ohm
Sizes: (LxWxH) 182 x 170 x 53 mm ca
Colour: black
LED Colour: blue, red, yellow, purple, pink, green, white, turquoise
Net weight: 2,8 kg ca
Standard DIN1 dimension
Mounting angle: +/- 30°

Screen

16:9 Widescreen
Display: 18cm / 7"
Colour TFT LCD touchscreen
Resolution: High Definition 800 x 480 pixels
Colour system: NTSC / PAL

Supports

Media: DVD, DVD-R, DVD+R, DVD-RW, DVD+RW, CD, CD-R/-RW, HDCD, VCD, SVCD, Micro SDXC, USB
Formats: DVD-Video, DVD-Audio, MPEG, MP3, WMA, JPEG

AM tuner

Frequency range: 522-1620 KHz

FM tuner

Frequency range: 87.5-108 MHz

Audio

Frequency range: 20Hz - 20KHz
4 x 60W MOSFET
Adjustable volume, fader, balance

Bluetooth

Bluetooth version: 1.2 Class 2
Profiles: Headset, Hands-Free, A2DP and AVRCP
Frequency: 2.4GHz

Connectivity (rear)

ISO connector
Radio antenna
Audio output (4 x Cinch)
Audio input (2 x Cinch)
Video output (1 x Cinch)
Video input (1 x Cinch)
Connection for subwoofer
Connection for backup camera
Connection for steering wheel audio control

Connectivity (front)

DVD/CD drive
USB port
SD slot for personal data
Auxiliary input (jack da 3,5 mm)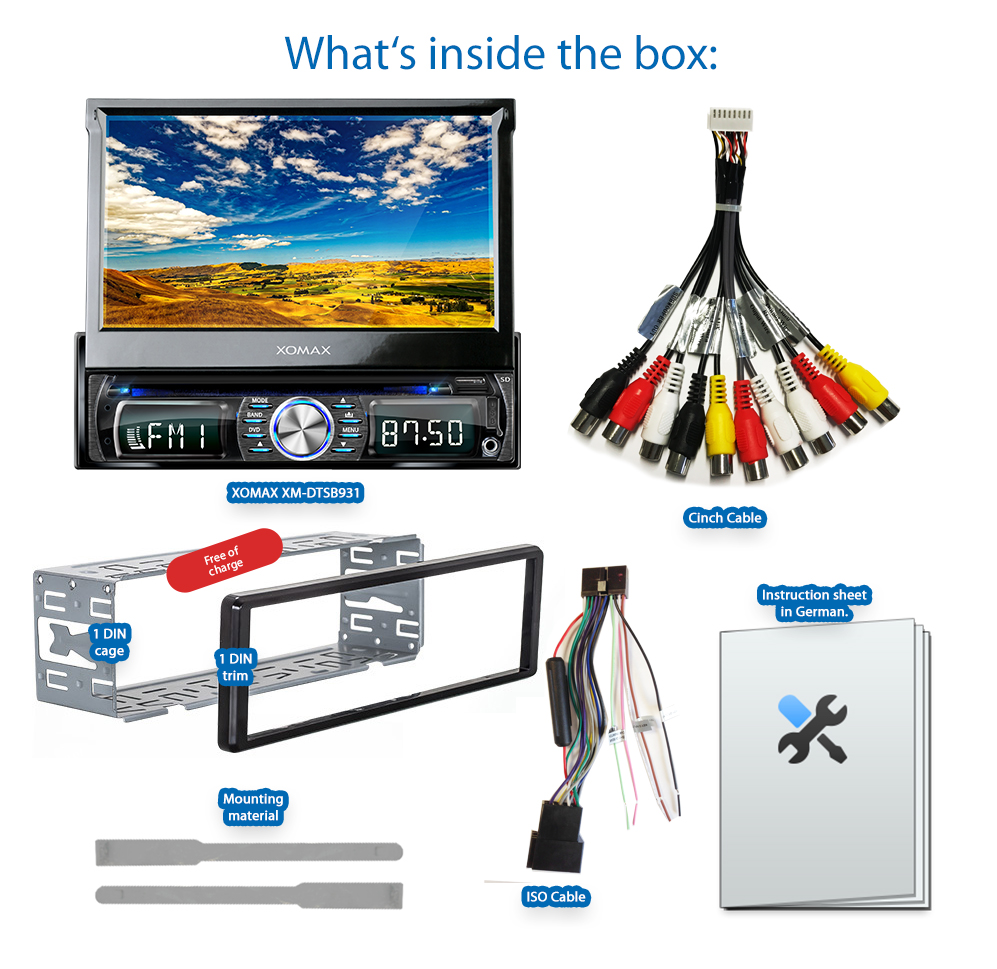 What's inside the box:
Car stereo
DIN1 cage (free of charge)
DIN1 trim (free of charge)
Audio/video cables
ISO cable
Mounting material
Instruction sheet in German.
For instruction sheets in English please refer to the producer's website: XOMAX.de