Detalhes
Autoradio XM-RSU257BT USB (128 GB) MP3 SD-Slot (128 GB) WMA Single DIN (1 DIN)
Reprodução Bluetooth mãos-livres e música a partir do telefone móvel
Porta USB para sticks USB com até 128 GB de MP3 e WMA
Slot para cartão SD para cartões SD com até 128 GB para arquivos MP3 e WMA
Sintonizador de rádio FM + cor de iluminação: azul, vermelho, amarelo, roxo, verde, branco, turquesa + AUX IN
Sem unidade de CD - simples, rápido e sempre atualizado
1 DIN / único padrão DIN 1DIN tamanho da instalação, incluindo armação de montagem e de controlo remoto
Profundidade de instalação encurtado
Informação Adicional
| | |
| --- | --- |
| Weight | 7.5800 |
| EAN | 4260182774960 |
| Modell | Não |
| Shipping Article | 14.90 |
| SKU: | 1750 |
| Tags: | |
Imagens do Produto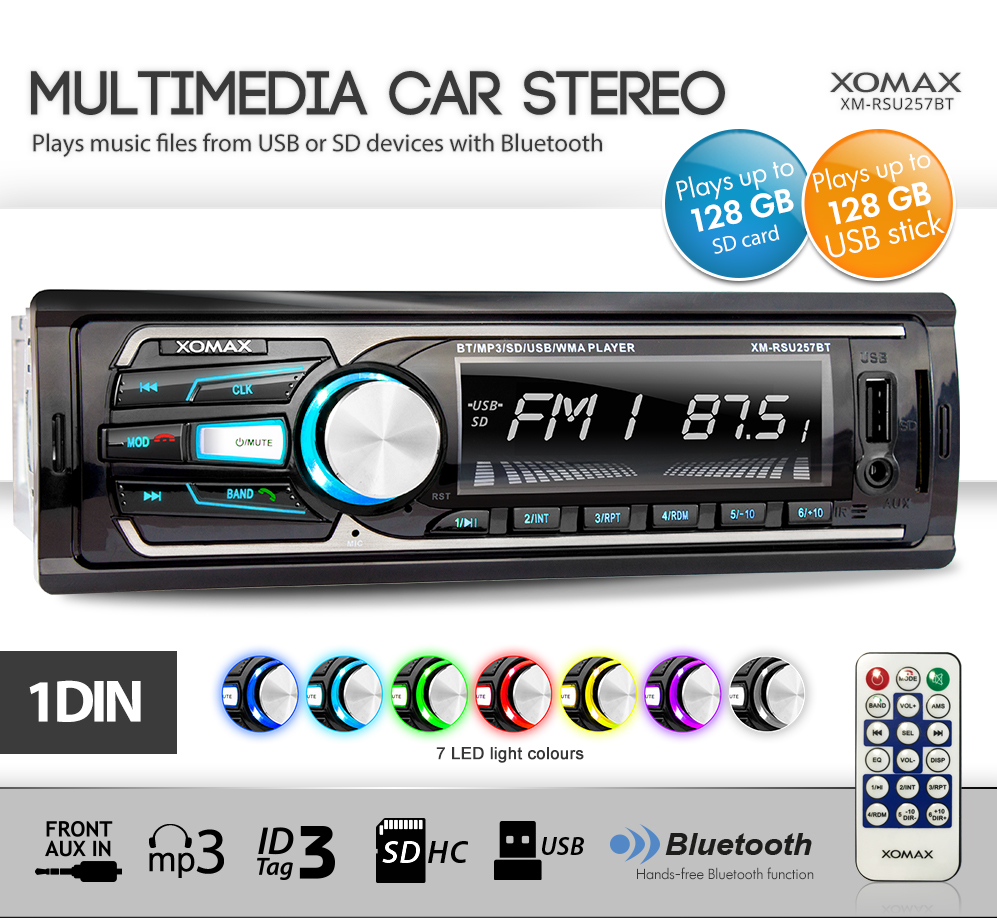 USB Port 1 x USB port for USB devices: play all your music files up to 128 GB.
Slot for SD cards: play all your music files up to 128 GB.

No CD driveThis car stereo has no CD drive.

Bluetooth Hands-free function and music streaming
7 LED light colours - blue, red, yellow, purple, pink, green, white, turquoise.

MP3 and WMA files can be played from all multimedia devices: USB, SD.

ID3 Tag Shows title and artist for MP3 files containing ID3 tags.

Single DIN standard This standard size is suitable for many vehicles.

Preset equalizer: pop, rock, classical, personalised.

FM Radio FM Radio with 18 Memory Stations.

FRONT AUX IN 1 x FRONT Auxiliary input (jack da 3,5 mm)

MOSFET 4 x 60 watt 4-channel audio output, maximum power 240 watt.

Remote control with battery

Free FREE OF CHARGE: single-DIN cage.
XOMAX XM-RSU257BT: USB, SD car stereo - without CD drive with USB port and SD slot.
Elegant design car stereo. Plays music files from USB or SD devices.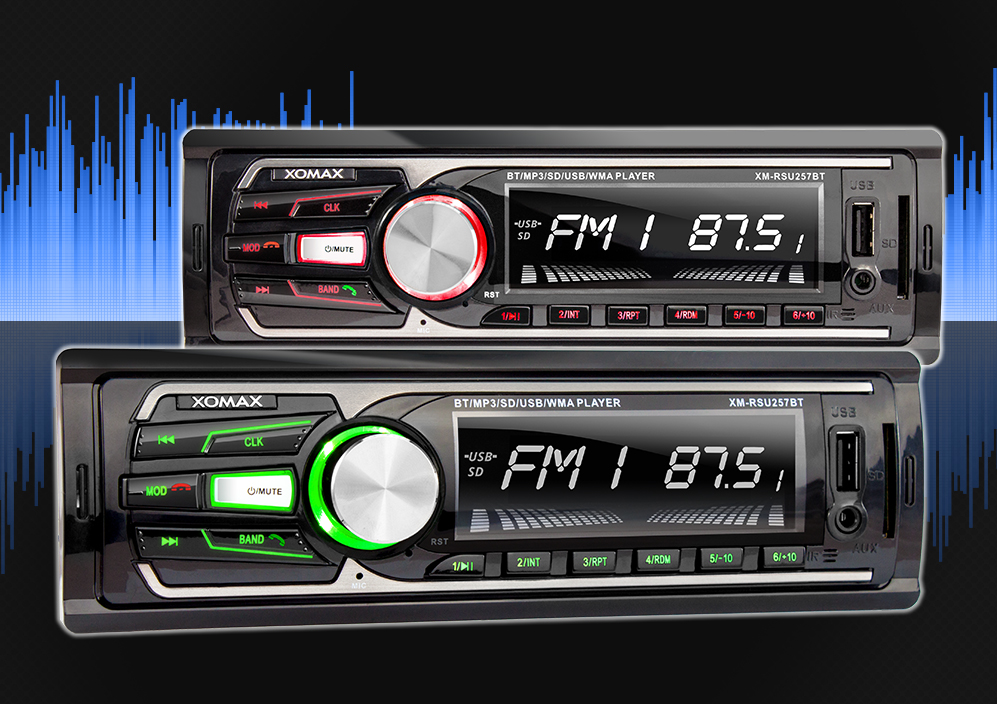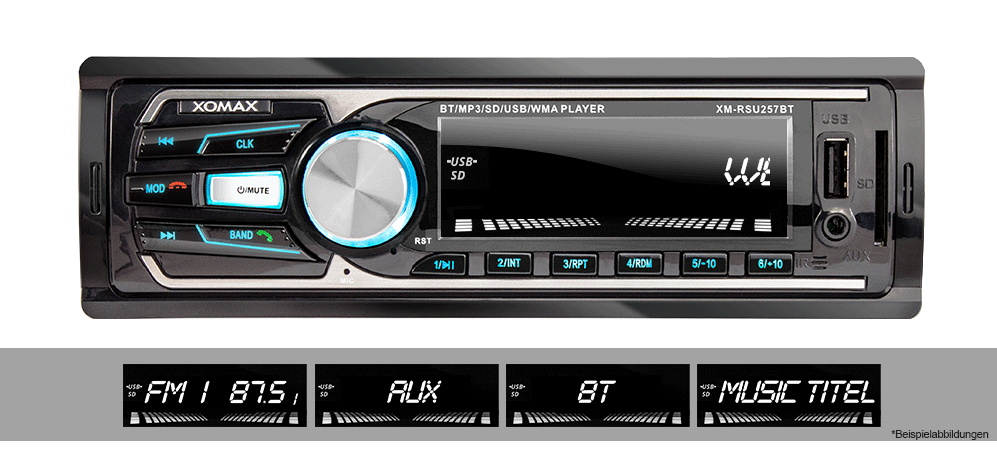 Multimedia - music
USB: On the front panel you will find a USB port, which you can use to read your memory devices.
SD: The SD slot is also located on the front panel.
AUX-IN: Auxiliary input (jack da 3,5 mm)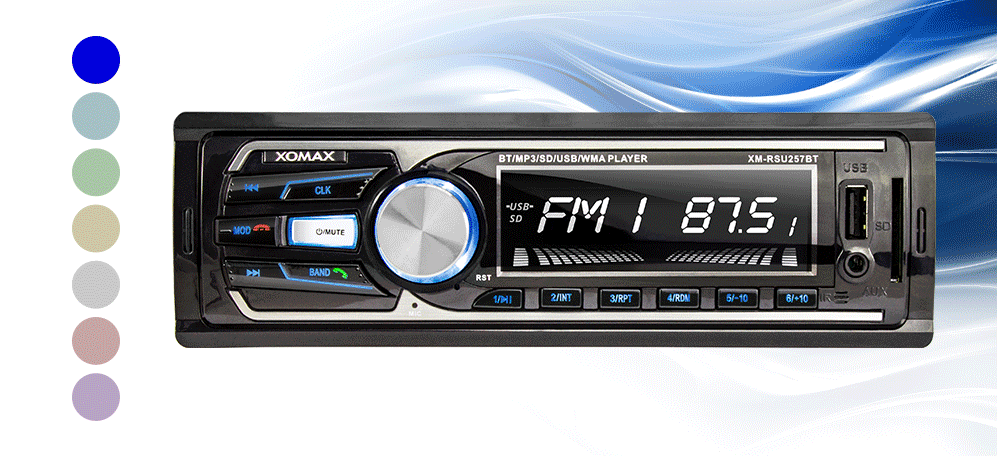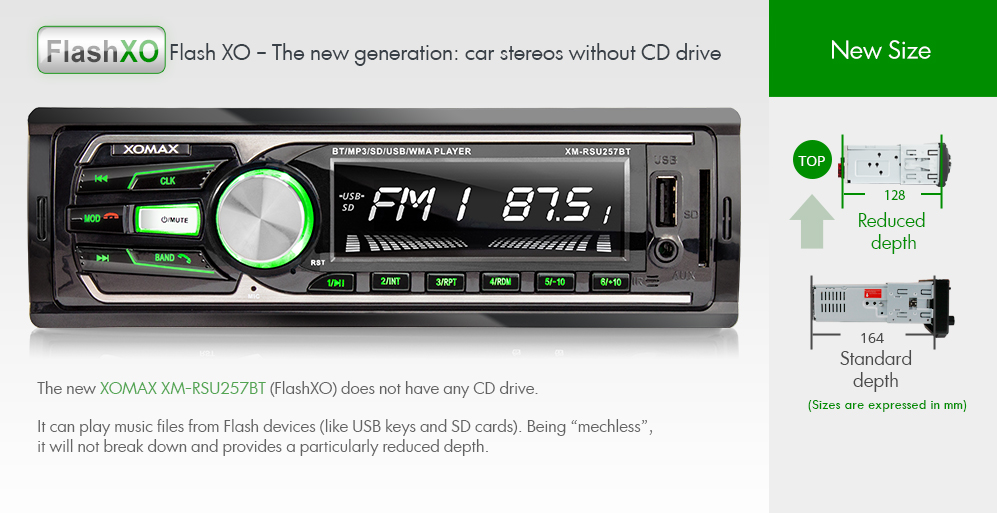 FM radio
FM stereo radio
Automatic tuner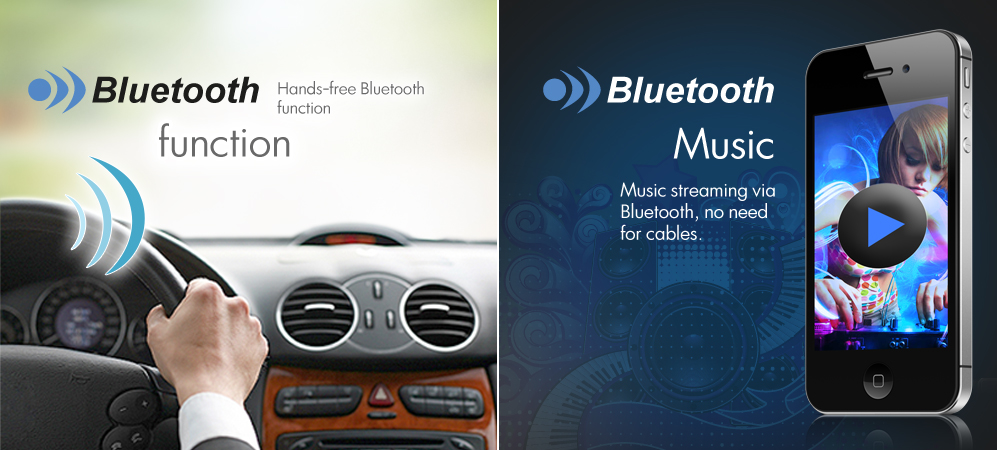 Hands-free Bluetooth function
This hands-free function for your mobile phone enables you to make a phone call using the microphone on the front panel and the loudspeakers in your car. Stay safe and flexible while you drive: just use the Bluetooth to connect your mobile phone with the car stereo! Music streaming via Bluetooth: listen to the music you have stored on your phone or MP3 player through the loudspeakers in your car. No need to copy any file, no need for cables. This car stereo is directly connected to your car's hands-free system. Any time you make or pick up a call, the car stereo goes on "mute".
Technical Details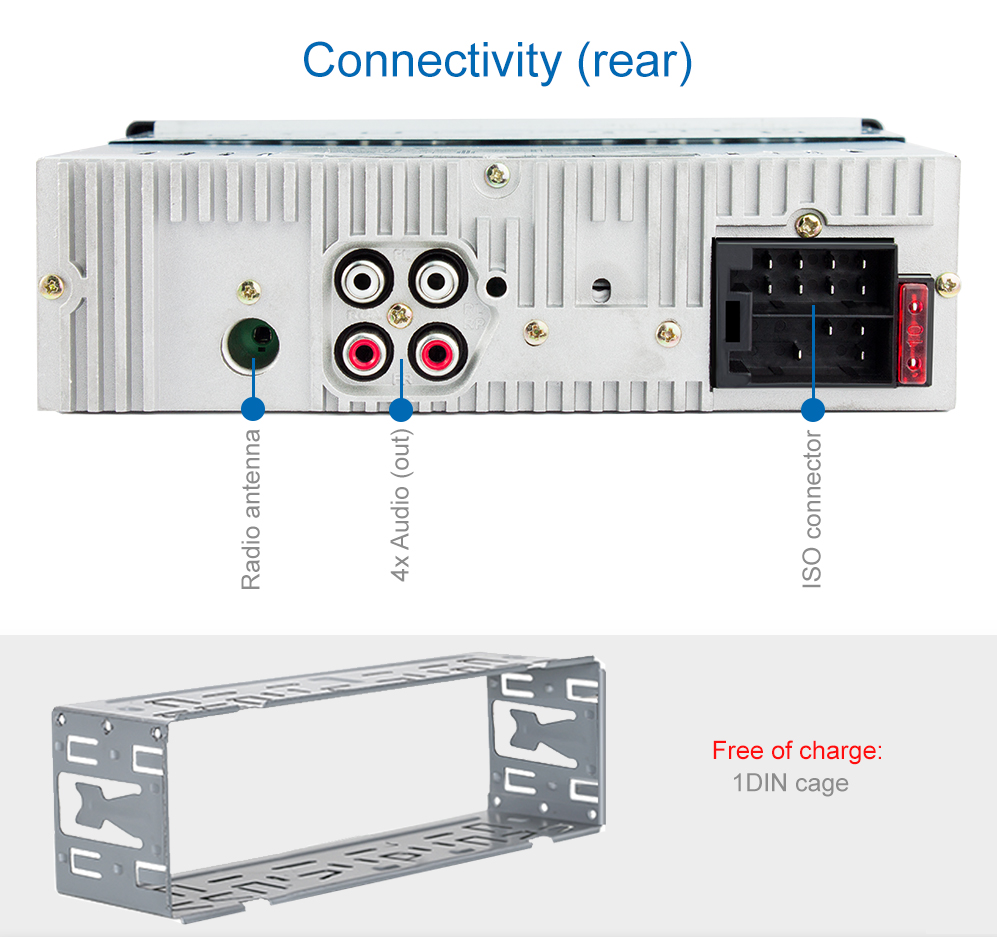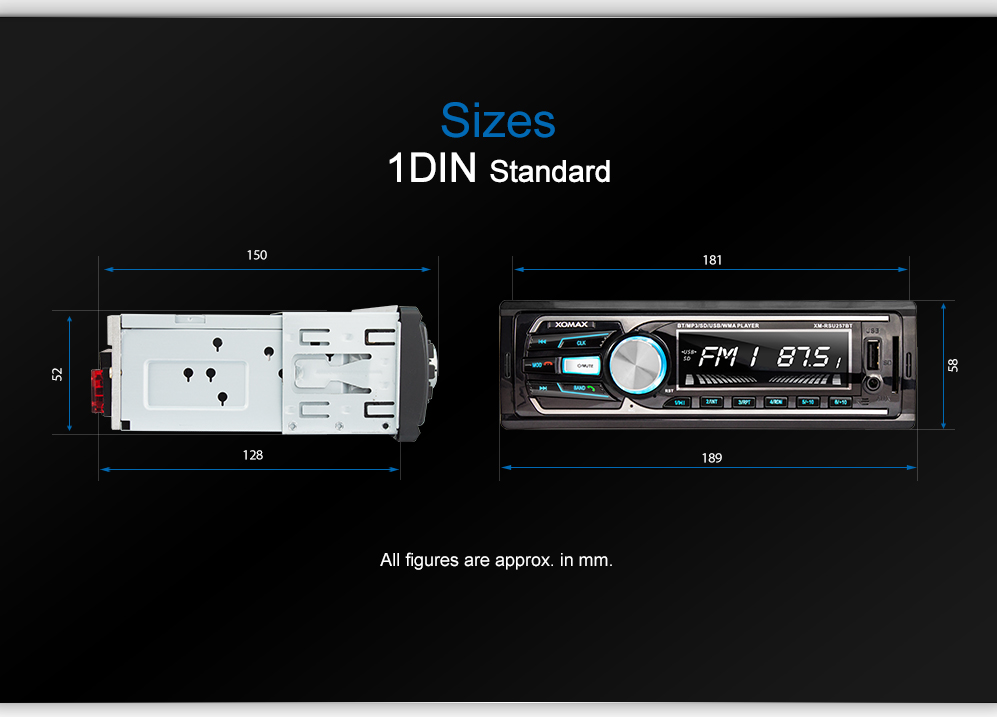 General features

Voltage: 14,4V DC
Impedance: 4 Ohm
Sizes: (LxWxH) 181x128x52 mm ca
Colour: black
7 LED Colour: blue, red, yellow, purple, green, white, turquoise
Net weight: 0,5 kg ca
Standard DIN1 dimension
Mounting angle: +/- 30°
Typ: Black Mask Display

Supports

Media: USB keys, SD card
Formats: MP3, WMA

FM tuner

Frequency range: 87.5-108 MHz
Intermediate frequency: 10.7 MHz
Sensitivity: 15dB
S/N: 60 dB
Stereo separation: 30 dB (1KHz)
Antenna impedance: 75 Ohm

Audio

Frequency range: 20Hz - 20KHz
S/N: 85 dB
Channel separation: 80 dB
4 x 60W MOSFET
Volume control: +/- 8db
Adjustable volume, trebles, basses, fader, balance

Connectivity (rear)

ISO connector
Radio antenna
Audio output - 4x cinch

Connectivity (front)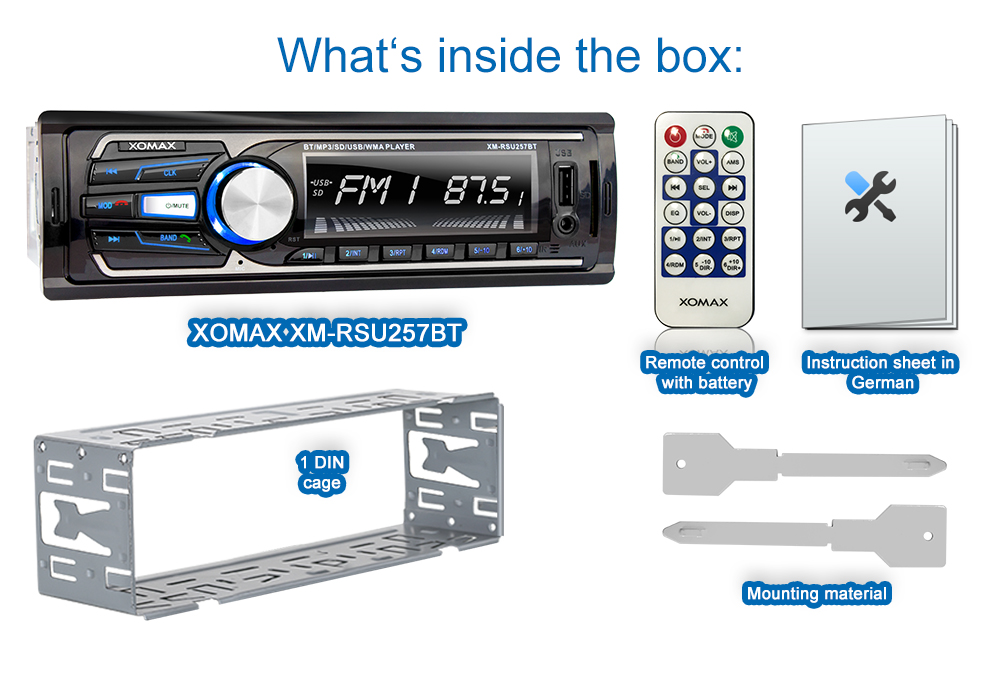 What's inside the box:
Car stereo
DIN1 cage (free of charge)
Remote control with battery
Mounting material
Instruction sheet in German.
For instruction sheets in English please refer to the producer's website: XOMAX.de